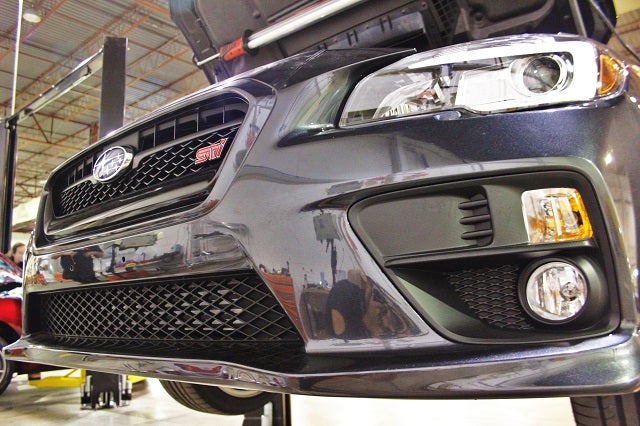 Dropping Intake Temps. 2015 STI FMIC R&D, Part 1: Core Fitment and Piping Plans
Posted:
December 01, 2015
We've given the 2015 WRX quite a bit of love, mostly due to the introduction of the FA20DIT within the new chassis. Our team developed a ton of awesome components: a downpipe, an intake system, a couple different intercooler options, and various other neat parts. With our WRX projects mostly wrapped up, it's time to turn our attention towards the STi. It still has an EJ engine under the hood, but it is mated to a new chassis that many are taking advantage of in various forms of competitive racing.
So far we have developed an intake and a cat-back exhaust for the STI. Our next target is a bolt-on front-mount intercooler (FMIC) kit for the 2015 STI. The EJ25 is a well-respected engine that can make great power from basic bolt-ons and tuning. In addition, the sky is the limit in terms of power output once engine internals are upgraded and a large snail is bolted up. Greater power means more heat, resulting in the need for a more efficient heat exchanger for the charge-air system. Thus, we started our 2015 STI front-mount intercooler project with the goal of supporting vehicles beyond the capacities of an upgraded top-mount cooler.
Core Fitment
We've already developed an FMIC setup for the WRX, and since the body of the STI is so similar to the WRX, we were confident we could use our crash beam and intercooler core from the WRX kit. Before progressing with pipe fabrication, however, we needed to check fitment of these WRX parts.
We received a vehicle by way of personal contact among our team members here at Mishimoto. Many thanks to the owner of this STI for lending us his car for development!
Once in the shop, we threw the car on the lift and started with the bumper removal.
With the bumper removed, we installed our tube crash beam and front-mount intercooler core from our 2015 WRX direct-fit kit.
As expected, both the beam and the heat exchanger bolted up in similar fashion to the WRX. Next up, reinstall the bumper to ensure no clearance issues exist with this large core.
Check out a closer look!
All clearances were identical to the WRX, meaning the fitment gets a thumbs up from our engineering department. This core is rated to support vehicles up to around 600 whp. During on-road testing with our shop WRX (300 whp/300 wtq), we saw temperature drops to within a couple degrees of ambient. Pretty impressive, and a very efficient core, making it suitable for use in the STI.
Piping Fabrication
Pipe routing is the unique portion of this project, and it is what will set this kit apart from the WRX components. In an ideal world, we could use the piping setup from our 2008-2014 STI intercooler kit, because it shares the EJ turbocharger layout.
Unfortunately, this is not an ideal world. It looks like only one of the four pipes from the WRX kit will be useable with the STI intercooler kit. We have a lot of fabrication work ahead to snake our piping from the front bumper area to the rear of the engine compartment, but this is a good start to development of our new 2015 STI parts.
Next Update: STI Intercooler Pipe Fabrication
Next time, we will be highlighting the design and fabrication process for our cold-side intercooler pipe assembly. Be sure to check out our blog for other development projects for new 2015 STI parts.
Thanks for reading!
-John