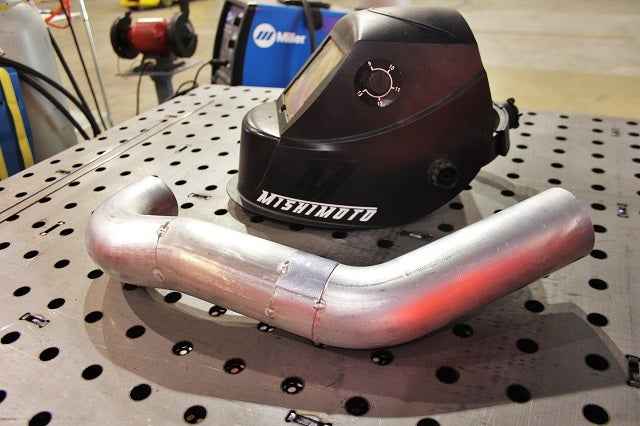 A Front-Mount for the 2015 STI, Part 2: Cold-Side Intercooler Pipe Fabrication
Our first segment of this STI intercooler project involved the test fitting of our WRX crash beam and intercooler core. We were able to verify fitment of both pieces, which allowed our team to move on to piping fabrication. We are starting this kit with the cold-side pipe, which we've decided to place this on the passenger side of the engine bay to reduce the piping length as much as possible. Following this strategy should help reduce lag seen by the driver.
Pipe Fabrication
The cold-side pipe is a great place to start because we are able to use a portion of one of our existing kits. Because the 2015 model shares the EJ from the 2008+, we will be reusing the pipe that attaches to the throttle body and incorporates the BPV (bypass valve).
This pipe provides optimal clearance through its path within the engine bay. It routes from the throttle body into the portion of the engine bay that previously contained the intake airbox.
Our team would be working from the end of this pipe to complete the airflow route to the intercooler.
We then started piecing together our pipe route. This involves careful measurement followed by cutting, fitting, and grinding until the route and fitment are perfect.
After some trial and error, along with test fitting with the bumper in place, we had a completed mock-up pipe.
We then tack-welded each joint on our prototype for additional rigidity.
One final test fit was performed to ensure the accuracy of this prototype.
At this point we can remove the prototype and collect all the needed dimensional data needed to create a 3D model of our pipe. This will help ensure that our final product corresponds exactly to the design, making for perfect fitment of our STI intercooler kit.
Intake Pipe
You probably noticed in a few of the posted images that an intake pipe and filter are installed. Because of the pipe routing from the engine bay to the front bumper, the stock airbox cannot be reinstalled with this kit.
As with the pipe attached to the throttle body, we will be stealing this intake setup from our existing 2008-2014 kit. This setup has proven effective and will work well for our 2015 STI front-mount intercooler kit. We will need to modify only the mounting bracket to function with the different engine bay layout on the 2015. Easy!
Coming Up: Hot-Side Pipe Fabrication
Check back soon for a look at the fabrication process for our hot-side pipe!
Keep an eye on our blog for additional development of 2015 STI parts.
Thanks for reading!
-John