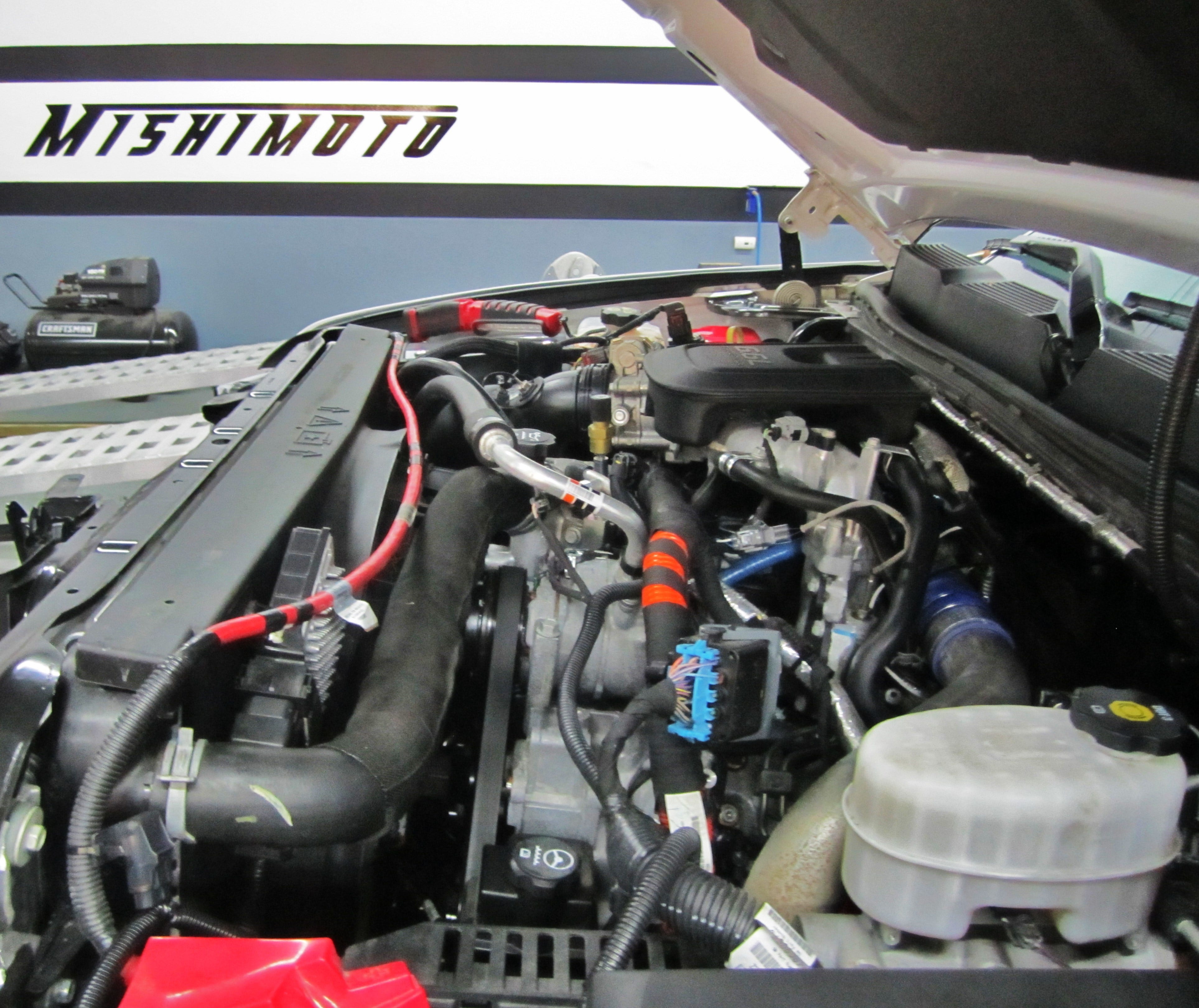 Mishimoto 2011+ Chevrolet/GMC 6.6L LML Duramax Performance Intercooler, Part 1: Product Introduction and Factory Cooler Evaluation
Interested in purchasing this Duramax Intercooler? Check out our product page for more information!
Product Introduction
The LML Duramax is the cleanest and most powerful Duramax thus far. The innovations made for this new model are quite substantial and are a direct result of serious advances in automotive technology. Unfortunately, stricter emissions standards of today result in the inclusion of a DPF (diesel particulate filter) system, which improves emissions yet hampers fuel mileage.
Luckily, not all the innovations for newer Durmax models are in place to provide cleaner air; several features of the new engine are in place for improved performance and reliability. Among the long list of improvements, a few highlights include a quick-spooling VGT turbocharger, a factory-equipped exhaust brake, upgraded designs of the main bearing and engine block, upgraded oil pump and circuit for improved flow/pressure, and of course the use of an Allison transmission. The new model is pretty slick; our team here was very impressed with the test vehicle we had in the shop. The power output for this factory vehicle is impressive, not to mention the additional power that can be achieved from basic modifications.
Enough drooling over the truck, time to explain why we are here. Many of you may be aware that Mishimoto has been developing performance cooling products for diesel trucks with a ton of success. Using our experience with product development for sport compacts and European vehicles, we quickly moved into the diesel world to spread our knowledge, enthusiasm, and impressive products with Powerstroke, Duramax, and Cummins owners. Our goal is to provide your truck with the heat exchangers needed to perform reliably in any driving condition. This includes daily driver use, hauling and towing, runs at the strip, and recreational use with your buddies. The current Duramax product line we offer includes the following components:
Aluminum Radiators
Silicone Radiator Hose Kits
Low/High-Temperature Thermostats
2001-2013 LB7/LLY/LBZ/LMM/LML Duramax Low Temperature
2001-2013 LB7/LLY/LBZ/LMM/LML Duramax High Temperature
Performance Intercoolers
Intercooler Pipe and Boot Kits
2002-2004.5 LB7 Duramax Full Kit
2004.5-2010 LLY/LBZ/LMM Duramax Hot-Side
2006-2010 LLY/LBZ/LMM Duramax Cold-Side
Factory-Fit Boot Kits
This particular build thread will focus on the intercooler for the 2011+ LML Duramax. Our current product line fills out the previous generation of trucks, and we found it was time to move on to the newer trucks to ensure that the need for an aftermarket intercooler was supported. For those with high EGT concerns, or a substantially modified truck, an intercooler upgrade is a must. To start our build, we began by evaluating the factory intercooler to see where we could make changes and improvements. If the factory intercooler was optimal or perfect, we would have no need to develop a replacement unit. Our team located a test truck and brought it into the shop. A big thank you to the vehicle owner for lending us his truck. Check out a few shots of the first LML we had in our shop!
Factory Intercooler Evaluation
Once we looked over the truck, our team set to work removing the factory radiator and intercooler. In conjunction with the development of an intercooler, we would also be analyzing the factory radiator to see if the truck could benefit from an upgrade of this heat exchanger as well. Removing these components is quite a task, requiring a few hours of removing the components that surround the radiator and intercooler assemblies. Check out a few images showing the progress of stripping the front end of this truck.
Here is what we are starting with!
Factory Intercooler Removal
And the work begins! Grab the ratchets, wrenches and some penetrating fluid!
After several hours of effort, and perhaps some light swearing, we finally had both components removed and ready for evaluation. Check out the empty engine bay once the front-end components and heat exchangers were removed.
Now that we had the factory assembly out, we could analyze each component and see if improvements could be made on the factory unit. We were already aware that the factory intercooler utilized one plastic and one aluminum end tank, which is unique to the Duramax. Check out the factory radiator and intercooler assembly!
This article is focused on the intercooler unit, so we then split the assembly and focused on the CAC system. Here is an image of the intercooler alone.
Now that we had the factory intercooler in our hands, we could determine if an aftermarket solution was necessary. Check back with us next time for further evaluation of the factory intercooler and an outline of our intentions for this project!
Thanks for reading!
Interested in purchasing this Duramax Intercooler? Check out our product page for more information!