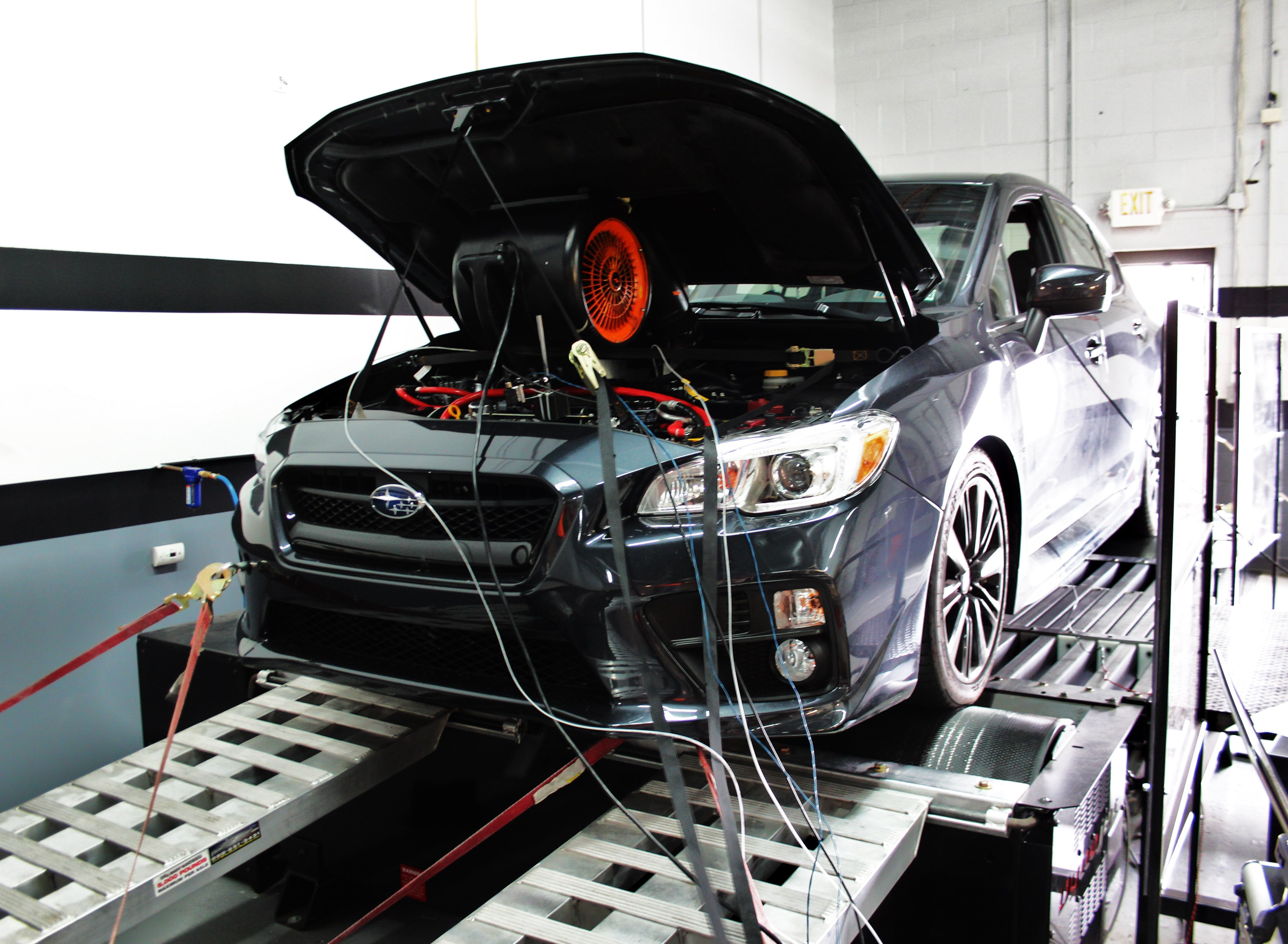 Does the 2015 WRX Need an Upgraded Intercooler? Part 5: Testing and Results
Posted:
February 10, 2015
Interested in purchasing our 2015 WRX top-mount intercooler kit? Check out more details on our product page linked below!
Dyno Preparation
Time to finally answer the question we have been discussing for months. Would the 2015 WRX benefit from an upgraded intercooler?
To test both the stock unit and the Mishimoto prototype unit, we would need to drill and tap the coolers to accept our temperature and pressure sensors.
First, we installed a sensor bung in our silicone throttle-body hose. This would capture post intercooler data for all three coolers.
The stock cooler hot side was then drilled and tapped to accept our 1/8" NPT sensors.
Tapping the cold side of the Mishimoto prototype intercoolers was easy thanks to the bung location we have built into the tank.
Once we were set for testing, the WRX was strapped to the dyno for our first round of tests.
Testing for Core Selection
Our first round of tests was conducted to determine which intercooler core we would be selecting for our final product. As noted earlier in this series of articles, we were testing two different cores to determine which one would be more effective for handling the airflow created by the WRX.
MM Core 1: Tight core composition with small bar-and-fin heights for greater surface area and heat transfer.
Potential Pitfall: A core with an overly tight bar-and-fin configuration could restrict airflow from passing through the core. Instead, the air would go around, taking the path of least resistance.
MM Core 2: A Slightly less tight core composition with larger bar-and-fin heights.
Potential Pitfall: A looser core might not promote optimal heat transfer due to the fewer contact points.
With this in mind we made several pulls with each cooler to determine the effects on outlet temperatures. After we averaged the runs, we put together the plot shown below.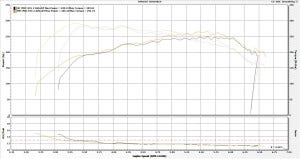 Modified vehicle dyno chart
Once again, we are seeing some huge benefits here with the Mishimoto intercooler. Power gains begin down low in both torque and horsepower. We also saw huge gains at 4,200-6,200 rpm. This rpm level also correlates with the separation we see in outlet temperatures on the plot above.
Gains are summarized below!
Maximum Gains: 20 whp / 21 wtq
Peak Gains: 15 whp / 8 wtq
Pressure Drop Comparison
We didn't stop here,. We also wanted to take a closer look at pressure drop across the intercooler core for the Mishimoto cooler and the stock unit.
Pressure drop is a comparison of pressure values from the inlet to the outlet of the intercooler. Both cores follow a similar drop in pressure, with the Mishimoto cooler being slightly higher than the factory unit (less than 1 psi). This is likely a result of our denser core composition and is completely acceptable, especially considering the temperature and power benefits.
Charge-Pipe Testing
Our last chart depicts the benefits of installing our charge pipe compared with the stock unit. A few folks have questioned whether the greater volume would have an impact on spool time.
Spool time occurs from around 2,200 to 3,000 rpm, where it levels out to a relatively steady rate. As you can see on the plot above, the Mishimoto charge pipe is causing greater boost levels at lower rpm. This means we have effectively increased spool quickness to around 10% with the addition of our charge pipe!
Summary of Intercooler and Charge Pipe Results
After reviewing all the data, we are extremely pleased with the design of our intercooler and charge pipe. The benefits are quite substantial for both stock and modified vehicles. Check out some of the highlights below.
35°F intercooler outlet temperature drop on both stock and modified vehicle (intake, downpipe, tune, around 250 whp / 280 wtq)
Maximum gains of 20 whp and 21 wtq on modified vehicle
Peak gains of 15 whp and 8 wtq on modified vehicle
Similar pressure drop compared to stock intercooler
10% quicker spool time with Mishimoto charge pipe
That wraps up the development of our intercooler and charge pipe for the 2015 WRX. We are working to develop and test an air splitter that would improve the dispersion of air across the entire larger core. Details on this component coming soon!
Additionally, we are hoping to launch a presale for our TMIC components within the next few weeks. Stay tuned for details.
Thanks
Interested in purchasing our 2015 WRX top-mount intercooler kit? Check out more details on our product page linked below!