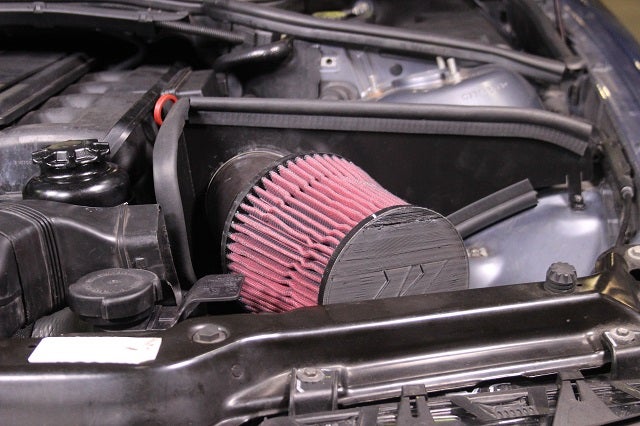 Dyno Results - E46 Intake Development, Part 2
Posted:
December 22, 2015
We've made some progress with testing our E46 intake and the dyno results are finally in! This intake was put through some extensive testing and it held up to the abuse with consistent and repeatable output numbers. Let's see how our finalized prototype fits on the car!
Fitment
Do you see the weather stripping on top of the heat shield? That will seal right onto the bottom of the hood to create a barrier between the filter and the hot ambient temperatures in the engine bay.
Keep in mind that this is just a revised prototype from the version we showed in our last post. Here, the coupler is now wrapped in five layers of black silicone. The final product will look much more complete!
Results
Please note, our test car was outfitted with aftermarket headers, so results will certainly vary from vehicle to vehicle. Check out our data below!
Our intake really opens up the airflow to the engine, eliminating the restrictions of the stock system. As you can see on the graph, we netted max gains of 11.91 hp and 16.13 ft-lbs of torque, while the peak gains hit 6.48 hp and 9.36 ft-lbs of torque. These results were attained after only swapping the intake systems, without the need for any additional tuning or modification to the vehicle.
We understand that aftermarket headers will skew the data a bit, but with gains like this, you will certainly see improvements on an all stock 330i engine equipped with this E46 intake.
Coming Up!
This E46 intake project is nearing the end of the R&D phase. We will soon begin our initial phase of production, which will include a pre-sale. So stay tuned for that update!
Thoughts? Comments? Let "em fly below! Thanks for reading!
-Diamaan