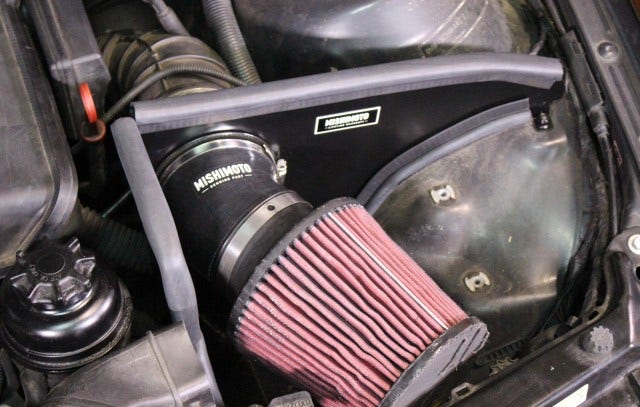 Final Product Design - E46 Intake Development, Part 3
Posted:
February 22, 2016
In our last update, we left you with some dyno results showing the potential this kit has for increased performance. Now that the development process is nearing completion, we have a finished and fully functional prototype to test fit onto a BMW 330i. This kit is a direct fit for the E46 330i and it includes a very straightforward component list and simple installation instructions. Let's jump into what our final kit looks like.
As seen above, the multi-ply silicone intake hose features a CNC-machined connector for exact fitment onto our filter. The heat shield is made of black powder-coated steel to help keep the filter shielded from the engine bay heat. The weather stripping along the edges seals against the hood to further assist with isolating the air filter. This oiled filter is a serviceable unit that can be used for quite some time with the proper maintenance.
Here is a shot of the entire kit fitted on our 330i.
Whats Next?
With a successful test fit of our prototype, we can start moving on full scale production. That means we are close to opening our presale, during which, you can get this intake for a discounted price before it is formally released. Updates for the presale for this E46 intake are coming soon, so stay tuned. Now here's a shot of the production sample!
Thanks for reading!
-Diamaan