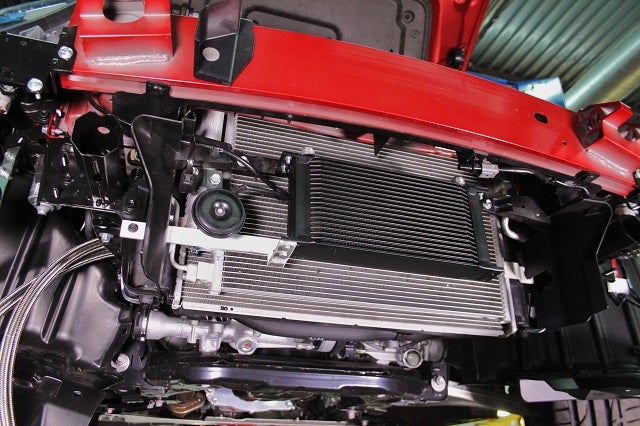 Mazda Miata ND Oil Cooler R&D, Part 3: Initial Data Collection
Posted:
November 13, 2015
Interested in purchasing our new ND Miata direct-fit oil cooler kit? Check out our product page linked below!
The most exciting part of product design happens during the final stages. Product testing reveals any flaws in the design and also provides insight into possible adjustments for enhanced performance. In addition, testing validates our existing design and makes all our efforts well worth the time spent. So far, our team is having a great time developing new ND Miata parts.
Our ND Miata oil cooler kit will be no different. Since the stock vehicle with SkyActiv technology does not include a factory oil cooler system, we expect to see some pretty big decreases in fluid temperatures. On to testing the Miata oil cooler!
Testing Conditions and Instruments
As we noted in the conclusion of our last segment, this testing will not occur on a track. Our goal with initial testing is to provide a baseline for our design, using methods that eliminate as many variables as possible. Check out our conditions noted below.
Testing Conditions
Logging device: AEM AQ-1
Sensors: both pressure and temperature
Ambient temperature: 68-75°F
Driving condition: 65 mph highway cruise
Length of test: 8 miles
Setups: stock (1), Mishimoto's Miata Oil Cooler System (2)
Check out the sensors installed inline with our Miata oil cooler.
We will be recording both an inlet and outlet reading with our cooler. For the stock setup, only one reading will be necessary. Sensor leads were run into the cockpit to connect to our laptop for logging.
Temperature and Pressure Data
After making runs with both setups installed, we compiled our data and organized each set into plots for easy dissection and analysis.
First, we start with our baseline data of the stock ND without our 2016 Miata parts installed.
In the given conditions, the ND seems to run fairly cool in terms of oil temperature. At the start of the run, temperatures were recorded at just below 180°F and work their way up to around 186°F by the end of the run. The rise is likely attributed to coolant temperatures moving upward, making a slight impact on oil temperatures. These numbers are not alarming; rather, they are fairly tame and expected, considering the low load on the engine. This test was done on a stock vehicle, void of any aftermarket 2016 Miata parts.
Next up, we installed our Miata oil cooler and began recording.
Keep in mind that we are not running an oil thermostat during these tests. By eliminating the thermostat, data will not be skewed by thermostat regulation.
Cooler inlet temperatures begin around 152°F and peak at 156°F toward the middle of the run. This slight rise likely resulted from airflow reduction due to traffic. The rest of the plot trends downward, eventually settling at around 150°F. These are the temperature readings of oil coming from the engine, so this can be compared directly to the previously noted stock engine temperatures.
Getting back to the engine, outlet temperatures are 20-25°F cooler than inlet temperatures. This shows us that airflow is sufficient, and our Miata oil cooler is doing its job.
Average temperature drop: 30°F
Maximum temperature drop: 35°F
Great numbers for a state of steady cruising!
In addition to temperature data collection, we recorded oil pressure throughout each run. We are pleased to report a minimal loss during the run with our oil cooler installed. Our engineers give the thumbs-up for safe long-term operation.
Thermostat Use
If you are thinking these temperatures are too cold, you are correct. Dropping temperatures this low is not ideal, because cold oil can be just as harmful as hot oil. The purpose of this test was to determine the effectiveness of the addition of our liquid-to-air cooler. By leaving an oil thermostat out of the system, we were able to see maximum results.
We typically recommend a minimum oil operating temperature of 185°F, which is the thermostat activation temperature of our oil sandwich plate. For any vehicle seeing street use, we highly recommend our thermostatic option. This will ensure that oil reaches 185°F quickly and remains close to this temperature during rigorous driving.
Adding Weight
For most Miata owners, adding weight is usually a concern. Mazda worked hard to trim off as much fat as possible on this new model. To reduce weight, we will be constructing our brackets from 5052 aluminum instead of steel. Using thicker aluminum, we can reduce weight yet still attain optimum rigidity. The full kit, including the lines, cooler, brackets, and sandwich plate, weighs in at 7.1 lb. With the addition of oil in the system, the overall increase in weight measures just under 10 lb. Although all this weight will be on the front end of the car, we expect the cooling benefits to outweigh the slight gain in weight.
Final Kit Inclusions
We have solid performance data and a well-designed kit. It is now time for our team to begin working up our initial batch for drivers who need a track solution right away.
This kit is a complete, direct-fit product and will include all the necessary components for an easy bolt-on install. No runs to the hardware store and no need to pull out the grinder because of clearance issues. Although the upcoming images are prototypes, they give you an idea of what to expect in our final kit.
Discounted Pre-Sale
This project is complete and we are ready to construct our initial kits. We will be launching a discounted pre-sale for customers interested in getting their hands on one of our first units. Check back soon for details regarding pricing and shipping dates.
Be sure to check out our blog for more updates on new 2016 ND Miata parts!
Thanks for reading!
-John
Interested in purchasing our new ND Miata direct-fit oil cooler kit? Check out our product page linked below!