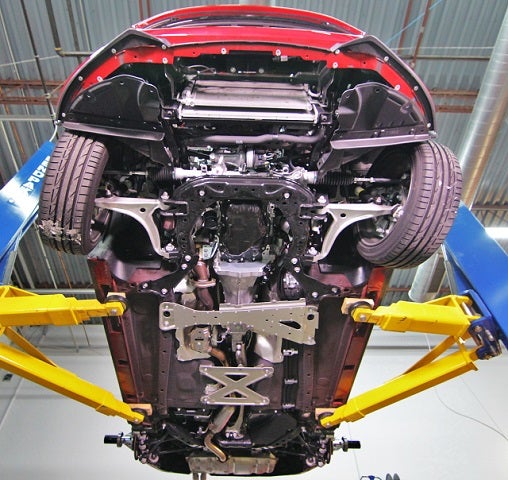 ND Miata Oil Cooler R&D, Part 1: Plans and Bracket Fabrication
Interested in purchasing our new ND Miata direct-fit oil cooler kit? Check out our product page linked below!
It's hard to doubt the upcoming success of the new Miata. Previous generations have provided enthusiasts with an amazing chassis that continues to dominate the racing world and bring smiles to the faces of owners around the globe. With the new model comes some weight shedding and a new power plant. Reviews from a variety of sources have revealed that Mazda did things right, just as we all figured they would. The only issue is that this model was not released sooner!
We've had our test vehicle in the shop for a few weeks now, with some exciting new product development underway. A big thank you to the vehicle owner for letting us borrow her Miata! Our intake design is coming along nicely, we have a direct-fit catch can in the works, and we've also started a project directed at cooling. We are, after all, most known for our performance heat exchangers. Be sure to keep an eye on our threads on the forums as well as our engineering blog for updates on new ND Miata parts.
Our current project is a direct-fit oil cooler solution for the ND. We know these cars are going to be hitting the track; many are already doing so. Keeping oil temperatures within a safe margin is important for engine longevity and safety. A few reports of high temperatures have been posted, so we want to jump in and provide an easy-to-install bolt-on solution. The goal is to keep drivers' eyes on the track, not the gauge cluster.
Project Plans
We have extensive experience designing direct-fit oil cooler kits. A few things remain the same with each. First, airflow is a necessity. Our heat exchangers are liquid-to-air units, so the more airflow they receive, the better they perform. Luckily, the ND has a ton of space in the front grille area for our team to locate the heat exchanger.
The other constant with our product designs is temperature regulation. Keeping oil from overheating is important, but warming the oil to operating temperature is also vital. Cold oil is just as harmful as hot oil, which is why most folks allow the vehicle to warm up before hitting the accelerator pedal. Because of this, we will be designing this kit to incorporate our thermostatic sandwich plate.
If you aren't familiar with our line of direct-fit oil cooler kits, let me give a quick explanation of the inclusions and idea behind the project. Some folks like tackling a custom oil cooler setup. The challenge excites them, and they have the time to fabricate a nice system. Others do not. Many folks have reported that a professionally engineered oil cooler kit is what they want, because it would reduce install time and difficulty. Our kits include direct-fit oil cooler brackets to mount the heat exchanger in an optimal location. We also include the sandwich plate to route fluid to the cooler, as well as premade, braided stainless steel oil lines. It's easy, it works, and we enjoy making these kits. A win-win for everyone.
Stock Oil Cooler
Unfortunately, Mazda left this particular component out of the new Miata. Some years of previous generations used a liquid-to-liquid oil cooler/warmer, which is located under the oil filter. This particular setup uses engine coolant to regulate oil temperatures; this is typically fairly effective under normal and slightly strenuous driving conditions. Below is a look at the stock filter location on the new ND.
Yes, you are seeing that right. Mazda finally put the oil filter in a convenient location on the Miata. NA/NB owners will love this. No more squeezing your hands between the body and intake manifold. No more oil splashing on the subframe. The future is clean and convenient!
Check out the oil filter housing with the filter removed.
Without a stock cooler, we should have plenty of room to situate our sandwich plate. Although we have yet to evaluate the 2.0L in terms of running temperatures, several of our sources note the need for a cooler. Testing is on the way, so we shall see!
Mounting the Cooler
The first step of our process includes mounting our oil cooler. Up on the lift went the Mazda!
The undertray and panels come off rather easily.
The bumper is also fairly simple to remove. No hidden clips that shatter upon removal like some other modern vehicles we have in the shop. Bumper removal reveals a nice large space to position our Miata oil cooler.
Just below the crash beam we can see a small steel tie bar that runs from one frame rail to the other. Material thickness is more than adequate to support the weight of our heat exchanger, so we will be hitting this piece with our primary Miata oil cooler mounting brackets.
First, we constructed two brackets that tie into the upper mounting points on our cooler. These are simple L-shaped brackets, but they should provide good stability.
The two holes shown on the brackets align with unused holes on the tie bar found on the car. This means no drilling or vehicle modification will be necessary. Below is a look at where these mounts position our Miata oil cooler.
Although the two brackets provided some solid rigidity, we always tie into a minimum of three points on our bracket systems. Airflow hitting the face of the core will put some additional stress on the brackets, so we need to be sure there is no flex or damage incurred to our ND Miata parts.
Coming Up
Yes, we still have some work to do on this Miata oil cooler project. Next time we will be constructing our third bracket, mocking up our sandwich plate, and taking a closer look at the line route.
Be sure to check our blog for more updates on upcoming ND Miata parts.
Thanks for reading!
-John
Interested in purchasing our new ND Miata direct-fit oil cooler kit? Check out our product page linked below!