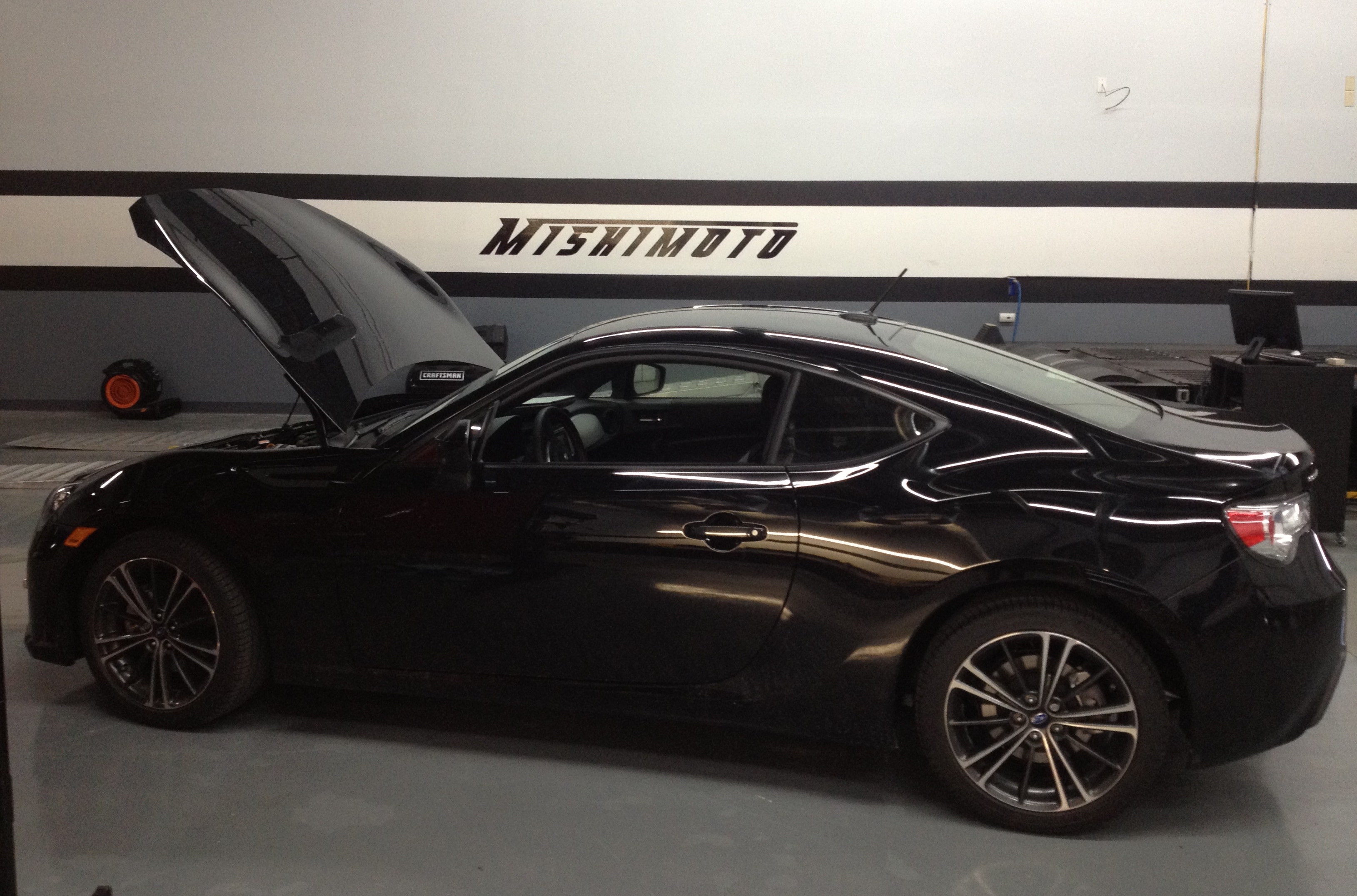 2013+ Subaru BRZ / Scion FR-S Performance Induction Hose, Part 2: Testing and Development Completion
Interested in purchasing our BRZ induction hose? Check out our product page for more information!
Thanks for returning for the second portion of this build! As mentioned in the previous post, our team was prepared to conduct extensive testing on this induction hose. Our main goal with testing was to determine the particular combination of components that would provide the most power output. Power output collection would be via our Dynojet. Each combination of components received an average output based on three consecutive runs all completed on the same day with essentially similar conditions. The variations of testing are below.
Resonator and noise amplifier both installed
Resonator plugged with noise amplifier installed
Resonator attached with noise amplifier disabled
Resonator and noise amplifier both plugged
We would be testing each of these conditions with both the Mishimoto prototype induction hose and the factory induction hose to provide a variety of results for all combinations.
Our test vehicle is the 2013 BRZ you see below. This particular example was stock (engine-wise) and featured a manual transmission. A big thank you to our test vehicle donor for the use of this BRZ!
Once we had the BRZ strapped to the dyno, it was time to get the vehicle warmed up and to check that all our readings were functioning. Check out the engine bay shot below with the Mishimoto hose installed!
It was quite a day! We made pull after pull and swapped components in between each set of runs to provide the information you see in the chart below. As mentioned earlier, this testing was going to be a learning experience for our team. We also wanted to educate the community about the differing power outputs based on the removal of the noise generator and resonator. Enough talk, check out the chart!
So let's break down this data in an easy-to-digest fashion! First portion: OEM intake with altering intake components.
The completely stock setup put down consistent runs of 167 whp and 133 wtq. This is around what we expected from the BRZ. Also note that we are capturing noise level in terms of decibels (dB). This was captured in the cabin of the vehicle for comparison purposes. Despite the purpose of the resonator, it appears that the most power output returned from the factory induction hose occurred when the resonator was removed and the noise generator was retained. The removal of the resonator increases intake noise quite significantly as well. Although horsepower was unchanged, torque showed a slight increase, and dB measurements increased significantly. It should also be noted that we saw a 2 whp power loss when both the resonator and noise generator were removed. Now, take a look at the chart for the Mishimoto induction hose testing.
This is the fun part! With the Mishimoto induction hose installed and all other factory equipment remaining, we made 2 whp and 2 wtq compared to the factory hose. This is an impressive increase! Our continued testing showed an additional horsepower increase with the noise generator removed, bringing our total gains to 3 whp / 2 wtq. For a component that installs in minutes, this was an easy way to achieve bolt-on power. We could have stopped at this point, but we decided to perform some additional testing. All previous testing was completed using the factory paper air filter. We installed an aftermarket high-flow air filter to see what further increases we could obtain from testing. Check it out below.
As you can see the filter alone adds 2 whp to the factory setup. We tested this with the Mishimoto induction hose and were pleased to report a 6 whp and 3 wtq gain compared to the completely stock setup. All our testing results point to the resonator as a supplement for performance with the Mishimoto induction hose. We found that removing the resonator had a negative effect on power output with our induction hose.
With our findings from testing it was time to decide on a final iteration of this hose to move it toward mass production. We decided that our hose would provide provisions for the resonator, but we would be eliminating the sound generator. We knew that in general, the enthusiast community prefers to eliminate the noise generator. This strategy provides the best power output, which was our primary goal. Additionally, we will be providing a plug for the resonator for those who wish to eliminate the resonator and gain some additional intake noise.
Our engineers also evaluated the decibel readings based on the components installed to the induction hose. We found that there is a definite pattern in our test results: The resonator works to eliminate noise, while the noise amplifier adds noise. We saw this essentially as a 1:1 ratio; the noise generator added 2-3 dB of sound while the resonator removed 2-3 dB. Essentially these two components cancel each other out when installed. Check out the graph below depicting this information!
With all our testing complete, it was time to assemble a final prototype and ensure perfect fitment. Check out a few installed shots below!
The fitment was perfect and it was time to move these hoses into production! Now, let's recap the project goals and see how we did with this one.
Goals
Silicone material should be used for increased durability.
The final design of the Mishimoto induction hose features five-ply silicone with internal metal support rings. The five-ply silicone provides unmatched durability compared to the factory counterpart and will provide improved resistance to heat, pressure, oil, and fuel. The internal metal support rings will eliminate any chance of this hose collapsing under pressure. This hose is built to last!
Potentially include ports for resonator and/or sound generator.
Our testing showed that the noise amplifier consistently reduced power output while the resonator provided increased power. With this information we designed our induction hose to eliminate the noise amplifier, yet still have provisions for the resonator. For those who wish to eliminate the resonator as well for greater intake noise, we include a CNC-machined plug for the hose.
Test the effects of the sound generator and stock intake resonator.
Our testing results showed that the sound generator hampered performance while the resonator supported performance. We tailored the design of our hose to the results from this testing.
Hose should install like the factory unit.
The Mishimoto BRZ/FR-S induction hose installs just like the factory unit and is an easy way to add horsepower in minutes!
Offer in a variety of colors.
After a lengthy discussion our team decided to move forward with black, red, and blue options for the induction hose.
With our goals met, this project could finally be closed. Our team has deemed this product a complete success, with the hose being a great upgrade to the factory unit. Either alone or when combined with a high-flow air filter, this induction hose provides a nice increase in power that is certainly noticeable. Check out a few of the major benefits of this hose below!
Proven gains of up to 5 whp
Internal metal support rings protect against high vacuum and collapse
Direct fit for the FR-S, BRZ, and GT86
Installs in a matter of minutes
Multiple configurations using the included CNC-machined resonator plug
Five-ply silicone for added strength
Available in black, red, and blue
Mishimoto Lifetime Warranty
Along with all this development and testing, our team put together a few neat videos for this particular hose. Check them out below!
Features and Benefits
Installation Guide
Thanks for following along with our build-thread! Feel free to follow-up with any questions or comments!
Interested in purchasing our BRZ induction hose? Check out our product page for more information!