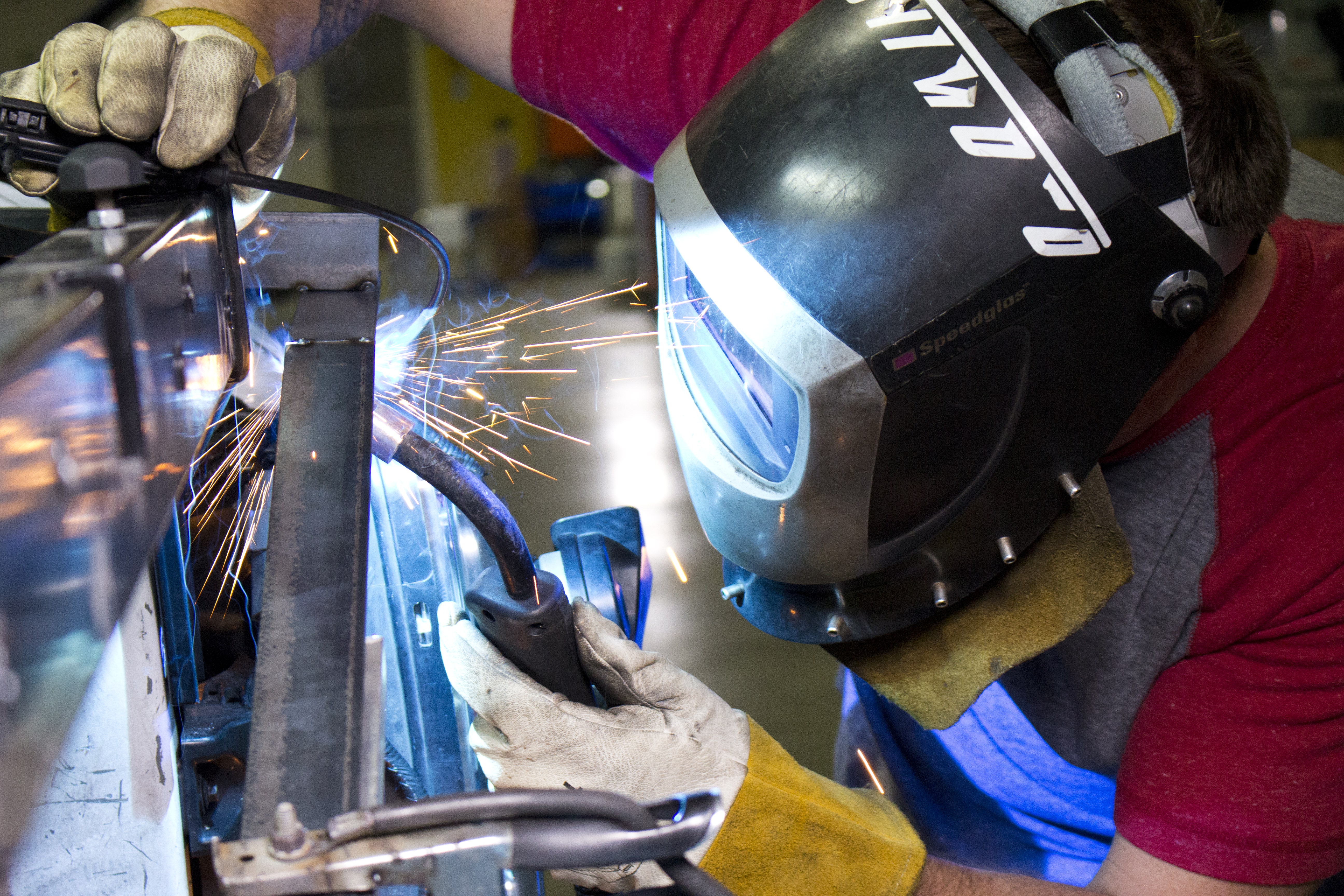 American Workhorse - Part 2: Putting Innovation to the Test
Welcome to the second blog post detailing the development of the Mishimoto 6.4L Powerstroke upper radiator support bar. Last time, we looked at why front-end chassis flex in the 6.4 Super Duty has the potential to exceed a safe magnitude, using our advanced American architecture as a comparison. We learned that too much flex spells possible consequences, so we made it our goal to stiffen things up. But how did we do it?
We did it in the most American way possible - through innovation.
Our Founding Fathers did not tear everything down and begin anew; they met in Philadelphia, just forty minutes north of the Mishimoto R&D Center, and took their existing European systems of law and order, threw out the things that weren't working, and stuck to the tried-and-true principles as a foundation.
This same workflow can be found at the beginning of most great innovations. Henry Ford applied the same concept to the motor car. Vehicles were too expensive, so he removed the costly bells and whistles, standardized manufacturing, and released a product that was still a car, but accessible to the middle class. We can thank this innovation for our Super Duty trucks!
Building a Better Mousetrap Support Bar
So, as innovators, we applied the same philosophy when designing our radiator support for the 6.4 Super Duty. We began with the stock support. Now, the stock bar, like many OEM parts, likely did not come off the assembly line looking like it did on the designer's drawing board, costing what it did in the accountant's balance sheet, or reinforcing to the same degree it could have in the engineer's model. A stock part needs to be a compromise between these three things, but sometimes, the compromise leans too heavily in one direction.
In our CAD software, we built up our support around what worked with the stock support. The stock general shape was one of strength, and the anchor points were well placed at sturdy points on the frame. But the stock bar is flimsy, thin, and lacks the degree of structural reinforcement that we knew could help.
We kept what worked - the anchor points and general shape - and dropped the flimsiness in favor of some tough, rugged steel reinforcements. We designed the support using a thick steel bar as the cross-member and cast steel end caps for anchor points. The picture below gives a good idea as to the improved solidity and support of the Mishi bar as compared to stock.
Once we finalized our anchor point designs on the computer, we printed them out and fit them on some steel bar-stock for a test fit.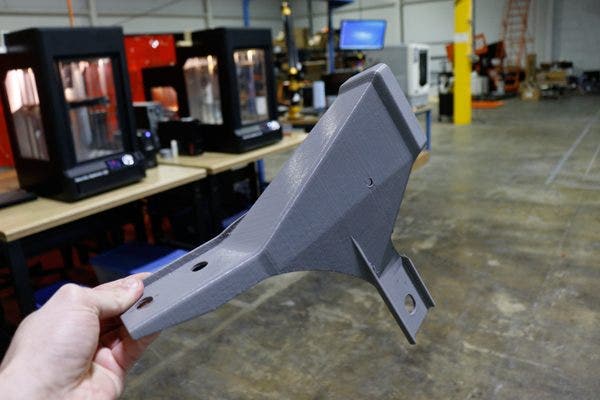 Break Out The Welder - Mike's Got an Idea
With our fitment confirmed and ready to go, we produced several samples and got these things ready for some serious testing. How serious, you might ask?
Serious enough to involve a custom-welded bar-stock testing rig (that's actually pretty ingenious; props to Mike, our welder and shop foreman), a forklift, our trusty 6.4, and some very precise sensors. Plus a few cups of coffee.
As a quick review, this is the kind of flex we are aiming to mitigate with our support bar:
So, to test the magnitude of our improvement, the idea was this: Mike designed a testing rig to mount at anchor points on opposing ends of the front-end frame - one on the top driver's side, and one on the bottom passenger's side.
Then, using an additional piece of half bar stock, he diagonally connected the two, welded it all together, and cut a six-inch or so section out of the diagonal bar.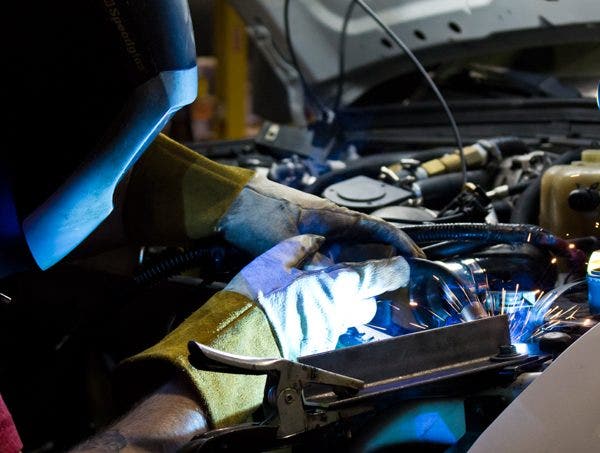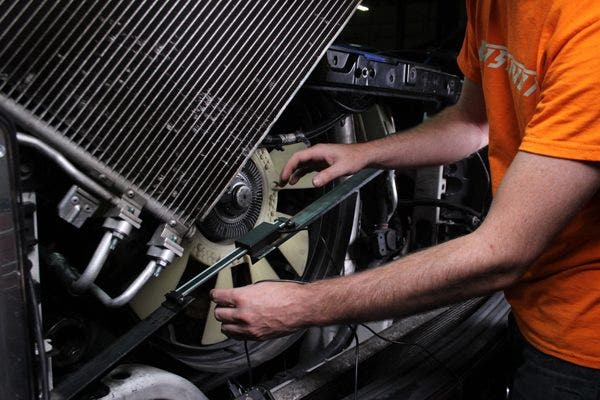 There, we placed our sensor, which detects variance in linear movement as one half of the bar slides toward or away from the other. Now, let's slide on over to the part where we picked our 6.4 up with a forklift.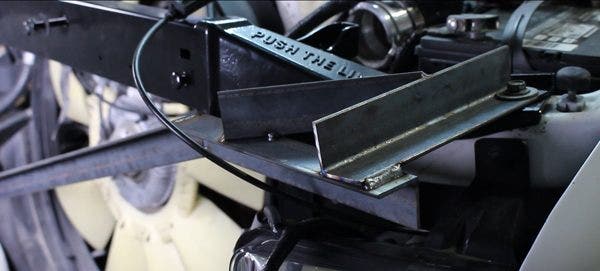 Time to Play with Heavy Machinery
The idea was, we'd use the forklift to pick the truck up by one wheel and use the sensor to measure how much displacement occurs diagonally across the front end as it flexes.
We performed this procedure using both the stock support bar and the Mishimoto support bar. The result?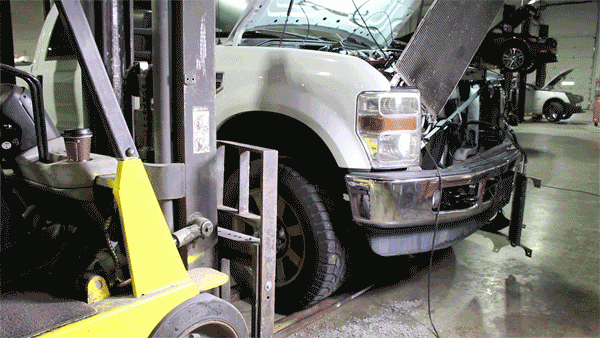 The Mishimoto support bar improves front-end rigidity enough to minimize diagonal flex by 28%. We were delighted with the results of our forklift test, but testing is not a one-dimensional process.
As one part of our continued testing, we installed our Mishimoto support bar on numerous vehicles that have been street driven, trail driven, towing, hauling, and trucking for months and many tens of thousands of miles now, and we've seen nothing but good things. Next time, we'll give you a look at how this thing actually looks installed on many of those trucks.
We're about halfway through this pre-sale; I told you this would be a quick one! Act soon if you want to take advantage of our discounted price.
Thanks for reading,
-Gardiner