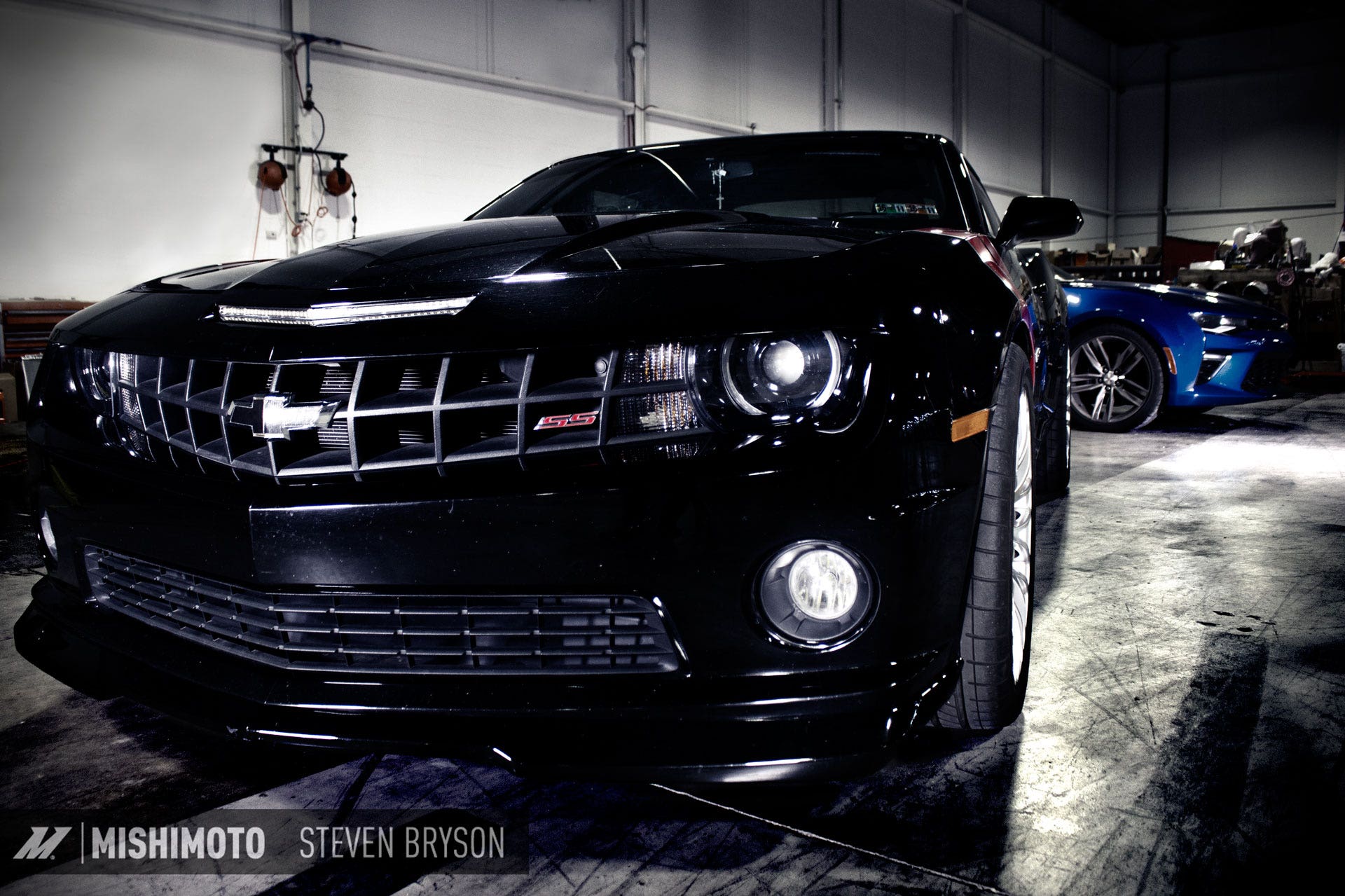 Cooling the American Dream - Radiator R&D, Part 1: Design and Test-fit
A Car for Drivers
There are 7 billion people on Earth driving over 1 billion cars. Some of those cars were made for people who spend their Saturdays shopping for houseplants and whose idea of speed is doing 45mph in a 40mph zone. Some of them were made for the passengers of the world, whose perfect car is a silent butler. Then there are the cars made for the select few. For those with fuel in their veins and tire smoke in their lungs. For drivers.
The fifth-generation Chevy Camaro SS is certainly a driver's car. With a 6.2L V8 capable of 426 horsepower, independent rear suspension, and launch control, the Camaro is not your average run-around. It's raced in touring car championships, NASCAR, and even Formula Drift (piloted by none other than Mishimoto-sponsored driver Ryan Tuerck). The SS's bigger brother, the ZL1, clocked a 7-minute, 41-second Nürburgring lap, keeping pace with Lamborghini, Porsche, and Mercedes. But even Goliath fell to the likes of David.
The first fifth-generation Camaros to roll off the lot are coming up on seven years old now.  While a person of that age isn't even fit to reach the pedals, these cars have seen a lot in less than a decade. They've likely driven enough miles to circle the earth nearly three times, and their pistons have seen more explosions than Michael Bay's private screening room. All of this means that certain parts of the car are starting to become a bit weary. Plastic parts are starting to crumble if looked at the wrong way. Piston rings and cylinder walls have developed different political views and aren't as close as they used to be. The little things are starting to chip away and reveal bigger issues.
But fear not, Mishimoto won't let your dreams of tearing down an open freeway at the helm of a screaming V8 die quite so soon. We've become the loving foster parents of a 2012 Camaro SS and have plans to revive its aching bones with a few upgrades. We'll start with an aluminum radiator along with an oil cooler to reduce engine temps, and finish up with an oil catch can kit to help clean up its lungs. First, let's take a look at the design and testing of our Mishimoto aluminum radiator.
Design, Build, Test - Repeat
Like many of our products, the fifth-gen Camaro SS radiator was designed through a combination of manufacturer data and measurements taken from the OEM radiator. From these measurements, our engineers and drafters are able to create an accurate model of the part. That model, along with any specifications, is used to create a prototype radiator. That prototype is what we then use for initial testing.
Once a prototype is finished, we begin test fitting and performance testing. For our SVP vehicles, that's a pretty simple task of removing the stock component and installing the prototype. For some projects, like this one, the process is a little more complicated. We often reach out to friends in the industry and our customers to borrow their vehicles for testing. For me, it's pretty exciting to see the awesome vehicles that our customers drive and put faces to names. Recently, we had the pleasure of working on some powerful MOPAR vehicles in testing our LX chassis radiator. This time we were able to borrow Alexis's beautiful 2012 Camaro SS.
Alexis's Camaro is certainly a beautiful car and I must say I enjoyed hearing its 6.2L V8 start up on the chilly December mornings. Once the Camaro was settled in our shop, the project engineer, Jason, wasted no time getting the stock radiator out and our shiny new aluminum Mishimoto radiator in.
With the old radiator out, Jason was able to seamlessly slip the Mishimoto performance aluminum radiator in its place. While the original radiator looked pretty good for its age, it never hurts to have a little extra insurance with a fully aluminum design and thicker core, especially on such a powerful vehicle. Plus, we're pretty happy with how the radiator looks in the engine bay.
Coming up
Now that we've confirmed fitment, we'll be taking this SS out for a long highway cruise to test the radiator's performance. Keep an eye out for the next update with those test results. We'll also be looking at the development of our fifth-gen Camaro SS oil cooler and catch can kit, so be sure to watch for those threads as well!
Thanks for reading!
-Steve