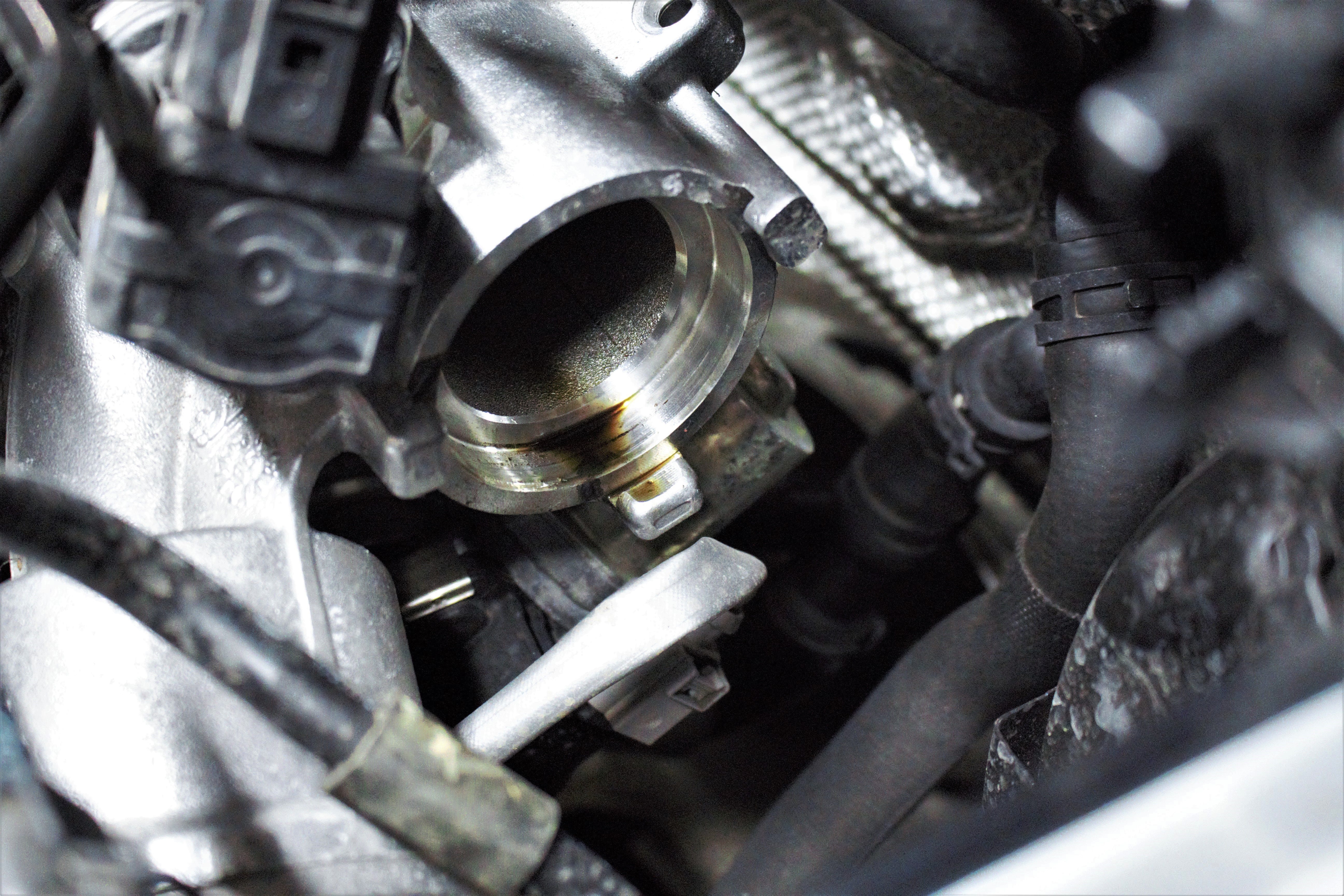 We Struck Oil - Catch Can R&D, Part 1: Stock System Review
Posted:
November 30, 2016
Oil catch cans are a hotly debated topic, yet one fact is still irrefutable; oil blow-by will always be a real byproduct of the modern direct-injection engine. Intakes, charge pipes, and turbos all come into contact with the stuff over time. Sometimes, even newer, low mileage vehicles develop blow-by issues. With direct injection, fuel is injected directly into the cylinders, eventually resulting in carbon buildup on the valves. This was not an issue with port injection, since fuel injectors were placed in the intake manifold. The air-fuel mixture is sprayed directly on the valves, essentially cleaning them each time an injector fired.
Carbon and oil buildup in direct-injection engines can negatively impact vital engine components and can result in an expensive fix later down the road. I can go into long, excruciatingly deep detail about the dangers of blow-by, but I've given you the basics of what you should know. For more information, I strongly suggest that you take a look at our technical article that goes into the nitty-gritty of blow-by.
Modern engines incorporate crankcase ventilation (CCV) systems that are designed to handle blow-by better than older cars; but the most effective way to combat this is with the use of a catch can, and that is where Mishimoto comes in. Our newest catch can project brings us under the hood of an Volkswagen Golf MK7.
This 2016 Golf was lent to us by our Director of Content. People who generously lend their cars to us make projects like these more convenient for everyone involved.  As you can see, he has our intake, which was released earlier this year. This intake makes dyno-proven gains of up to 12whp! Okay Diamaan, enough with the product plugs, let's get into this.
Let's start with the positive crankcase ventilation (PCV) hose, pictured above. We need to remove this from the system to examine it and plan on how we want to route our catch can lines. This hose was tricky to remove from the turbo inlet. If you look closely at the images below, there are no visible snap-on connections for this hose, it was designed to just twist it off, which is much easier said than done.
After disconnecting the PCV hose from the turbo-inlet, we found that at the other end of the hose has a special attachment to the valve cover of the engine. In the pictures below you can see that the hose attaches to the valve cover with a single bolt and is sealed by an o-ring.
Once everything was clear, we took a step back to assess the situation. Replacing this hose with our own will be tough to do because the attachments are not designed to be easily removed and reattached, so our engineer will get creative with how these lines will be made. We also noticed a considerable amount of oil surrounding the compressor housing of the turbo. This Golf has only around 10,000 miles on it, so seeing oil on such a vital part of the engine and so early in this Golf's life was a little surprising. I wouldn't want oil anywhere near my turbocharger's compressor (if I had one!).
What's Next?
I think we have a location planned for where in the bay we want to put this can. There is a lot of unused space right in front of the coolant expansion tank, so our engineer's sights are set on that area. We are going to do something pretty cool with how we design this catch can. It involves a robotic arm and lasers. Stay tuned!
-Diamaan