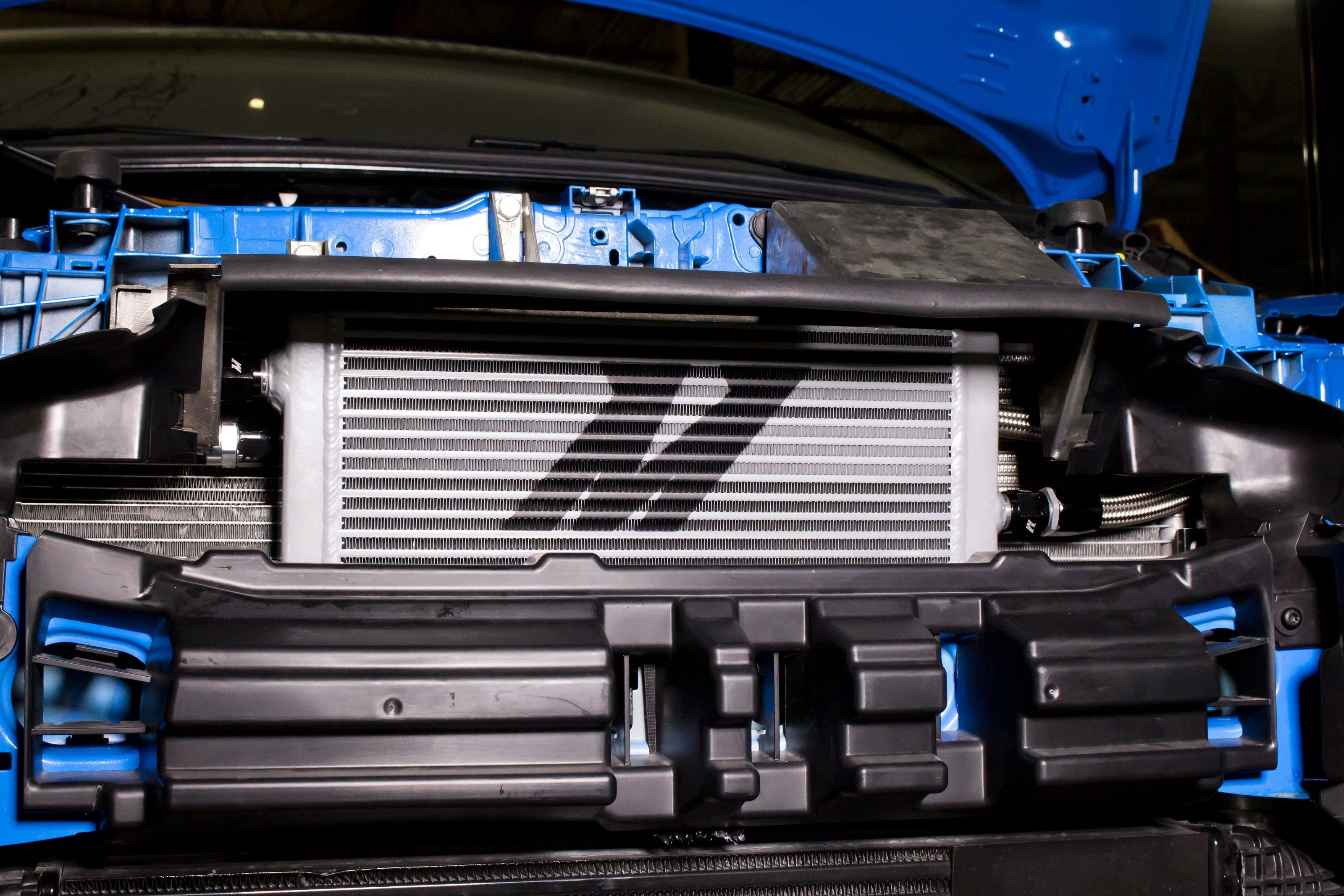 Cool Operator - Oil Cooler R&D, Part 2: Prototype Testing
Posted:
September 02, 2016
High oil temperatures can shut down a track day faster than you can scream your favorite four-letter word. Unfortunately, high oil temps are already sidelining RS owners at the track. Not to worry, Team Mishi is on it!  In our last post, we took a look at the stock cooler and our plans to create a larger one. Now it's time to construct and test our prototype.
We began with constructing our prototype bracket for fitment testing. After cutting the bracket on our waterjet, we tack-welded it together and bolted up our cooler to take a better look at fitment. We will be using one of our larger bar-and-plate coolers designed for our Mustang GT oil cooler project for the RS oil cooler kit.
You may have noticed the scoop on our prototype above, or in our render from our previous post. When designing the bracket, we saw an opportunity to go the extra mile by adding this feature. It works to direct some of the air that does not pass through the cooler, up and into the intake duct. We plan to test this feature to ensure that it functions as designed before including it on our final product.
Testing
Now that we are sure the bracket and the oil cooler fit our RS, we are one step closer to testing! The rest of the kit was constructed, including a custom center bolt for our sandwich plate, which our engineer, Dan, fabricated for this project. We will leave the stock cooler intact and install our cooler in tandem with the stock setup. This should provide the benefits of a larger aftermarket oil cooler without compromising oil warm-up times. That said, it is on to testing!
Our on-road testing is important because it replicates how our kit will perform in every-day driving situations. We know that there are more than a few track-dedicated Focus RS's out there, but for everyone that bought this car to enjoy on a daily basis, our products must function properly on both the street and track. Repeatable baseline testing will ensure that our cooler demonstrates excellent performance in daily driving situations before we move on to more stressful testing.
As you can see in the chart above, on-road testing showed the stock cooler holding at 200?F, which is perfectly normal for a stock setup. With the addition of the Mishimoto cooler, we were able to reduce temperatures to 170?F at the inlet and 155?F at the outlet, making for a 45? temperature drop from the stock cooler. By choosing the cross-flow cooler setup rather than a dual-pass cooler, we were able to keep the pressure drop to about 7 psi. Excellent results for on-road testing!
Not only did our oil cooler perform favorably during our preliminary testing, but we also found that the design of the bracket produced a 6?F reduction in intake air temperatures. Talk about a freebie!
Second Prototype
For additional track testing, we constructed a second prototype bracket from aluminum, which gives it a much better appearance than our first prototype. In addition, it will be lighter and more comparable to the final product, which will also be constructed from aluminum. This prototype will go to a third party for track testing, and we are eager to hear their impressions of our kit in action. We will report back with an update as soon as their testing is complete. For now, check out our final prototype and let us know what you think!
Coming Up!
With our on-road testing complete, we can now launch our pre-sale! We will post the details of this pre-sale shortly. In the meantime, let us know what you think of our RS oil cooler design!
Thanks for reading
-Sara