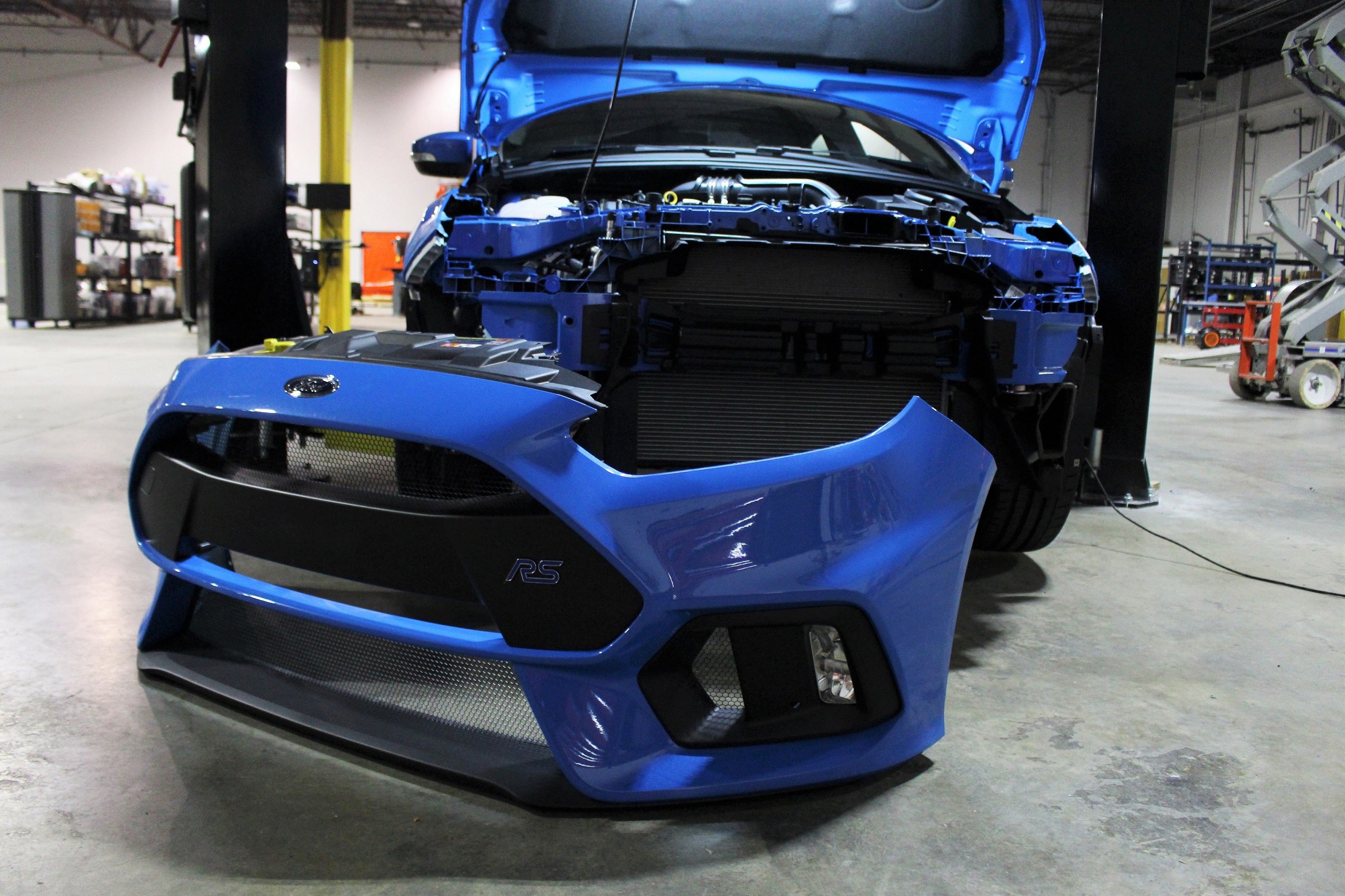 Cool Operator - Oil Cooler R&D, Part 1: Stock Review
While we plan to create an entire line of cooling products for the RS, some require more immediate attention than others. The oil cooler is shaping up to be one of these items. With a stock cooler that's less than adequate, and oil temps on track days that could make Chuck Norris sweat, we have a problem brewing.
Stock System
The stock oil cooler is a liquid-to-liquid heat exchanger and therefore relies on the radiator to cool the oil, as well as the coolant. This style of oil cooler also acts as an oil warmer, bringing the oil to operating temperature, which is beneficial for colder climates. I know with the heat wave that is currently engulfing a large portion of the country, not many of us are concerned with the oil reaching temperature; but in the dead of winter, it can certainly be helpful.
As you can see below, coolant is supplied via the two lines connected to the right side of the cooler. Of course with every liquid-to-liquid cooler pro, there is a con. The most critical issue is that the radiator has to work twice as hard to keep the RS's oil cool, as well as the coolant. This often results in higher oil temps, especially with any sort of track use.
Designing the Prototype
Our game plan is to retain the stock oil cooler, if possible; we will then add our own liquid-to-air heat exchanger in order to combat high oil temps. The first step was deciding where to mount our oil cooler. It's no surprise that the RS is low on space, but after becoming acquainted with our RS during our intercooler R&D, we knew just where to locate this cooler.
The upper-grille area should provide the maximum amount of air flow while minimizing the space that the cooler takes up. Speaking of minimizing space, we will be using the heat exchanger that was born during our Mustang GT oil cooler project. For that project, we designed small, medium, and large bar-and-plate heat exchangers to test. After choosing the best for the GT, we produced the rest for universal applications. The medium cooler should do the trick here. It has a large surface area while still saving space, something that is a hot commodity for the Focus.
Once we had a location, we set out to design a bracket. Based on the location we chose, this proved to be on the difficult side. The air diverter directly above the opening in the grille is plastic and is not likely able to support the size cooler that we want to use. Not to worry. Our engineer, Dan, often shoots for the stars with his designs and came up with an excellent plan. He designed an aluminum bracket to replace the entire plastic air diverter. This will be strong enough to both hold our cooler and continue to function as an air diverter similar to stock. Check out some renderings of the bracket with our cooler!
Coming Up!
Now that we have several renderings of our bracket and cooler, it is time to bring it to life. In our next post, we will weld up our prototype bracket and fit it on our RS. In the meantime, let us know what you think of our oil cooler design, as well as our other Focus RS projects. Stay tuned!
Thanks for reading
-Sara