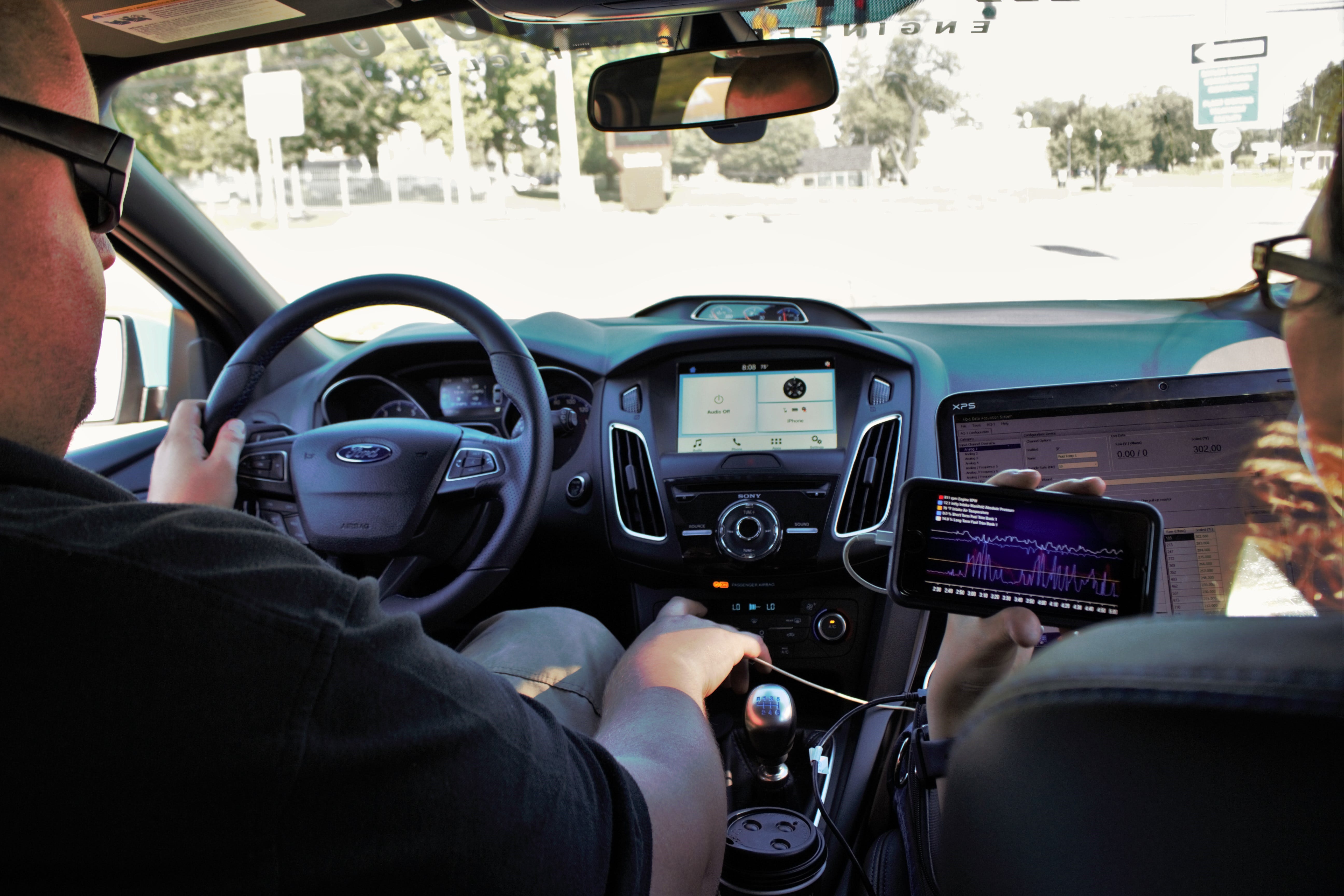 ReSpiration Focal Point - Performance Intake R&D, Part 3: Data Time!
Posted:
September 08, 2016
Our product development for this 2016 Ford Focus RS has been getting a good amount of attention. Even a fellow Focus RS owner and writer, Kelly G over at "ArtofGears" has taken notice with this awesome piece he penned a couple weeks ago. But I digress. How about we stick to the project at hand?
The engineers, who pretty much call our brand new R&D facility their second home, have been busy working on both current projects and projects you guys don't even know about just yet. Of course, what we are going to shine a light on in today's piece is the performance intake development that has garnered quite the following. Why keep you guys clamoring for more information? Well, I wanted to be sure that you could really sink your teeth into the next update. Good things come to those who wait!
First, we dove head first into testing, testing and more testing. Our engineers wanted to know every single aspect of how our intake would perform in various conditions. As a matter of fact, it's great we are testing in this insane Delaware heat. Testing a product like this give us a better idea of its performance in more extreme conditions, really pushing its limits.
The Data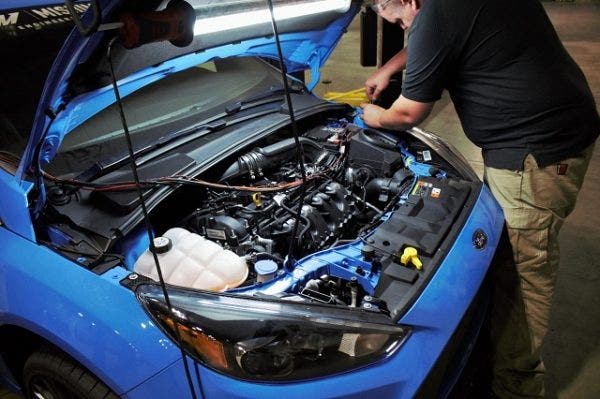 The RS needed to be out on the road, as we needed to look at how the intake kit performed on the car at highway speeds. First, we outfitted the car with AEM data-logging hardware and some software for monitoring. In one of the road tests, two engineers doing testing; one tested our intake and the other tested our new oil cooler projects.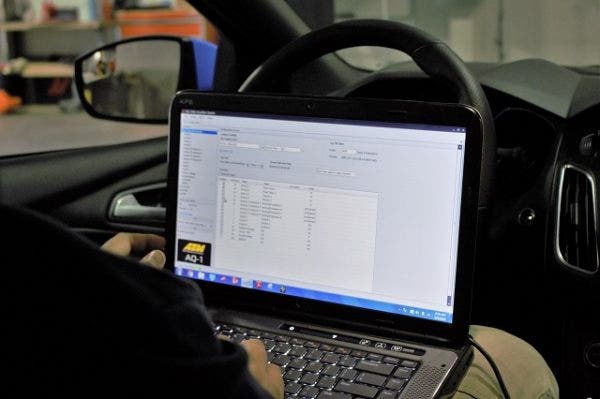 We will be focusing on the information that we obtained from the OBDII (on-board monitoring) system. To gather this data, we simply connected an iPhone directly to the OBDII port using third party software. Pretty nifty, right?
So how did it do? Let's first take a look at the fuel trims. Well, even before we do that, it's important that we talk about what fuel trims are, so that everyone is on the same page. Don't worry, it will be quick.
A vehicle's engine computer, especially in this car, uses a dizzying array of checks and balances for its electronics. When it comes to fuel trims, it's all about maintaining a balance between the air content that the oxygen sensor reads and the resulting fuel that comes out of the injector. Think of it like a playground teeter-totter; imagine that air is on one end and fuel is on the other end. It's the computer's job to keep this balance as level as possible while the driver is hopefully doing good things to the gas pedal. Disturbance of this balance is usually the culprit behind many check-engine lights, but that's a discussion for another day.
There are two ways to measure fuel trims: short-term fuel trim (STFT) and long-term fuel trim (LTFT). The concept here is pretty simple; STFT is the measured fuel mixture at any given moment, and LTFT is measured over a longer, predetermined length of time, such as a road test. We evaluate fuel trims both at idle and at around 2,500 rpm, the latter taking place on the highway with the cruise control set at around 60 mph.
In stock form, the RS has a relatively high fuel trim level, which isn't necessarily a bad thing; it's just how the car handles its internal air and fuel mixtures. Most manufacturers build their cars this way to ensure a safer tune in a variety of climates, but running slightly leaner usually means more power. The first baseline STFT report, with the car at idle, showed a settling process that the computer goes through: The early plots differed from later baseline runs as the plot lines became much smoother. LTFT changes are minor once the car is moving; this was even more evident when we switched to our intake prototype. As the car "learned" and was driven for multiple times, the plot lines stayed consistent throughout, which bodes well for how nicely the car learned to adjust properly. With our intake, STFTs were a bit quirky, having constant minor adjustments while at idle. This is most likely due to the idle being rougher at idle. (TLDR?)
The car's fuel trims are great and don't show any signs of problems when our intake is installed on a brand-new 2016 Focus RS. We even saw max gains of about 11hp and 15 ft-lbs of torque! Take a look at the chart below for these results.
We now had to take a look at how the airflow goes through our prototype system. We hooked this intake up on our flow bench to get even more data, specifically the pressure drop across our prototype system.
Pressure drop is the resistance of air when sucked through the air filter. To better visualize that, imagine a vacuum cleaner with a hose attachment. If you place a screen filter or a piece of paper on the hose, the vacuum needs to work harder to bring in the air. However, if you were to remove that filter and, say, increase the hose diameter, then the vacuum would not have to work as hard. Intakes work in a similar way. The changes made to our vacuum cleaner example will show a positive pressure drop, which means a decrease in pressure. Essentially, the air is now taking the path of least resistance.
Some readers have expressed interest in whether we would follow in Ford's footsteps with an open-top air box. Initially we were not, but hey, things change. We worked on designing a box that also accommodated a perforated lid design, because testing the pressure drop of both designs is important.
A Newer Design
With our data in mind, we began designing a new intake box. It wasn't as simple as just cutting out a hole in the lid and calling it a day. This lid would have to seal against the hood to reduce the amount of heat soak the filter could see. Part of the box needed to be raised a bit for the lid to reach the hood and seal properly, so the entire design had to change. Another prototype box had to be made, but our fabricator made it look easy!
After the box was spot-welded together, all that was left was to bend a few pieces. And just like that, we had our new box!
Shown above are both of our lids! We plan to give you the choice between open or closed - whatever suits your needs. But before we fit this into the car, we needed to test the pressure drop so we could get a solid understanding of how this airbox functions with each lid.
We are presently working with "prototype B". "Prototype A" was the box described in the previous post. The chart above shows a comparison between prototype A and prototype B with the closed lid design.  Prototype B has a drop of about 21%, and A has a drop of about 20% over the stock system; these numbers are similar, but overall, this is very good news.  The stock intake box has the interesting honeycomb design with the RS badge imprinted on the top. Ford didn't do this only because it looked cool; the Ford engineers most likely knew that this box would have a good impact on pressure drop. Plus, you get the added benefit of hearing the intake a bit more!
In the chart above, you can immediately see an improvement between the two designs. We have three sets of data, but these designs performed so similarly, with a difference of less than 1%, that we included only one set on the chart. To properly replicate our test, we omitted the original lid on prototype A during this test, while prototype B used our newer box and open lid. Either way, we saw a pressure drop of 31% over stock from both designs. This tells us that a partially covered design B performs just as well as a completely uncovered design A.
We calculated this pressure drop by using simulated yet constant-real world driving conditions. These data points were gathered at 1,000 rpm increments, starting at 1,500 rpm. Aspects such as boost pressure and ambient temperature were among the multitude of variables we took into consideration to get these calculations. and we had to be sure that these things stayed constant. Keep in mind that this was a fully simulated test run, but it should give you an idea of what our kit can do with respect to airflow and pressure drop.
Although the newer open-lid design did not have any significant performance gains over the previous design, it did improve intake air temperatures (IAT's). This box reduced the IATs by 3° F during our cruising tests. If you look closely, there is a cutout for an opening on the front edge of the box. This actually opens up behind the headlight, and more air is circulated through that small opening, which helps reduce the temps. The closed lid will completely seal this off.
Remember, the piping hasn't changed at all. It's all about the box, so let's see what the new design looks like when test fitted in the car!
The closed design is very similar; the box will just be the fully enclosed option.
We made two boxes for two reasons. First, exploring both designs give a wider scope of possibilities for improving induction and being thorough in our research is a priority. Second, we want you guys to have the choice between an open-lid and close-lid design instead of manufacturing only one or the other, that way, you have options!
What's Next?
Wow. That was a lot. I know many of you wanted an update, so how "bout them apples? I told you we were up to a lot with this project! We are finally on the tail end of this intake project, so stay tuned for the next update. We will soon have a cool looking, painted prototype everyone can ogle. Thanks for sticking with me and reading through!
-Diamaan