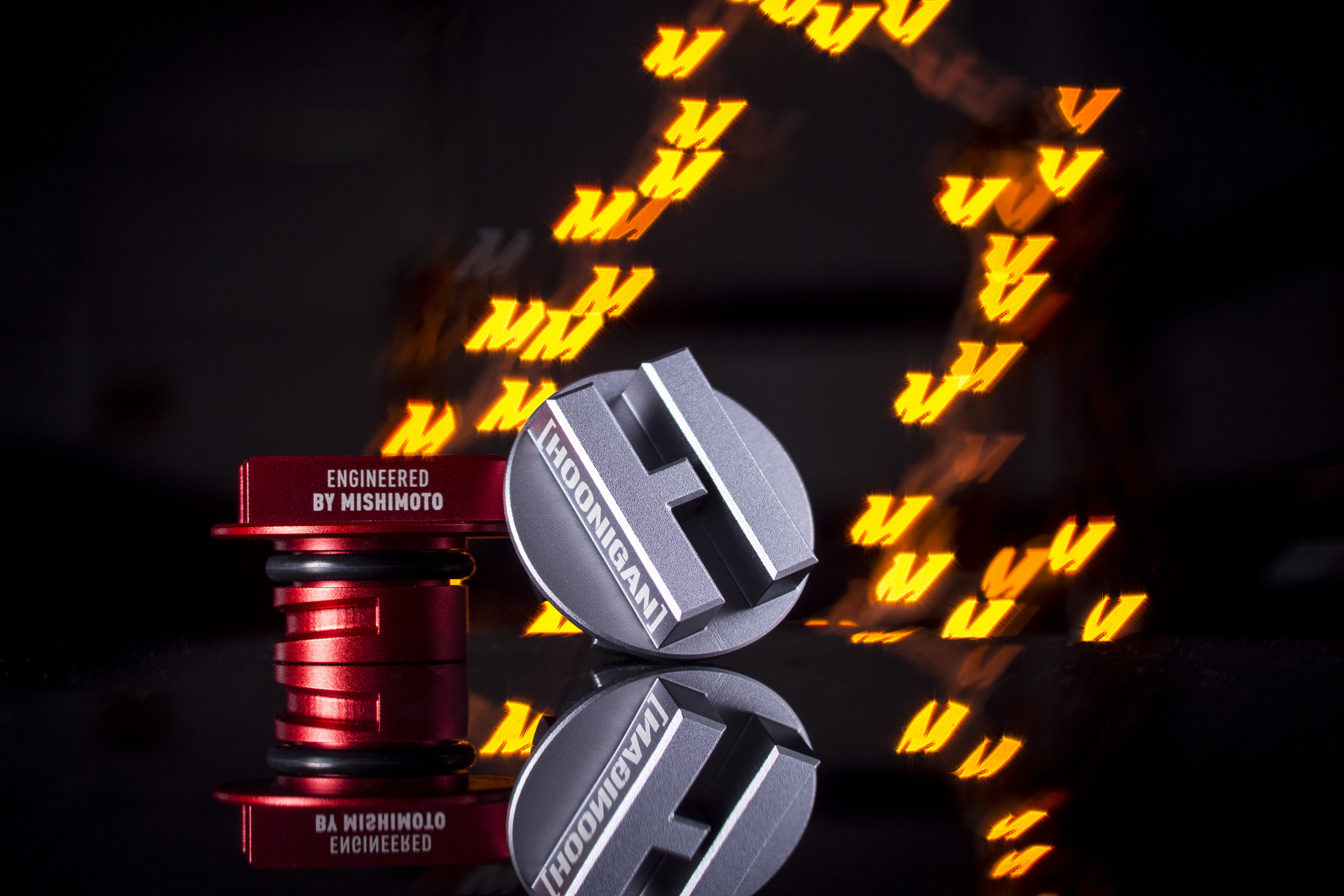 Mishimoto+Hoonigan: Together at Last - The Story of the World's Greatest Oil Cap
When two independent entities combine their shared strengths with their individual specialties to produce something new, the result is often a product that embodies greatness of a magnitude even grander than that of the parties whence it came - just ask my parents (kidding, Mom and Dad!). Joking aside, we call this effect synergy, and here are a few renowned examples:
Peanut Butter and Jelly
Snoop and Dr. Dre
Disney and Pixar
Jobs and Wozniak
LS Motors and any chassis ever
You get the idea. Anyway, you might be wondering where I'm going with this (unless you were enterprising enough to read the title), but I am excited to share with you the newest addition to the above list of greats: Mishimoto is partnering up with Hoonigan to produce some products that are sure to be far more influential and ass-kicking than anything else by those listed above, and that includes Finding Nemo.
No, we are not making an autonomous, tire-shredding gymkhana vehicle (yet!). We are, however, releasing a limited edition billet aluminum oil filler cap, complete with a matching bottle opener/multi-tool keychain to go with it. This is the quintessential drifters' toolkit; our goal is to provide you with the means to get out there and thrash tires while your engine bay endlessly drips not oil - but style - all over the track, and then crack a brew once you're off course and ready to party. But more on this later! First, I want to speak a bit to the strengths and assets of our partnership.
A Match Made in Heaven
For those of you who may not be familiar, Hoonigan is an automotive culture powerhouse; from their team of professional drivers to their featured vehicles, awesome swag, and ridiculously wild videos, Hoonigan covers all the bases when it comes to having fun in cars and looking good doing it. Tires fall to their knees and beg for mercy at the mere mention of these guys and gals. If you want to know more, I think Hoonigan themselves can probably explain better than I can.
Mishimoto has been a major player in the automotive aftermarket for quite some time now. From our humble beginnings manufacturing aluminum radiators, we have developed into a lean, mean engineering machine with a broad, continuously expanding product portfolio that encompasses a span of categories ranging from oil coolers to exhaust systems, and everything in between. We pride ourselves heavily on our extensive R&D process, which we document for many of our products on our engineering blog.
We at Mishimoto are big fans of Hoonigan - like theirs, our office is full of rubber-burning, petrol-breathing car nuts. I don't typically like to speak on behalf of others, but I am pretty confident that we see fairly eye-to-eye.
Designing The King of Caps
As mentioned previously, our engineers have teamed up with the Hoonigan team in designing our first ever collaboration: a beautifully bold oil filler cap, available in anodized red or gunmetal in a gaggle of fitments to be compatible with all kinds of applications - these Hoonigan caps will fit on any vehicle that our existing line of oil caps work with, with the addition of a fitment for LS series GM engines. A not-quite-comprehensive (but still very broad) list of fitments can be found here, but our primary fitments will include:
Honda Oil Cap
Toyota Oil Cap
Subaru Oil Cap
Nissan Oil Cap
Ford Oil Cap
Mitsubishi Oil Cap
Mazda Oil Cap
LS Engine Oil Cap
The first step in the design process was to kick around different iterations of ideas with Hoonigan until we agreed on one that would meet both of our strict design standards - nothing short of top quality design for our fellow hoons. Once we had settled on a concept, our engineers broke out the CAD program to flesh out a 3D model of the oil filler cap.
From here, our drafts people took over and created some killer renderings to demonstrate what the final oil cap might look like. Check it out below.
And here's a bonus rendering of the Hoonigan multi-tool keychain - did I mention that this will be included with every oil cap purchase? You can use it to open any brew you'd like, as long as it's a Corona!
We tossed around quite a few oil filler cap concepts, but the one we settled on is by far the most hoon-worthy.
After the model had been finalized, we 3D printed a prototype to ensure that the oil cap would properly fit. Once we were sure that all of the dimensions were just as precise as Ken Block's handbrake turns, it was time to make this thing a reality. The end result was even better than anticipated!
And here is the Hoonigan oil filler cap installed on a variety of vehicles. A huge improvement, if we do say so ourselves.
Lastly, here are some shots of one of the finished Hoonigan bottle openers. In case you missed it above, these will be included with every oil cap!
But When Can I Get One?
They say the greatest things in life are worth waiting for, and this is certainly among them. That said, why wait if you don't have to? That's right - you may order a Hoonigan Oil Cap and Bottle Opener Keychain combo kit beginning right now on our website's oil cap page. As mentioned, each kit is available in either red or gunmetal with designs to accommodate a wide range of vehicles.
Lastly, we'd love to see how these look on your cars! Feel free to snap some shots and throw them on to share your style.
Thanks for reading, and keep on hooning!
 - Gardiner