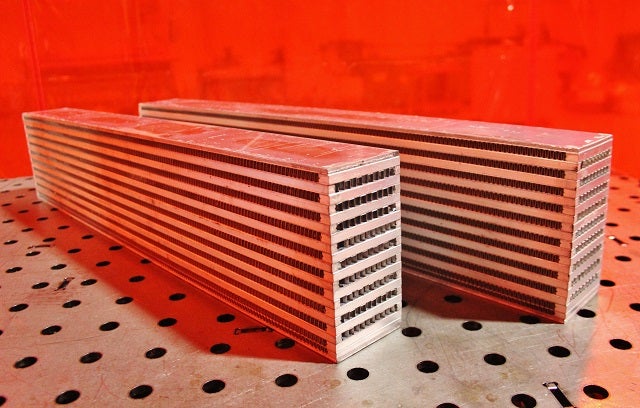 Beat The Heat! Mishimoto Fiesta ST Intercooler R&D, Part 5: Second Prototype Fabrication
Posted:
February 26, 2016
Our quest for the perfect intercooler core continues! So far we've perfected the fitment and size of our intercooler core. Our final task is to adjust internal fin composition to create a perfect blend of pressure retention and temperature benefits.
Prototype Ford Fiesta ST Intercooler Fabrication
Timing is a bit of a concern for us at this time. This project has been lengthy, but it will be worth the effort and time when we know our best efforts have been captured in our final product.
Our final version of this intercooler will likely feature a tube-and-fin core. The benefits of weight and airflow are too important to ignore, not to mention the temperature drops we are seeing with a strategically designed internal core.
For our team, the creation of a bar-and-plate cooler is a much quicker process. We've found that pressure drop between the two core types is similar if fin style, density, or both are the same. So for this test, we are using two bar-and-plate cores to determine our final fin design that will produce improved internal airflow.
Check out our two cores!
Both cores are less dense than the previously tested units, so they should produce a lower pressure drop. They also utilize different fin styles. Check out the internal structures below.
The core on the left has a loose fin composition and uses standard straight fins. The core on the right uses offset fins, meaning the rows are offset to provide greater contact surface area. Offset fins also result in a slightly higher restriction.
To conduct testing for these cores, we needed to attach our end tanks. With time constraints in place, we decided to use the end tanks from our rejected prototypes.
Once separated, the powder coat was removed so we had a clean surface for welding.
Our talented fabrication team then laid down some impressive welds to finish the prototype fabrication.
Coming Up - Additional Testing
Next time we will be testing these two new prototype intercoolers on our Fiesta. Based on the data we collect; we should be able to start producing our first batch of coolers soon.
Keep an eye on our blog for additional updates on upcoming Fiesta ST performance parts.
Thanks for reading!
-John