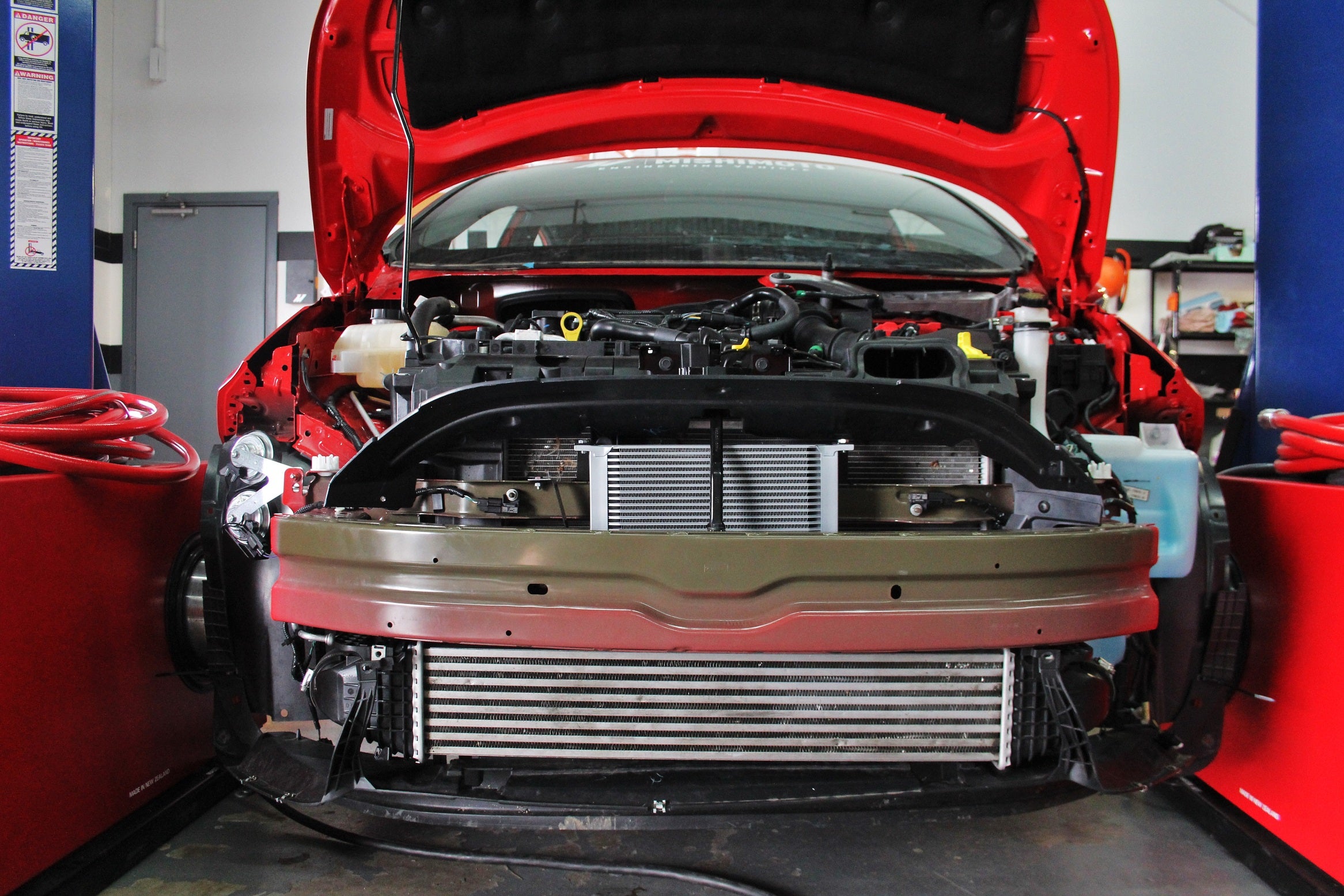 Beat The Heat! Mishimoto Fiesta ST Intercooler R&D, Part 1: Big Plans for a Little Car
Posted:
September 11, 2015
We've discussed R&D for many of our typical product segments for the Fiesta ST. These include our in-progress aluminum radiator, our already released catch can kit and oil cooler solution, as well as our nearly complete intake system and exhaust components (both cat-back and downpipe). Our company is also known for its strong line of heat exchangers, so we certainly need to see what can be done about the undersized stock intercooler on the Fiesta.
Heat is a big enemy of the Fiesta, as many have already discovered during track driving. High oil temperatures, high coolant temperatures, and a heat-soaked intercooler all commonly occur after short periods of aggressive driving. We've been actively tackling both the coolant and oil temperature concerns in other development threads, but now it's time to lower the intake temperatures with an upgraded intercooler.
Stock Intercooler Evaluation
You've probably seen the stock Ford Fiesta ST intercooler on the forums or Internet when folks are replacing the laughably tiny core with a much larger piece. We need to evaluate the size, shape, and components so we can begin brainstorming ideas for our own design.
First, a look at the cooler in place with the bumper removed from the Fiesta.
Just under the massive stock crash beam sits the stock Ford Fiesta ST intercooler. All airflow reaching the bottom portion of the radiator must first pass through the fins of this heat exchanger.
A few clamps and a couple mounting bolts later, the stock intercooler was off the vehicle.
Take a closer look at the end tanks on the stock Fiesta ST intercooler.
This style of intercooler is typical of modern Ford turbocharged vehicles: a thin tube-and-fin core mated to plastic end tanks. The core is crimped to the end tanks, and an inner rubber seal prevents air leaks. The tanks feature a mounting peg on each side as well as a mounting point for hardware to attach the cooler to the radiator core support. Fairly simple design.
One would think Ford designed this cooler to support the ST in stock or lightly modified form. While the cooler performs well during normal driving conditions, our old friend Mr. Heat Soak is a real possibility during long-duration idling or repeated high rpm pulls. This is the case even on stock vehicles, which is pretty disappointing.
Not to worry though, we will have an ideal solution worked up in no time!
Prototype Design
Designing our prototype will be a somewhat lengthy process. We need to capture dimensions from the stock end tanks to properly incorporate the mounting points and inlet/outlet locations for our cooler. In addition, we need to fit a larger, more efficient core without adversely affecting fitment. Before jumping in, let's outline a few goals for the project.
Project Goals
Bolt-on fitment without vehicle modification, component replacement, or bumper cutting.
Improve heat transfer substantially with a larger, more efficient core.
Design end tanks with smooth internal flow.
Smooth flow is key to reducing pressure drop across the core of the cooler. Less pressure drop means the turbo is working less to produce the same amount of boost. This can help extend the life of your turbocharger and can also affect throttle response and power delivery.
Core height should not be substantially greater than the stock intercooler.
This is a big one for us. The stock cooler sits right in front of the base of the radiator, which affects airflow to that heat exchanger. By retaining the stock height, we can be sure that radiator cooling efficiency would not be reduced even more.
Experiment with both tube-and-fin and bar-and-plate options.
This is the fun part. In considering airflow to the radiator, any reduction in flow will hamper the already poor efficiency of the stock radiator. A tube-and-fin intercooler typically allows more airflow through the core compared to a bar-and-plate design. Even though efficiency is slightly less, we will be testing both core types to determine the impact on coolant and intake temperatures, as well as the resistance to heat-soak. We normally go with bar-and-plate options on our projects, so I am pretty excited to see this experiment. The Fiesta ST is the ideal application for this comparison.
Greatly reduce (or eliminate) the chance of intercooler heat-soak.
So, we have a tall order for the R&D of this cooler. Easy is not a word I would use to describe this project.
Prototype Design: Core Mock
First, we needed to see what size core we could fit within the limitations of the front end of the Fiesta. We used foam to mock up the proposed core size for our intercooler.
After a few adjustments, the core size was mapped out. Size comparisons are shown in the chart below.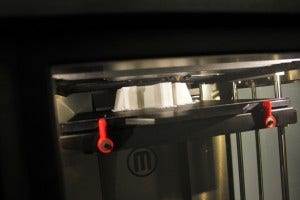 3D printing Fiesta ST performance parts
After a bit of waiting, which involved hopeful peering into the printer bay, the prototype pieces were complete.
Looking good! As you can see, the shape of this piece is similar to the stock tanks. One of the primary differences will be the construction material, cast aluminum, which will provide undisturbed airflow and optimal durability.
Coming Up!
That's it for our first segment on the Ford Fiesta ST intercooler! Next time we will be mocking our tanks into place and finalizing the design of our cooler in 3D! Check out more articles on our blog featuring upcoming Fiesta ST performance parts.
Thanks for taking a look!
-John