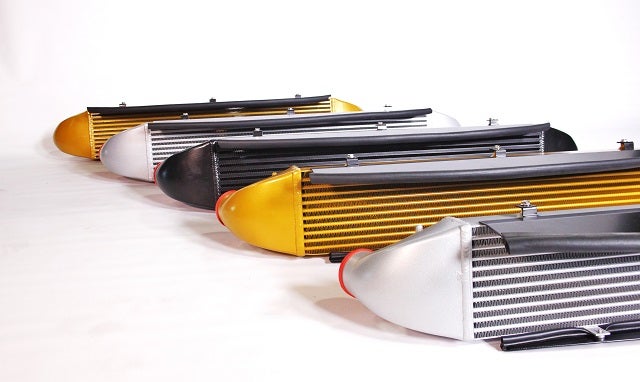 Beat The Heat! Mishimoto Fiesta ST Intercooler R&D, Part 3: Completed Prototypes
We're back with another update! Our team has been busy constructing our functional Ford Fiesta ST (FIST) intercooler prototypes, putting a lot of work into the R&D design stages, and now we get to see if it pay off. Enough of the wait, lets jump right into some images of our five prototype coolers.
You might need a few seconds to let your heart rate recover!
We have quite a bit going on in these images. As you can see, there are three different color options. Each finish is powder-coated, and we intend to offer black, silver, and gold coolers for those looking to add some bold styling.
In addition to the various colors, we have three different cores among these five prototypes: one tube-and-fin core and two different bar-and-plate cores. Our goal here is to evaluate the differences in pressure, temperature, and power output between our prototype cores and the stock cooler. Take a look at this image showing the two different core styles.
The silver cooler has a bar-and-plate core that can be identified by the flat bars running horizontally from one side of the cooler to the other. The gold cooler has a tube-and-fin core that our team designed. This type of cooler uses tubes instead of bars; the tubes are identified by their rounded edges.
So you may be thinking, why try both cores? We want to provide you guys with the best cooler possible, and both these cores offer different advantages and disadvantages.
Tube-and-Fin Intercooler
As with most stock intercoolers, the FIST comes with a tube-and-fin style cooler. Our design differs slightly by modifying the internal and external fins to promote greater heat transfer. We've also increased core thickness, which should aid in efficiency.
Let's take a look at the pros and cons of the tube-and-fin core type.
Advantages
Lightweight
Greater airflow through the core exterior
Disadvantages
Reduced resistance to damage
Typically less heat transfer than a bar-and-plate core
Normally our direct-fit intercooler kits contain bar-and-plate coolers. So why are we changing our protocol here? Two reasons: weight and airflow. We know from experience that the FIST has issues keeping coolant temperatures stable while on the track, and vehicle owners are desperate for a solution. A bar-and-plate cooler in the front of the radiator will further block airflow to the radiator, but a free-flowing tube-and-fin unit helps with airflow, especially in a vehicle where this airflow is so important.
We also want to address weight with our design. A bar-and-plate cooler of comparable size is around three times the weight of the tube-and-fin. The FIST is a hot-hatch that is intended to be small and nimble. We need to be careful with how much weight is added to the car so we do not disrupt the balance.
We will explore all these issues with more testing! If we can produce efficient temperature drops with our tube-and-fin core design, it might be the way to go.
Bar-and-Plate Intercooler
Following our traditional line of intercoolers, we also designed a couple bar-and-plate coolers.
As with the tube-style cooler, this design offers a few advantages and disadvantages.
Advantages
Increased cooling efficiency
Better resistance to physical damage
Larger internal volume within the same exterior footprint
Disadvantages
Heavier
Limits airflow speed through the core exterior
The key benefit with this design is efficiency. The primary goal of any heat exchanger is to reduce temperatures, and we want to ensure that our team designs a product that excels in that task.
As noted, we have worked up two different prototype bar-and-plate coolers. After some heat-transfer calculations and using our experience from previous projects, we designed two cores differing in bar height and fin size. The changes here will have an impact on flow through the internal core passage and external heat-transfer points. We should see differences in both pressure and temperature during our tests of these two cores.
End Tank
One of the distinguishing features of all the intercooler prototypes is our cast aluminum end tank. This portion of the design is extremely important.
Casting the tanks allows us to achieve a few things. First, it provides a very strong end that will support high boost levels. In addition, there are far fewer failure points, as the tank is essentially one piece that is welded to the core.
On top of these two benefits, casting our tanks allows us to design the internal shape and size to produce optimal airflow with as little restriction as possible. We can also shape the tank so that air is spread throughout the core instead of passing through only a portion of it. This effect is even more valuable in taller intercoolers, but it applies to our FIST unit as well.
Below is a look at our two different gold prototype cores and the stock cooler.
Core Thickness
Core thickness is often discussed relative to horsepower support. Although it does play a role, other factors such as core surface area and fin composition will also make a big impact. We snapped a few shots showing the increases in size each cooler provides.
The stock cooler measures right around 2" in thickness. Not the thinnest cooler we've seen, but it can certainly be improved.
Our tube-and-fin design adds 0.5" of thickness compared to the stock cooler. This, combined with an altered fin design, will produce some nice improvements in intake manifold temperatures.
The bar-and-plate prototypes we designed come in at just under 3" in thickness, providing even greater volume.
Coming Up – Testing
We've got a lot of fun work ahead! Next time we will be testing the stock intercooler against all three of our different prototype coolers. Keep an eye out for upcoming dyno videos and plots showing our results.
Also, be sure to check our blog for additional updates on upcoming Fiesta ST performance parts.
Thanks for reading!
-John