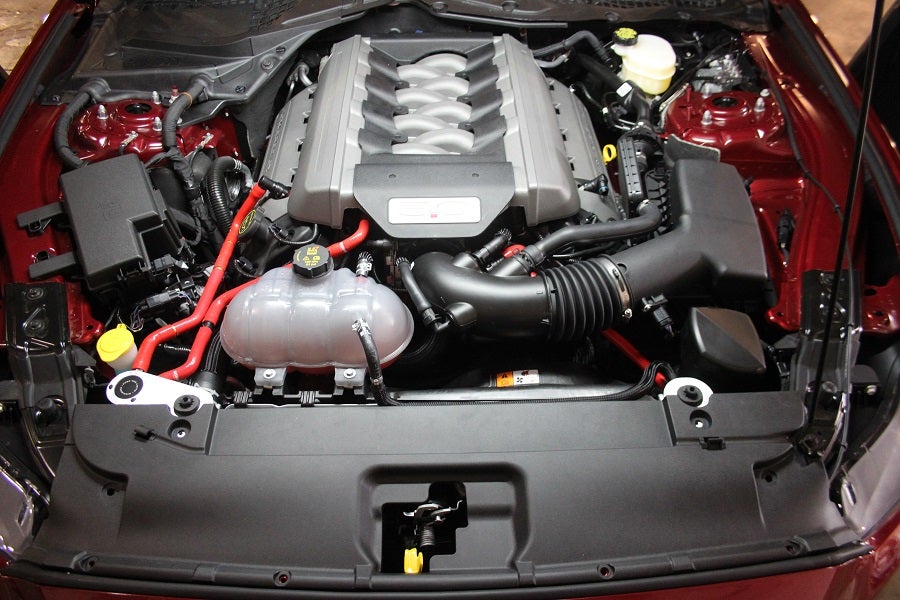 Keep Oil Out of Your Intake - Oil Catch Can R&D, Part 2: The Driver-Side
Posted:
December 03, 2015
Last time we took a look at the passenger-side catch can setup for our brand-new Mustang GT. We will still be making more improvements to our original design going forward, but the main location will stay the same. Now onto our driver-side catch can development!
The driver-side catch can was a bit more difficult to place than the passenger-side catch can. We wanted to position the catch can such that it would fit with the rather intricate stock intake, while still leaving room for aftermarket intakes. Our engineers utilized the radiator stay, similar to the passenger-side, to tuck the catch can off to the side and out of the way, thus saving room for some additional Mustang parts.
Although we do not expect to see much accumulation in the driver-side catch can, we will still test it for comparison purposes. The catch can will be almost completely hidden with the radiator cover installed. Check out some photos!
This catch can bracket needs a bit of tweaking to allow it to sit perfectly in its corner, but the general shape and location are as shown in the photos.
Coming Up!
We will be putting this catch can to the test as we rack up the miles on our GT. Check back for some testing results as well as the final design of the catch can brackets. In the meantime, if you want to read more in depth about blow-by, check out our complete write up on Blow-By 101.
Thanks for reading!
-Sara