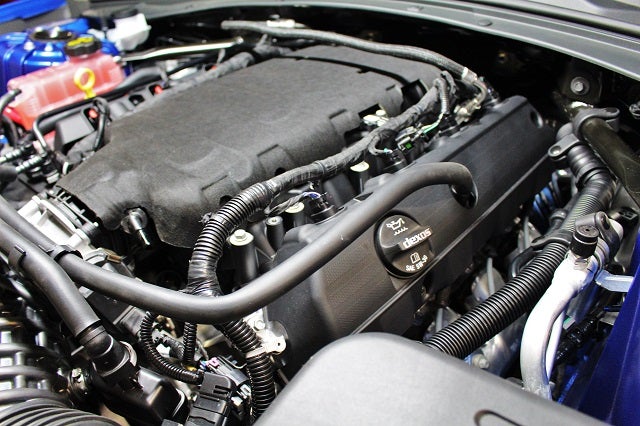 Clean Valves for the SS. Camaro Catch Can Development, Part 1: Intro and Stock Systems
Posted:
December 15, 2015
Interested in picking up our Camaro SS catch can kit? Check out our discounted pre-sale linked below.
The 2016 Camaro is an impressive feat of modern technology. A 6.2L power plant pushes massive power through a true manual transmission while producing some incredible exhaust tones. GM has really captured the interests of enthusiasts with this new model, and the cues to vintage models are apparent throughout. The 2016 model receives the new LT1 engine, which is a direct-injection V8. In addition, the 2016 has shed a few hundred pounds over the previous model, which was often criticized for its pudginess. We've been filming various video reviews for our 2016 development vehicle, so be sure to check out our thoughts and let us know what you would like to see reviewed next!
Now, on to the project at hand! Our first targeted project is for a component that we typically investigate for new vehicles: a direct-fit Camaro SS catch can system. The primary reason for our interest is the Camaro's direct injection (DI). If you do some quick research, you will find that DI provides a ton of benefits, including improved fuel mileage and power output. Because of these two advantages these systems are generally considered a great success. Unfortunately there is one downside, which is the buildup of carbon on the intake valves.
Why is carbon buildup an issue?
Modern fuel injection systems utilize either port injection or direct injection. Valve buildups were not a serious concern until DI engines became popular. You may be asking yourself how this affects the valves. To see why this is occurring more prominently with DI engines, we need to evaluate the function of both systems.
First, we have traditional port injection. In an engine with this system, the injectors are placed inside the intake manifold, and they produce a stream of fuel to atomize and mix with air. This mixture then enters the combustion chamber through a valve.
As you may know, gasoline has strong solvent properties, meaning it is fantastic for removing grease, tar, and waxes. The fuel mixes in the manifold and then passes through the valve to clean much of the debris and buildup.
Now to compare, let's take a look at direct injection.
The fuel injector is located right in the combustion chamber, unlike the intake manifold location for port injection. This means the valve will not be affected by fuel, so its cleaning properties are not utilized. This setup is one of the primary reasons for problems with DI valve deposits.
What's the big deal?
You may not think this will be a problem for your brand new car, but these deposits can accumulate quite rapidly. Below is a look at the deposits on the valves from a DI engine.
This buildup can cause drivability issues, CEL illumination, and loss of performance. You purchased your Camaro because it is a high-performance vehicle, so it makes sense to do your best to retain every last bit of horsepower for as long as possible.
The primary contributor to these buildups is oil entering the intake tract. PCV and CCV systems ventilate pressure within the crankcase and heads to provide optimal pressure within the engine during operation. For emissions purposes, this pressure is vented back to the intake system. The fluid returning to the intake is typically composed of both fuel and oil, not what you want in your intake system.
Reducing the entry of oil into your intake tract is a wise move, especially if you can install a solution before the vehicle accumulates significant mileage.
Camaro SS Stock Breather AOS System
If you were not convinced that this is a real problem, you may be interested to see that the SS has a factory-equipped air oil separator (AOS). Like a catch can, this setup filters fluid before it re-enters the intake. The primary difference is that the AOS returns the fluid to the crankcase, so no draining is required.
The AOS filters air leaving the two valve-cover breathers. Below you can see each line route.
These lines route into the separator, which is mounted near the passenger valve cover. Each connection point uses a plastic quick-disconnect fitting.
After separating within this contraption, the CCV air returns to the intake hose.
What about the PCV system?
It is great to see that GM addressed a portion of the CCV system with its AOS. Unfortunately, GM has not added such a setup to the PCV-side of the system. From our findings with other catch can projects, we've seen that the PCV line produces more oil byproduct than do the breather lines.
On the LT1, the PCV is located on the front of the block, just under the throttle body. A short line runs from the valve to a nipple on the intake manifold.
With this portion of the system left to vent to the manifold, we decided that some additional protection would be wise. Our engineers decided to address this line with an easy-to-install Camaro SS catch can solution.
Coming up – Catch Can Bracket Design and Fabrication
In the next segment of this project we will be selecting a catch can location. In addition, our team will design and fabricate a bracket to mount the can within the engine bay. Stay tuned!
Thanks for reading!
-John
Interested in picking up our Camaro SS catch can kit? Check out our discounted pre-sale linked below.