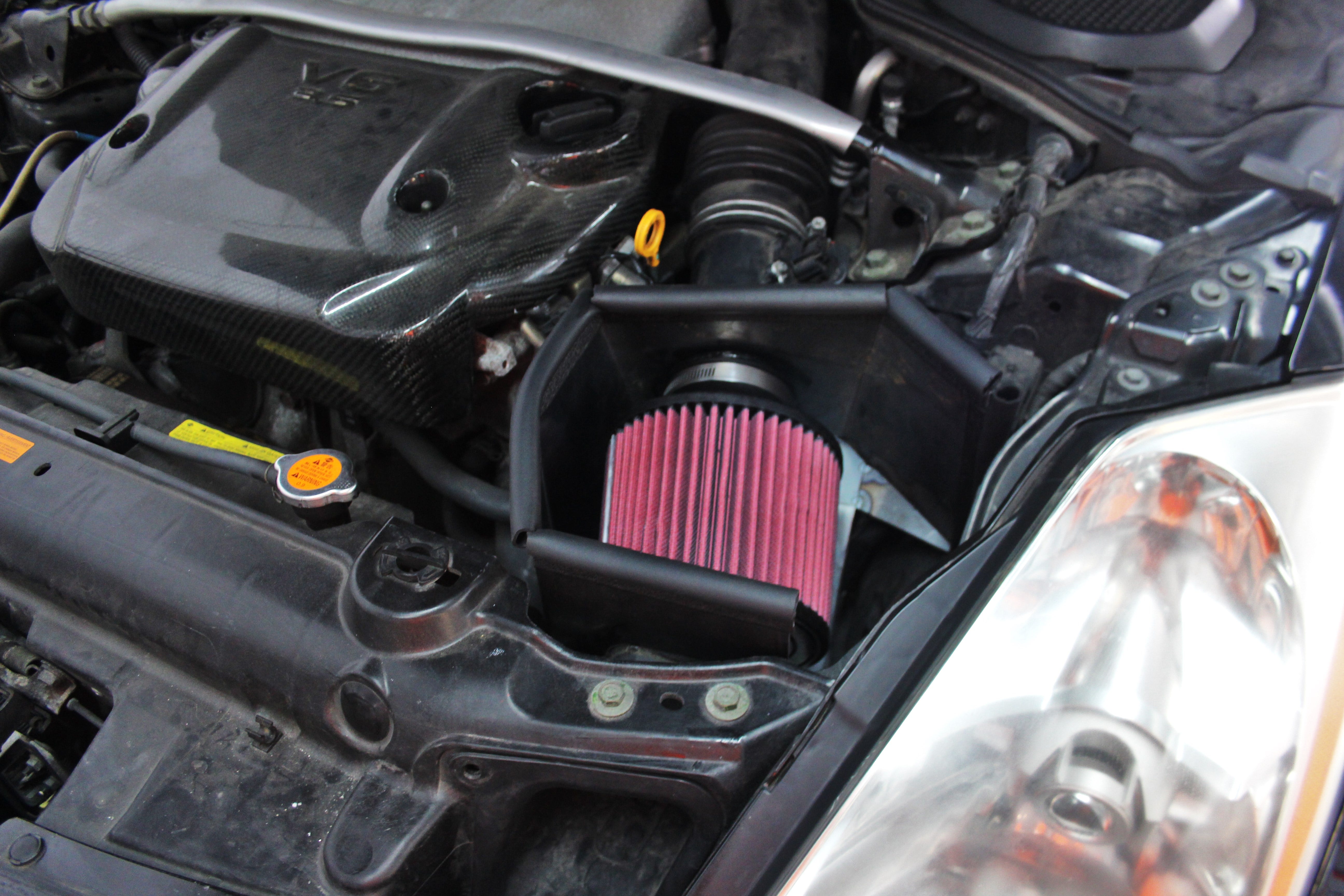 Pure VQ Sound! Mishimoto's 350Z Performance Intake R&D, Part 2: Fabrication Completion
Interested in purchasing our awesome intake system? Check out our product page linked below!
We're back with more grinding, fitting, cutting, and welding. The fabrication of our intake prototype for the Nissan 350Z continues!
Airbox Fabrication
When we left off, we had fabricated three sides of our airbox and created a 3D model for our MAF-to-filter adapter. The next plan was to continue designing and constructing our airbox, starting with the base.
We mapped out our base on steel, made a bend, and trimmed some excess material.
A few tack welds and it was starting to take shape.
The base of the stock airbox utilizes some interesting mounting points, shown below.
Our team would need to design pegs on the base of the airbox assembly, which would sit within these mounts. The lower mounts would then work with an upper mounting bolt to stabilize the airbox during vehicle operation.
We then started smoothing our welds to best represent our final product. We are still early in the prototyping phase; even so, this first prototype will be used for dyno testing.
Check out the nice edge in the shot below!
Once complete we placed this first prototype in the engine bay to verify fitment of all the features we incorporated.
Completed First Prototype
Once we verified fitment, weather stripping was added to the airbox edges to eliminate the chance of any vibrations or noises during operation. Check out the full intake assembly of our first prototype!
And a shot looking through the air duct!
An additional feature to note with our design is the use of an internal velocity stack. A velocity stack functions to smooth the air entering the intake system. By adding a trumpet shaped end to the intake duct, we can achieve this. This is a huge improvement over a simple flat pipe placed at the inlet to your intake system, which can create a boundary layer of air. The purpose of this is to smooth flow and increase air velocity, which typically results in some form of benefit in terms of power output and a smoother power band. Perhaps this will help promote some gains during our dyno testing. We will see!
This prototype was then bolted into place in preparation for some dyno testing!
Coming Up!
Our team is very excited to get this Z on the dyno so we can hear our new intake prototype and see what power gains it can achieve.
Check back next time for a video featuring a comparison of the stock and Mishimoto intake systems. We will also be taking an in-depth look at the data acquired from dyno testing!
Thanks for reading!
-John
Interested in purchasing our awesome intake system? Check out our product page linked below!