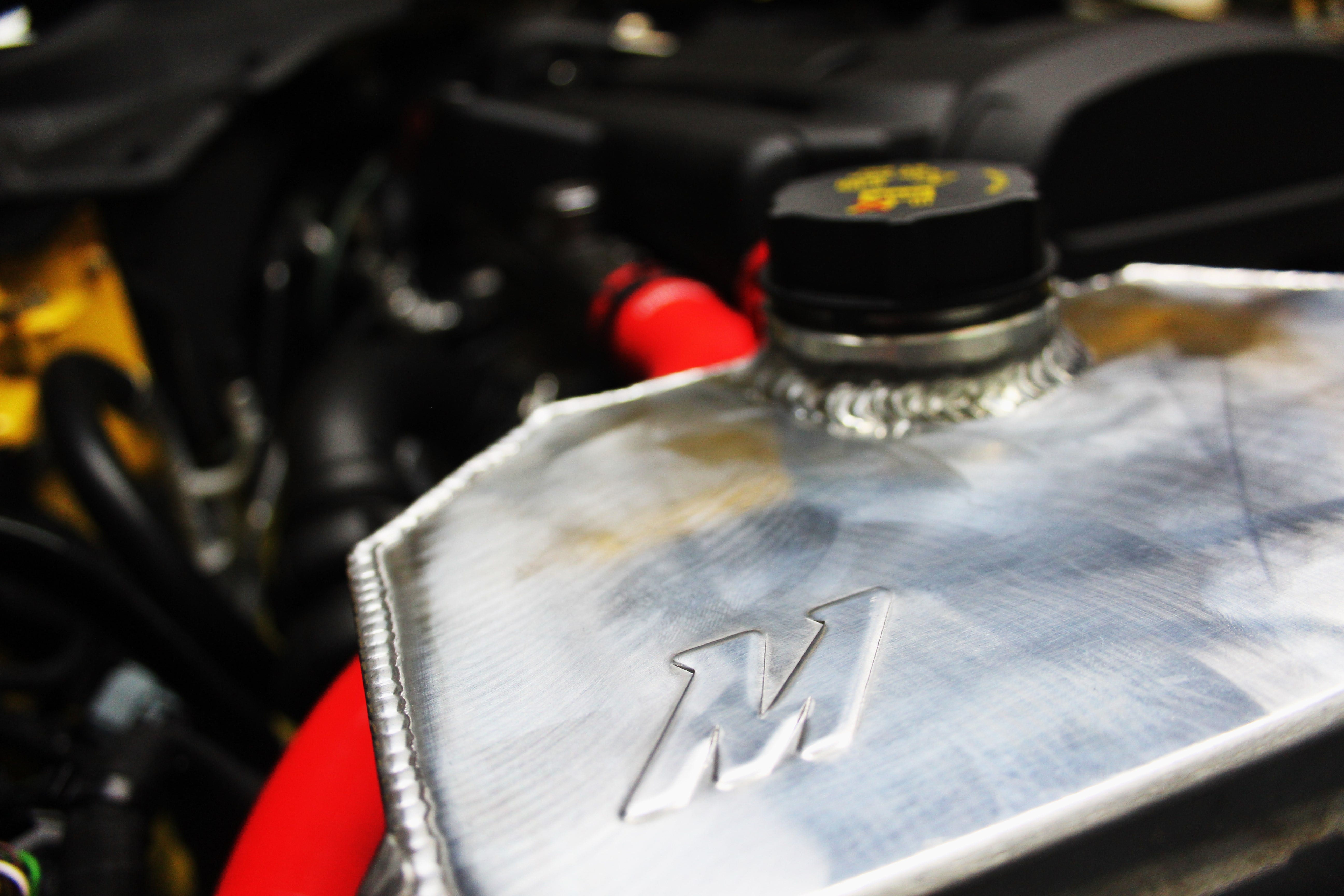 2015 Mustang Expansion Tank Project, Part 2: First Prototype Test Fit
Interested in picking up our aluminum coolant expansion tank? Check out more details on our product page linked below.
Last time we gave you some insight into the internal and external design of our expansion tank, and now we have our first prototype! Keep in mind, this prototype was constructed to verify fitment and functionality. We selected our standard polished finish, but we are certainly keeping in mind all the feedback regarding the finishes and colors everyone would prefer.
Mishimoto Expansion Tank Prototype
No more stalling, check out our prototype tank!
A look at the mounting points for the fan shroud!
Our setup for the fluid level indicator is shown in the image below.
And here's a look at our CNC-machined aluminum fill neck, which is designed to function with the stock radiator cap.
One additional feature to note is our incorporated overflow nipple on the expansion tank fill neck. In the event of overheating and a highly pressurized coolant system, this nipple will bleed off coolant and pressure. We will be including a silicone coolant line which routes from this nipple to the ground in order to properly release coolant being pushed from the reservoir. Without this line, fluid expelled during an overheat would be thrown on the engine and electronics, not something you want.
For those who are seeking a system with NHRA compliance, a sealed reservoir can be attached to this silicone line in order to prevent fluid from hitting the track in the case of an overheating situation. Any of the universal sealed fluid tanks we offer can be utilized for those seeking such a system.
Back to the test fit! Everything fit perfectly on the shroud, with the fill neck, and with the stock hose routing. We also checked the clearance of our tank to ensure that it was not making contact with the hood insulation.
Prototype Internals
With a successful test fit, we decided to cut open this prototype to compare the internal baffling with the stock tank. Although the aluminum design is a big improvement over the stock tank, the baffles are one of the unique features of our tank in particular.
Check it out!
Check out a few comparison shots showing our tank next to the stock unit. Take note of the port locations that are designed to function with the stock hoses.
Design Modifications
So far, everything was looking great with our tank design. That said, after a brief discussion among our team members, we determined that a few aesthetic modifications were needed. When you open the hood of your new Mustang, the expansion tank is the first component you see. Our current design is a bit square and seems like just a box sitting within the engine bay. We decided to tweak the front face in order to blend this component with the existing components within the engine bay. Check out what we have planned.
Another interesting adjustment is the modification of the tank mounts. Previously we had used two individual tabs mounting to the shroud. We decided to merge these into one solid mounting point.
What's Next?
After deciding on adjustments, we needed to revise our models and work up a new prototype. Check back next time for a look at our final prototype design. We will also have details regarding our upcoming discounted presale for this expansion tank.
Thanks for reading!
-John
Interested in picking up our aluminum coolant expansion tank? Check out more details on our product page linked below.