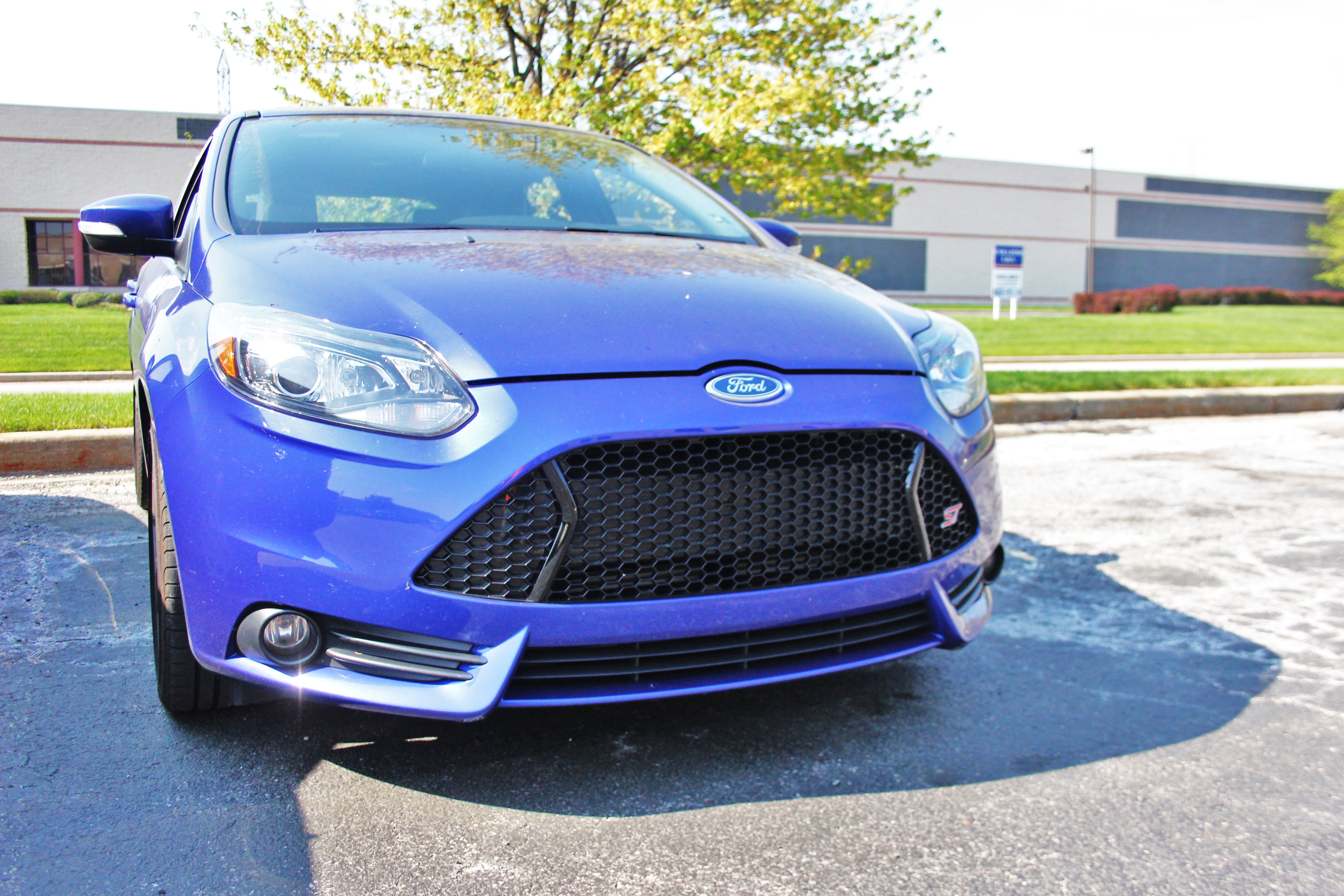 Dropping Focus ST Oil Temps! Mishimoto Oil Cooler R&D, Part 1: Project Introduction and Initial Fabrication
Interested in picking up our Focus ST oil cooler kit? Check out our product page for more details.

After knocking out some projects for Japanese turbocharged vehicles and European sports cars, we finally freed up some garage space and engineering time to begin much needed development on one of the hottest hatchbacks on the market.
As general gearheads, we have been keeping a close eye on the Focus in terms of aftermarket product support as well as how the enthusiast world accepted this new vehicle. We found numerous gaps in product support for cooling, yet a very active and enthusiastic community of Focus addicts.
We have a ton of awesome plans for the ST, the first of which is a direct-fit oil cooler solution. Throughout the past few years we have had numerous requests for this component. It seems that extensive track use puts serious stress on the stock cooler setup, necessitating a solution for those pushing their ST hard. Sticky tires, engine power output modifications, and long-duration track runs will certainly play a part in rising oil temperatures.
Stock Oil Temperature Regulation
Being a factory turbocharged vehicle, we can assume that Ford has equipped the ST with some form of oil cooling system. For a majority of models we encounter, this is the case. That said, if you checked out our coverage on the Mustang EcoBoost oil cooler development, you would have seen that the Mustang is void of any oil cooler from the factory.
Luckily, the ST does indeed have an oil cooler setup from the factory. Like many other stock setups, this is a liquid-to-liquid heat exchanger, which uses engine coolant to effectively heat and cool engine oil.
Notice I mention heat and cool. The rapid warmup of oil is key to raising fluid temperatures as quickly as possible. This will reduce engine wear over time.
Check out a shot of the stock oil cooler setup!
The image below shows the oil filter, oil filter housing, and the coolant lines running into the heat exchanger.
Although these heat exchangers are typically reasonably efficient, they are designed for stock vehicles that are mostly street driven. This is not a track solution, and many ST owners are beginning to find that out. One reason for this is the installation of a larger front-mount intercooler (FMIC). A larger heat exchanger blocks airflow to the radiator, which has an impact on coolant temperatures as well as oil temperatures.
Now, we aren't saying the stock setup is poorly designed or that it needs to be replaced in every case. For most folks, seeing track time is a pipe dream and they use weekend autocross events to get their speed fix. For these owners, the stock system is likely efficient.
For those seeing frequent track time, or who would prefer additional peace of mind during all driving conditions, we want to offer a bolt-on oil cooler setup that provides proven decreases in fluid temperature while appearing to be a stock option.
Initial Inspection
Enough talk, let's get right into our plans. To start this development, we needed to select a location to place our liquid-to-air heat exchanger. Obviously we needed a location with appropriate airflow, but we would also need to consider aftermarket components such as intercooler upgrades. Fighting for front-end real estate can be a challenge on some of these projects.
First, we needed to find out what we were working with in terms of grille area. Off with the bumper!
We then selected our first choice for cooler location.
As you can see, we selected the upper grille portion for our heat exchanger location and yes, that is a gold oil cooler! We are experimenting with a few new finishes on our coolers, and this color looks quite nice against the blue of the ST. Check out a closer look of this cooler with the stock shrouding in place!
Cooler Bracket Fabrication
After verifying ample airflow to this portion of the grille, we could begin fabrication of our prototype cooler mount. We elected to move the cooler to the passenger side of the grille for access to the mounting-bolt location. Check out the beginnings of fabricating our cooler bracket.
First we created the bracket on a cardboard template. This provides the needed flexibility and ease of modification while finalizing the design.
After a couple revisions our basic bracket shape was complete.
Coming Up!
Check back next time for a look at the conclusion of our bracket fabrication, our sandwich plate installation, and the routing of our lines.
We will also be conducting on-road tests to evaluate temperature comparisons with the stock oil cooling system.
Thanks for reading!
-John
Interested in picking up our Focus ST oil cooler kit? Check out our product page for more details.