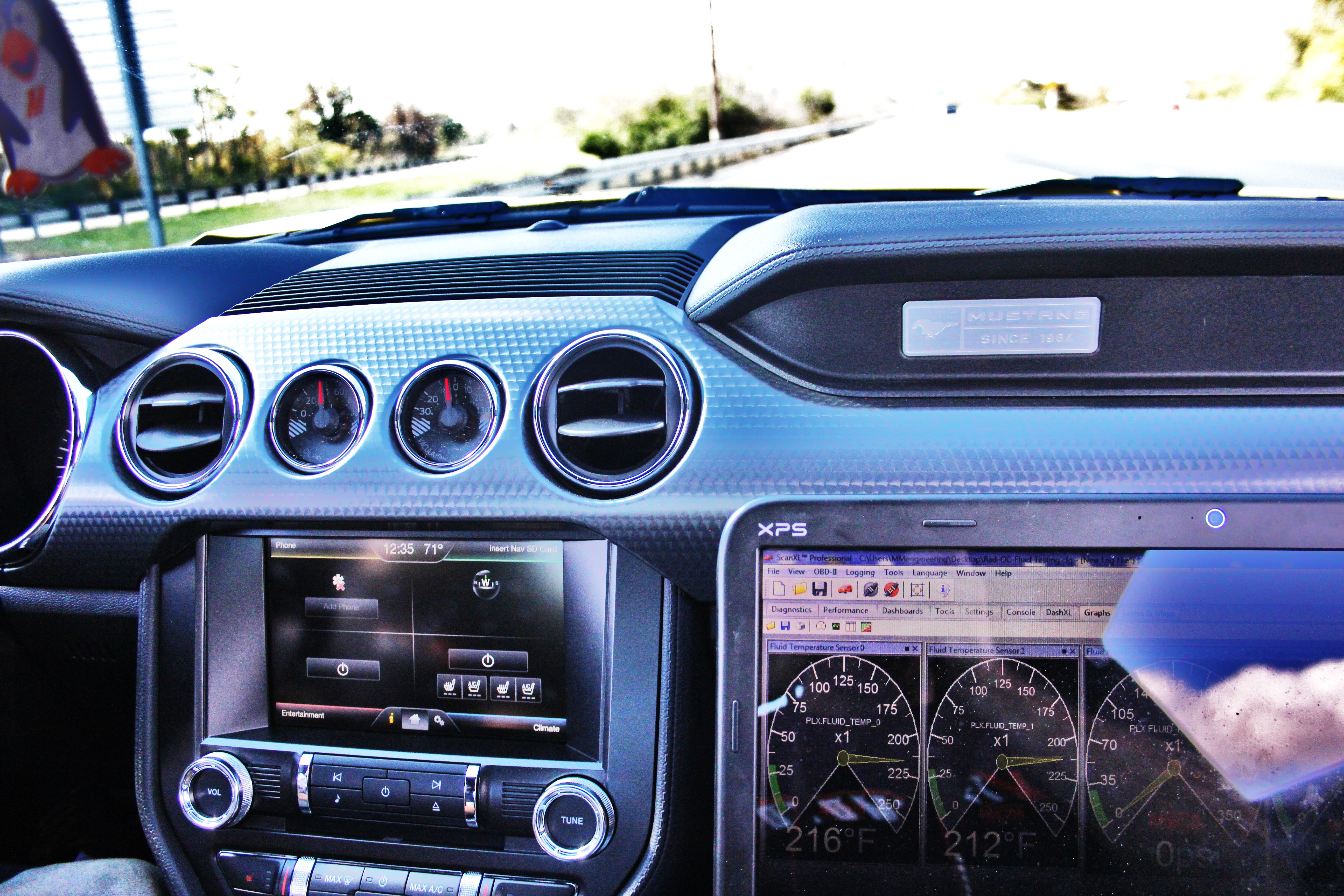 Mishimoto 2015+ Ford Mustang EcoBoost Direct-Fit Oil Cooler Kit, Part 3: Testing, Results, and Project Conclusion
Posted:
November 26, 2014
Interested in purchasing our Mustang EcoBoost oil cooler kit? Check out more details on our product page linked below!
Prototype Testing Equipment and Setup
Time for the fun part: product testing! Once we had the brackets mocked up, our lines in place, and our sandwich plate installed, it was time to install our sensors to collect data. We would be collecting both temperature and pressure data for the stock setup and for our installed kit. Check out a shot of our testing sensors installed!
And then our sensor wires are routed back into the cabin.
Everything was now prepared for a few runs on the highway! Our testing conditions are listed below.
Ambient Temperature: 70°F-75°F (21°C-24°C)
Sensors: PLX temperature and pressure sensors
Variable: Mishimoto 19-row Stacked-Plate Oil Cooler Kit (non-thermostatic)
Process: Vehicle was heat-soaked at idle, then driven on a highway at a steady-state condition (65 mph) for approximately 8 miles. Special attention was given to the space in front of the vehicle to ensure that proper airflow was reaching the cooler.
Note: The active shutter system was removed during testing. This would provide accurate comparisons without additional variables.
Once we had our testing plans in place, we hit the road to capture the data for both setups.
Testing Data
After the completing data collection, our engineers compiled the data and plotted it into an easy-to-digest format. The primary target of any oil cooler kit is reduced oil temperatures, so this is the first chart we will evaluate.
First, let's take a look at the plot (gray) for the stock engine, without any oil cooler installed. The temperature is quite stable, sitting right around 210°F-212°F (99°C-100°C). This remained basically unchanged during the entire test run.
The next two lines show the Mishimoto oil cooler inlet (red) and outlet (blue) temperatures. Inlet temperature readings are collected after the oil leaves the engine, but prior to reaching the cooler. Outlet temperatures are collected after the heat exchanger, prior to re-entry into the engine. As you can see, at the start of the run the oil temperatures for the Mishimoto cooler were similar to those of the stock engine. As the run progressed, temperatures on both the inlet and outlet sides began to drop. By the end of our 8 mile run, outlet temperatures dropped to 170°F (77°C), a 40-degree (F) difference compared to the stock setup. These are great gains, similar (if not better) to what we see with most of our other oil cooler kits that feature the 19-row cooler. Now, 170°F is a bit colder than we would like to see for a street-driven vehicle. Normally, we try to regulate temperatures between 185°F (85°C) and 200°F (93°C).
For this reason, we will be offering this product with our thermostatic sandwich plate, which restricts oil flow to the cooler until a specific temperature is reached (optional thermostats of 160°F, 185°F and 200°F). This setup would give you complete control over fluid temperatures. For those with a more track-oriented vehicle, our non-thermostatic option should be suitable for long-duration, high-rpm, and high-load driving situations. We would not recommend the non-thermostatic sandwich plate option on vehicles that will frequently see street use.
During our testing, we also collected pressure data. We wanted to ensure that the addition of our cooler would not result in a significant loss of pressure. Check out the plot, captured from the run shown above.
The plot above is quite interesting; no, we did not mislabel the two lines. The Mishimoto oil cooler setup is indeed increasing pressure within the system. The stock oil pressure ranged from 50 psi to 60 psi, while the Mishimoto setup ranged from 58 psi to 62 psi. Why would this happen? Well, because the temperatures drop so significantly, it is likely that the viscosity of the oil is increasing, which would explain the increase in pressure. However, this slight increase in pressure is of no concern at all for engine operation or wear. More great news for out kit!
Wrapping up, we saw some really impressive gains, which should help keep temperatures under control for those who will be pushing their EcoBoost on the street and track.
Time to recap our goals!
Goal Recap
Must be entirely direct fit, requiring no irreversible modification to any component on the Mustang
This goal was easily met. Our team designed a unique bracketing system that utilizes existing mounting points on the radiator support and bumper support beam. Our kit does not require any vehicle modification, and it can be easily removed if the vehicle owner wishes to revert back to stock.
Include all necessary components for installation
This kit includes all components needed for installation: oil cooler, powder-coated steel brackets, all hardware, braided stainless steel oil lines, and an oil sandwich plate.
Must install with basic hand tools, and require basic mechanical skill-set
We have designed this kit with ease of installation in mind. No major vehicle components require removal for the installation process. The only requirements are basic hand tools (ratchet, sockets, wrenches, etc.) and some mechanical knowledge. If you can change your oil, you can certainly install this kit. Additionally, our video team is currently working to finalize our installation guide, which will assist you through the process.
Must have thermostatic oil temperature control option
We will be offering this kit with either a standard or thermostatic oil sandwich plate. As mentioned above, the thermostatic option will provide greater fluid temperature regulation, and it is ideal for use with street-driven vehicles.
Product should be robust enough for both street and track use
Our team designs all our products with a "worst case" scenario in mind. All components included in this kit are designed to handle the stresses resulting from track driving. Additionally, our products are constructed from high-quality materials that have proven to be durable for long-term use.
Provide data from real-world testing
Our real-world data showed a 40°F temperature drop compared to the stock setup. This kit provides extremely efficient heat transfer and is ideal for both street- and track- driven vehicles.
Well, that wraps up another successful project from the team at Mishimoto. We are planning to release this kit very soon, so keep an eye out for more information about that.
Feel free to follow up with any questions regarding our products or development processes!
Thanks for following along with our progress!
Interested in purchasing our Mustang EcoBoost oil cooler kit? Check out more details on our product page linked below!