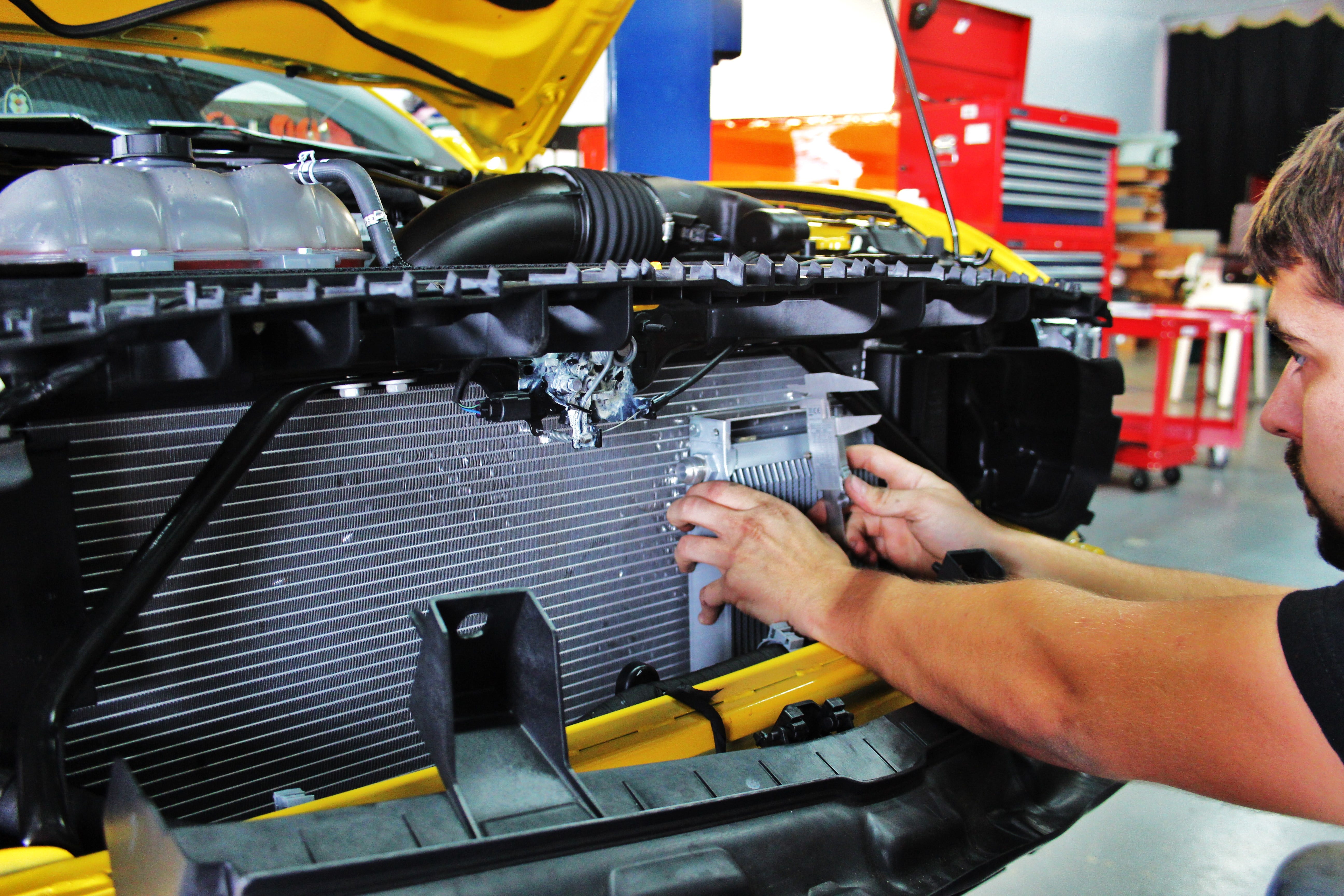 Mishimoto 2015+ Ford Mustang EcoBoost Direct-Fit Oil Cooler Kit, Part 1: Project Introduction and First Prototype Design
Posted:
November 21, 2014
Interested in purchasing our Mustang EcoBoost oil cooler kit? Check out more details on our product page linked below!
Many of you have been following the video review series our team put together for our 2015 Ford Mustang EcoBoost PP. We were extremely excited to get this new vehicle into our shop to begin evaluating it for new product development. We searched for potential faults and areas where we thought additional cooling might be necessary. In one of our more recent videos, we highlighted some of the development taking place on our oil cooler kit for the EcoBoost. This direct-fit oil cooler kit is one of the first projects (along with a baffled oil catch can kit) our team tackled, because we knew that customers would prefer some extra cooling if they intended to put their Mustang through its paces, whether aggressive street driving, autocross runs, or days at the track. During the development process, we do extensive testing to ensure our product is performing to our standards, and to be sure that we are providing a high-value product that will benefit our customers.
If you aren't familiar with our brand yet, we welcome you to check out our introduction post linked below. This highlights a bit of our background, and explains what sets our company apart from others.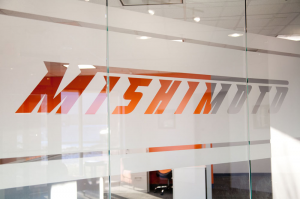 www.mustang6g.com/forums/showthread.php/mishimoto-introduction-4214.html
For a majority of our more in-depth projects, our team has been putting together build logs. These threads highlight the development process to really show what goes into the full spectrum of product development from inception to the end of the testing phase. Our customers get a behind-the-scenes look at how we made that product that is installed on their car. So far, feedback has been positive. In this thread, we will be highlighting the development process for our direct-fit oil cooler for the EcoBoost Mustang.
As with all our projects, we perform some basic research to determine what our customers want out of this particular product. Then, a goal list is compiled to ensure we stay on track throughout the process, and meet our goals upon project completion. Let's jump right in!
Project Goals
Must be entirely direct fit, requiring no irreversible modification to any component on the Mustang
Include all necessary components for installation
Must install with basic hand tools, and require basic mechanical skill set
Must have option for thermostatic oil temperature control
Product should be robust enough for both street and track use
Provide data from real-world testing
Let's look at these goals individually so we are clear about our intentions for this product.
Direct Fit
Throughout the past few years, our team has developed 18 direct-fit oil cooler kits for a variety of makes and models. Each kit is entirely direct fit, meaning it bolts into position as if it were equipped on the vehicle from the factory. Where possible, we use existing mounting locations to mount our heat exchanger, which means you won't be drilling holes into your 3-week-old Mustang.
All Inclusive
The goal with this kit is to include all necessary components for full installation of the product. Our kit will include the oil cooler, direct-fit cooler brackets, oil lines, an oil sandwich plate, and any hardware deemed necessary for installation.
Easy Installation
Being that we include all necessary components to install this kit, and it fits without vehicle modification, we aim to make these kits extremely easy to install. If you can work a ratchet and wrench, you should have no problem installing this kit. We also have a top-notch video team that produces fantastic installation guides to help you through the process.
Oil Temperature Regulation
A thermostatic sandwich plate is an important component that we have worked into our oil cooler kits. The function of an oil cooler is to reduce fluid temperatures during stressful driving situations. During aggressive, high-load driving, oil temperatures begin to creep upwards, especially in heavier vehicles and those equipped with a turbocharger. The added weight will result in greater loads on the drivetrain, and the turbocharger will increase under hood temperatures. Hot oil temperatures can result in a loss of oil viscosity, reducing its lubrication properties and expediting breakdown. This means increased wear on engine internals. Although modern synthetic oils are more resilient to breakdown, keeping an eye on temperatures is a wise idea. Temperatures above 250°F should be watched carefully, but are still reasonably safe. Temperatures above 275°F are nearing the danger zone, and any temperature reading above 285°F should necessitate a vehicle shutdown and cool-down.
Those installing an oil cooler system are often so focused on high temperatures that they forget about the danger of cold-oil damage. Cold oil temperatures can be just as detrimental to engines as hot oil temperatures. Typically, oil temperatures will lag a bit behind coolant temperatures in terms of the speed of temperature change. When engine oil is cold, it thickens significantly. This means it is more difficult for the oil to reach all bearing surfaces throughout the engine. Additionally, cold oil will produce greater friction with surfaces, resulting in accelerated wear. This is why many suggest allowing your vehicle to warmup properly before driving aggressively at higher rpm. Once the oil viscosity has dropped, proper lubrication properties are restored. This is why the use of a thermostatic oil sandwich plate is highly recommended or street driven vehicles. This will provide full control over oil flow to the cooler, which will allow the oil to warmup to operating temperatures in a speedy fashion.
Track Ready
Our team will be designing this kit to function on both street and track vehicles. All components included will be of the highest quality to ensure that our product performs well and handles the abuse associated with aggressive driving. Our bracketing system will be constructed from thick powder-coated steel, and our oil lines are braided stainless steel featuring -10AN fittings for leak-free seals. This kit will be built to endure just about anything you can throw at it.
Real-World Data
As with most of our products, we will be conducting on-road real-world testing data to ensure that our kit is performing up to our standards. This includes a direct comparison of stock oil temperatures and temperature drops experienced with the Mishimoto oil cooler installed. This gives our potential consumers an idea of what our product will do for their cars. Although the entire process is enjoyable, this could be considered the most fun segment.
Enough banter about what we are planning to do, let's jump right into what we are working with on the Mustang.
Stock Oil Cooler Evaluation
So let's take a look at what Ford came up with for an oil cooler solution. Oh … wait ... the 2.3L is not factory equipped with an oil cooler of any sort. Interesting, most modern turbocharged 4-cylinder vehicles are fitted with a liquid-to-liquid heat exchanger that uses engine coolant to appropriately regulate oil temperatures. An example of one of these units is shown below.
So, here is a shot of the oil filter housing on the Mustang EcoBoost. This is where we normally see some form of factory oil cooler.
In fact, even the 1.6L and 2.0L EcoBoost engines (2.0L shown in the engine image above) utilize such a system for oil cooler. It is interesting that Ford has left this particular component out of the Mustang. Once we begin testing, we should see what kind of temperatures we are dealing with in our completely stock Mustang. If high oil temperatures during track driving (due to lack of a factory cooler) become an issue, I am sure we will begin to see reports of limp-mode activation here on the forums.
A similar situation existed in 2006 with the inception of the BMW 335i, which was a twin-turbocharged 2- or 4-door RWD vehicle making power similar to the EcoBoost. Upon release, several vehicles were going into limp-mode during aggressive street driving because of high oil temperatures. BMW made a change midyear to add a liquid-to-air oil cooler, which helped alleviate some of the concerns.
We hope this will not be the case with the Ford!
So, we located the oil filter housing, and it appears we should have plenty of room for placement of our sandwich plate and routing of our lines. Next, we popped off the front bumper to check out space we could allocate for our heat exchanger.
Looks like we have plenty of real-estate! The only challenge will be developing brackets that use existing mounting points and ensuring that our cooler is achieving appropriate airflow.
So, with all this in mind, we set our engineers to work on developing our first prototype!
First Prototype Fabrication
After looking over the available space, Steve (lead engineer for this project) began putting together plans for his first prototype design.
As you can see, we are using one of our 19-row stacked-plate fluid coolers. We have used this particular cooler for several of our direct fit kits, and it has proven to be extremely efficient for temperature reduction for vehicles with similar power output.
Now, similar to the Ford Focus ST, the Mustang features an active grille shutter system. This system closes off a large portion of the grille during specific driving conditions (engine warm-up and highway driving). Doing so provides more rapid engine warm-up and improved vehicle aerodynamics. Both of these benefits help to increase fuel mileage, which means a few more dollars in your pocket. These systems are pretty slick, however we will have to keep them in mind for our product design and testing processes.
Check out a few shots of our first prototype design fully installed.
With our first option in place, our team evaluated the potential benefits and negative points for this particular mounting point.
First, the positive points. This cooler placement receives a reasonable amount of airflow. Around half of the cooler is exposed to airflow through the grille. Additionally, by placing the cooler to one side of the designated area, we can leave room for additional heat exchangers (such as an automatic transmission cooler). Finally, we found this particular location to be fairly aesthetically pleasing, with more of a subtle feel.
There is only one true downside to this location: airflow. Half of this cooler is blocked by the bumper support, meaning only a portion of the cooler is receiving proper airflow. Our product must provide function over form, so if we can squeeze out greater efficiency by mounting the cooler in a more appropriate location, we will certainly do so.
With this in mind, we decided to place this design to the side and work on a second location. Check back with us next time for a look at our second prototype!
Thanks for reading!
Interested in purchasing our Mustang EcoBoost oil cooler kit? Check out more details on our product page linked below!