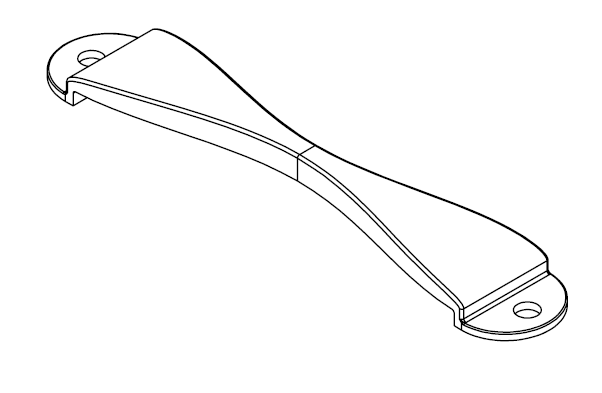 Mishimoto 2015 Subaru WRX Engine Bay Dress-up Components, Part 1: Battery Tie-Down
Posted:
September 29, 2014
Interested in purchasing our Subaru battery tie-down? Check out more details on our product page linked below!
Mishimoto is not only interested in improving the performance, reliability, and power output of your new Subaru, but we also care about aesthetics. Small touches in the engine bay can make a big impact on the overall appearance and also provide a sense of personalization. Our first targeted component is the battery tie-down. The stock tie-down is rather bland, its main purpose being functionality, which is fine for a stock unit. For those looking to upgrade, a stylish aluminum replacement is ideal. In case you haven't yet peered into the engine bay of your "15, here is what the stock tie-down looks like.
Our first task was to design a few prototypes and see what design we thought was most appealing. This is much easier said than done. Check out a few renderings of the design ideas from our team.
Once we had our initial designs modeled in 3D, we printed them using our 3D printer. The 3D prototypes would help our team evaluate each design and visualize them on the vehicle. Once again, this 3D printer has been an invaluable tool for our engineering group, by quickly providing prototypes that have helped to speed up our processes for bringing components to market. Check out our first design!
And our second design!
Now, it is quite a challenge to develop an aesthetic product that satisfies everyone. Our goal was to provide a unique, yet subtle design. To do so, we surveyed our entire office staff for their opinions and recommendations for each design. The result was a split decision, and we ended up designing a product that has design elements pulled from each of our initial ideas. Check out the drawing below for the final design!
Once our design was fully modeled, we worked up a few initial raw prototypes.
After confirming that these prototypes fit perfectly, we began mass production of the tie-downs in the anodized colors listed below. Our hope is that these colors will appeal to all who are interested in this component. If you have an additional recommendation, let us know and we can add it to the list.
Before we conclude this write-up, take a sneak peak of the Mishimoto Subaru Battery Tie-Down in fully finished, anodized form.
Thanks for reading! Check back with us next time for an overview of the development of our 2015 Subaru WRX aluminum radiator stays!
Thanks!
Interested in purchasing our Subaru battery tie-down? Check out more details on our product page linked below!