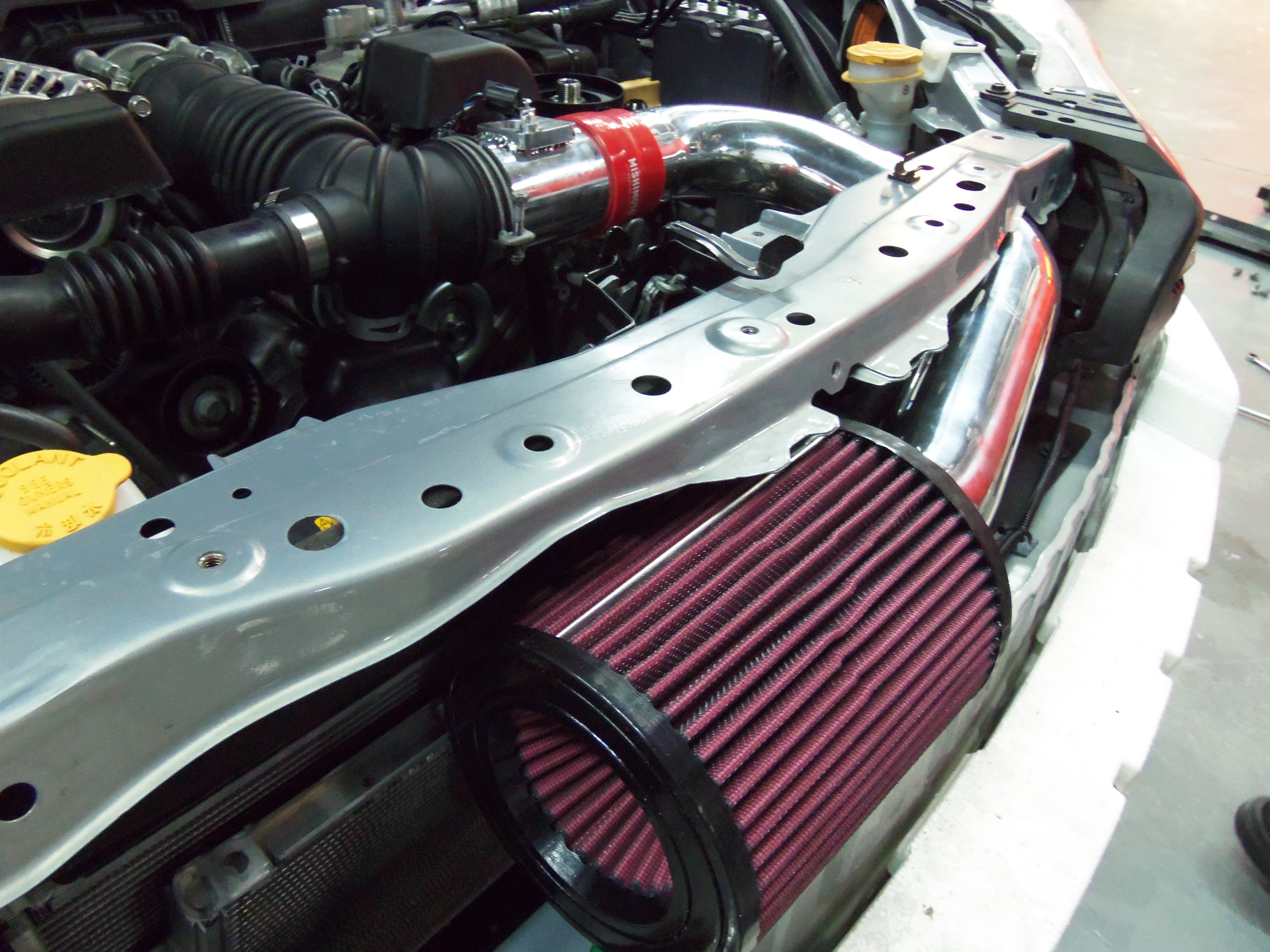 2013+ Subaru BRZ / Scion FR-S Performance Cold-Air Intake, Part 4: Final Product Testing and Additional Data Collection
Interested in purchasing our BRZ intake? Check out our product page for more information!
We know you've been dying to know how we finish up creating a cold-air intake, and today is the day you can breathe a sigh of relief. We are finally at the last stage of R&D! After constructing a final prototype we were prepared to test fitment and ensure that power output and AFR readings remained unchanged. Check out our final prototype components!
The pipes turned out great for this intake! The CNC-machined MAF mount and air straightener are spot-on, and the mandrel bent pipe is perfect. Our team installed the prototype to check fitment prior to final testing and everything went in like it was designed to do. Yes, the bumper must be removed to install this intake kit as well as to service the filter. We found that after completing this task once, it was an extremely simple and quick job. Bumper removal can be completed in around 30-45 minutes, and after a few installs our team was able to complete this task in far less time. As with all our products, we will have a full instructional video to make installation a bit easier for you! Check out this kit installed on the FR-S!
Next it was time to install this on a car and make a few additional dyno pulls to be sure our testing results remained consistent. Ample driving time was conducted with the test vehicle to account for any ECU adjustments that would affect both power and AFRs. We applied some high-tech scratch resistant tape (I'm joking, its painters tape!) to protect the surface of the pipe during installation.
After following the same processes as our last set of tests, we finally had conclusive data for our finished product. Check out the plot below!
Now let's pick apart this graph. First, the important stuff " power!!! The Mishimoto intake improves power and torque output during both the midrange and upper rpm range. Our peak gains were just over 10 whp and 8 wtq at just below 6,500 rpm. We also made significant whp and wtq from 3,750 rpm to 4,750rpm, which provided some extra midrange grunt. The AFR graph at the bottom shows that the Mishimoto intake follows the factory curve, providing nearly identical values.
In true Mishimoto fashion we also captured a pull on video! Check it out below!
From the data collected we confirmed that the project was a success. Time to recap our goals before putting this one in the books.
Goals
1. Direct-fit unit should require no modification to the vehicle.
Check! This intake kit installs easily in very little time and requires no irreversible modification to your vehicle. Obviously this unit will replace the airbox and ducting, but it can be reinstalled if you ever decide to reinstall the factory equipment.
2. Intake should pull cold air from outside the engine bay.
This intake is designed with a filter location behind the front bumper and outside the engine bay. This allows for a cool intake charge and reduces the chances of heat soaking your intake.
3. Include Mishimoto high-flow air filter.
We include a high-quality Mishimoto oiled and reusable air filter, which provides optimal flow as well as superior filtration.
4. Improve horsepower and torque.
This is the main highlight of this intake! Our dyno-proven intake provided 10 whp and 8 wtq, all while maintaining safe air-to-fuel ratios (AFRs).
5. AFR should be safe during all driving conditions.
Extensive testing of numerous intake combinations provided the correct data to develop the most efficient and safe system. Our intake follows the factory AFR curve almost exactly.
6. Install should be simple and well documented.
Installation can be completed in less than one hour and uses simple handle tools. Our team will be filming an installation guide to make installation a seamless process.
7. Improve intake noise to delight the auditory senses of the driver, passengers, and any lucky bystanders.
You watched the videos! I will let you decide if we met this goal.
Product Conclusion
With all project goals met we could move this one into the complete file. We will be offering this intake in both polished and wrinkle-black finishes. The wrinkle finish provides a more subtle, factory-like appearance. We should be releasing this kit to the public in the very near future! Feel free to follow up with any specific questions or comments.
Thanks
Interested in purchasing our BRZ intake? Check out our product page for more information!