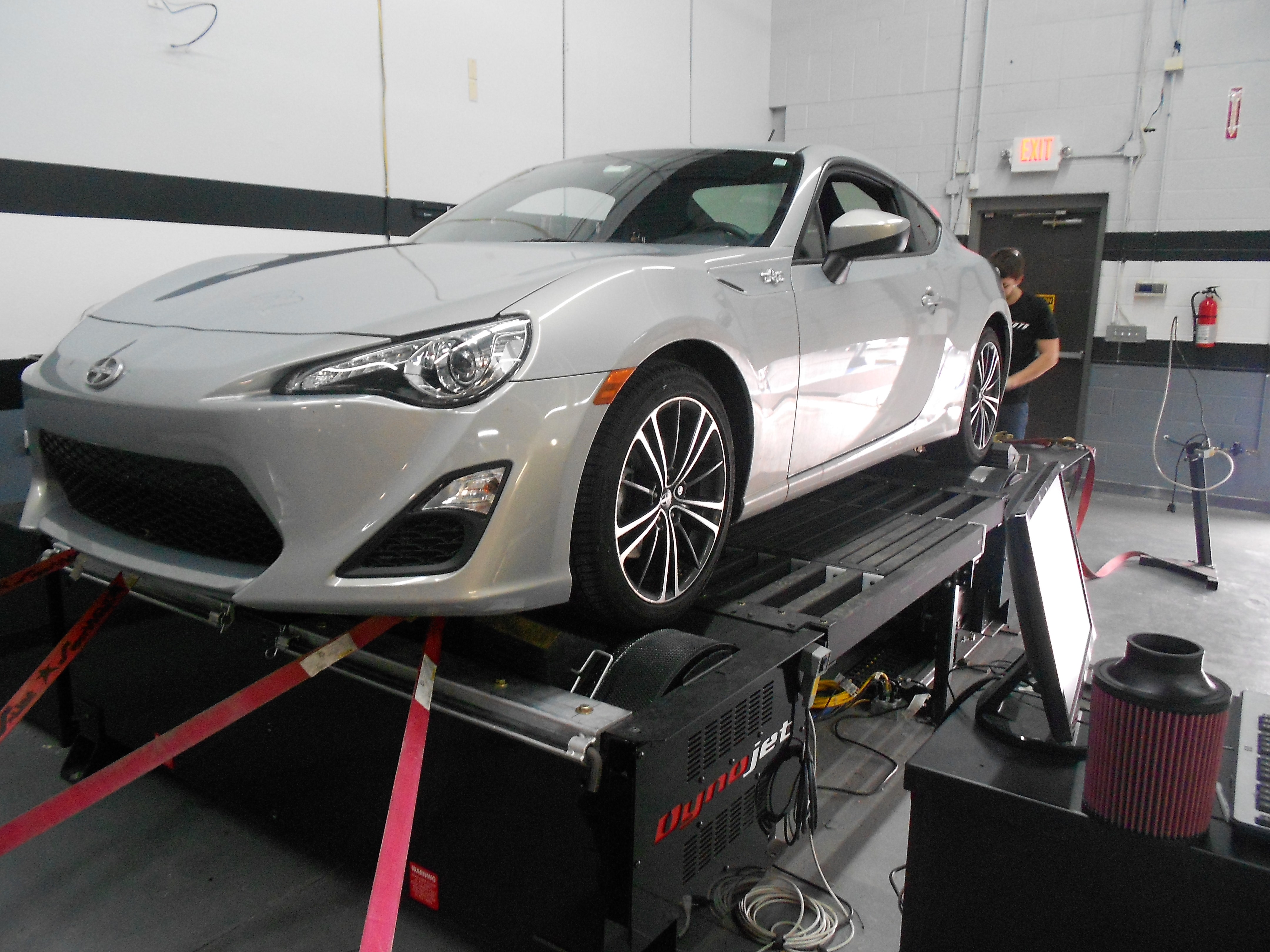 2013+ Subaru BRZ / Scion FR-S Performance Cold-Air Intake, Part 3: Initial Prototype Testing and Data Collection
Interested in purchasing our BRZ intake? Check out our product page for more information!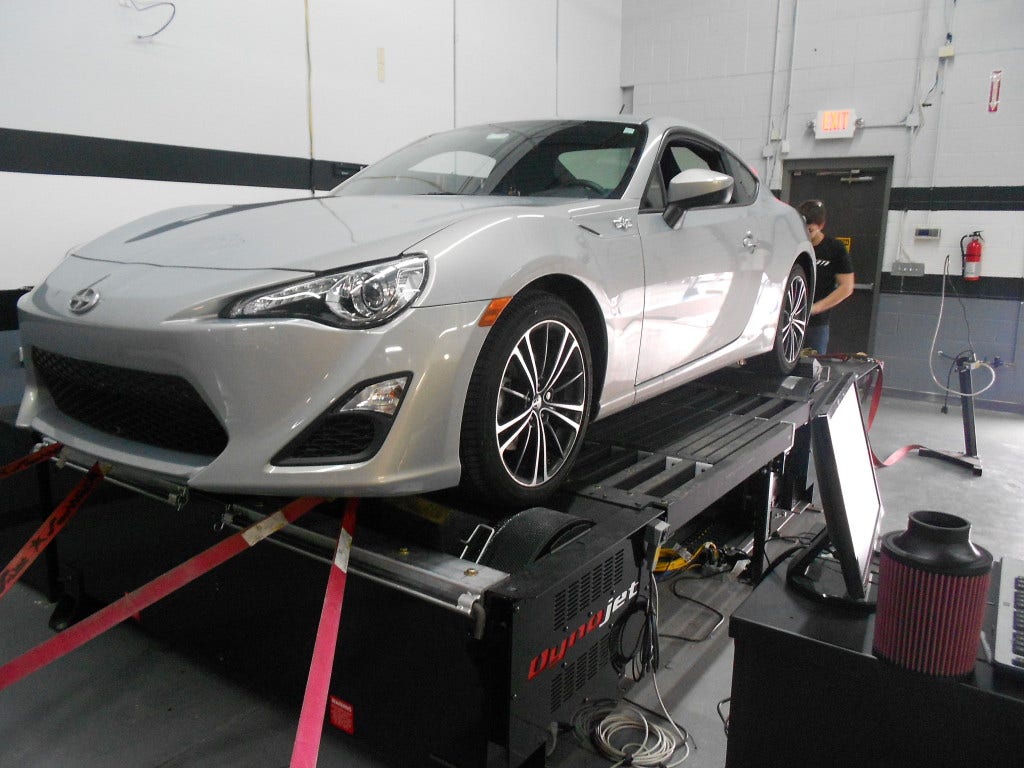 Welcome back! It's test-time at Mishimoto, and we're going to put our dyno through a workout to shed those pounds it put on over the winter.  In our previous post we reported on the development of prototypes for our intake pipe, filter location, and mass air flow (MAF) housing. We decided it would be beneficial to test the effects of various MAF housing sizes on air/fuel ratios (AFRs). We developed a factory-size MAF housing as well as one a few MM smaller and another a few MM larger so we could evaluate the effect on both power and air/fuel ratios. We would be borrowing a vehicle from a member of our accounting department. Thanks to a brutal winter, the photo below shows what we were frequently greeted with when bringing a car into the shop during the development process!
With all our prototypes ready to rock and our vehicle at hand, it was time for testing day. Our team set to work strapping the vehicle down to the dyno and prepared to make some baseline runs on the stock setup. Luckily, we caught a day where the weather was agreeable and the vehicle was free of snow and salt.
Finally, we were prepared to make a few pulls. As you can see from the last image we have numerous development projects going on at once. The 6.0L Powerstroke on the right is receiving a nice aluminum radiator upgrade courtesy of Mishimoto! But,  this article isn't about rolling coal or compound turbo setups, so back to the discussion about the 86.
We would be first testing the completely stock intake system. It is important that our processes remain consistent for each component we test. During each portion of data collection we warm-up the vehicle adequately and make 3–5 pulls with a short 5-minute break between each one. This allows us to form a consistent average that we can use for comparison against the Mishimoto intake.
After obtaining baseline data, we installed the Mishimoto intake system and begin testing each of the MAF housings we had fabricated. We used our fabricated housings of different sizes to  compare with the stock intake in terms of both power and AFR. Check out our prototype in its near final state for testing.
After a long day of swapping components and making pulls, we finally had all of the data necessary to push this project in the right direction. Our team compiled the results and reviewed them. The results were very similar to what we expected!
The plot above has quite a bit going on so let me break this down for you in a form that is more easily managed. This plot is organized by peak AFR, which was our main concern/target during this particular testing. Power numbers are collected at 6,000 rpm, while peak power is found around the range of 6,750 rpm. Check out the chart below!
Let's review this information! The stock intake is making reasonable power and torque while maintaining an AFR ratio less than 13:1 throughout the entire power band. This is smooth, safe power. Our goal was to emulate this AFR as closely as possible while still adding power – not an easy task.
The Mishimoto intake setup with the smaller-than-stock MAF housing actually reduced power output. This smaller-than-stock housing richened the fuel mixture quite substantially, which provided a peak AFR of 10.94:1 and a drop in power compared to the stock intake across the entire power band. This is a prime example of why intake systems require extreme precision. Running your vehicle with ratios such as this would result in horrendous fuel mileage, potentially fouled plugs and/or oxygen sensors, potential catalytic converter issues, and even cylinder wall washing. None of these are going to be fun to deal with, so buy a product with a full data sheet to be sure you are installing an intake that will keep AFRs safe for your FA20.
Next up was the Mishimoto intake with the factory-size MAF housing, the same size as the factory setup. Although gains were slight at 6,000 rpm, we did see a gain in whp and wtq with this setup. Additionally, this housing very closely followed the factory AFR curve through the entire rpm range, with a peak AFR of 12.71:1. If you look further up the power curve, this particular intake is generating nearly 10 whp over the stock intake. The stock-size housing is certainly going to be a contender, but let's take a look at the larger-than-factory setup and see how it performed.
From our chart we can see that the larger pipe is producing similar power to the factory intake at 6,000 rpm. Beyond that, this housing provides the highest peak power of any combination tested. This is great, but let's also take a look at the AFR chart. This intake setup provides an AFR curve far too lean for our liking. The peak high is 13.71:1 at 6,100 rpm. It is easy to see how many of the aftermarket options are providing such a high output compared to the factory intake. By expanding the pipe size, airflow through the MAF housing is not being properly monitored, resulting in a lean ratio. This lean ratio in turn provides improved power at the cost of potential engine concerns. The ratio achieved with this housing size was far too lean and not something we would want to release to the public. The potential issues resulting from a lean condition (detonation, engine damage) are far too risky and certainly not worth trading for a few extra horsepower.
Data Conclusion
With this testing information, it was easy for our team to select the stock-sized MAF housing for the final prototype of our intake system. This housing followed the factory AFR curve yet still provided power improvements. Although we tested units making greater power, we believe this product will be the best balance of power, consistency, and reliability. Additionally, this intake provides a serious reduction in restriction and promotes improved airflow over the factory intake. Because of this, you can expect even greater power increases when combined with other modifications, such as an exhaust or tune.
We managed to capture a few videos of the dyno pulls! Check it out.
https://www.youtube.com/watch?v=B35P7Q44ZBY
The proof of this product is in the power output, but you also get that great intake tone. The difference between the stock pulls and the Mishimoto intake pulls is substantial! This intake provides a throatier growl upon acceleration and is much louder than the factory system, especially in the higher rpm range.
With our main testing complete, we set out to develop an additional component to help direct airflow to the new filter location. The area behind the bumper was previously occupied by ducts and scoops to pull air from the front grille. We would need some form of ducting to ensure that optimal airflow was being supplied to the filter, the heat exchangers for coolant, and the AC system. Check out a few shots of the prototype below.
That is all for this portion of the build! We will return soon with a fully polished prototype for our final installation and round of testing to ensure that this product is exactly as we had envisioned from the start.
Thanks for following!
Interested in purchasing our BRZ intake? Check out our product page for more information!