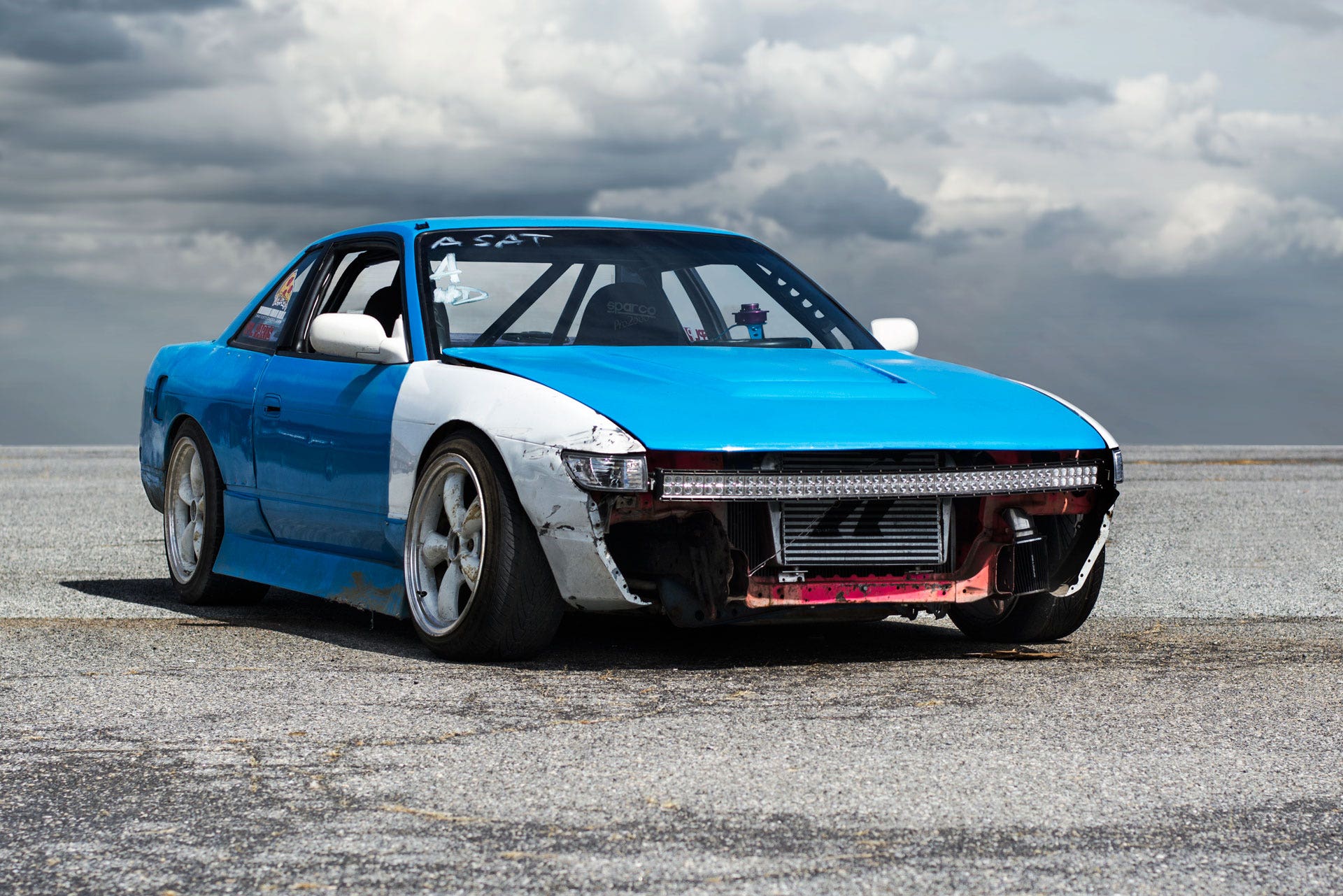 The First State's First Drift Event
To those of us who call drifting a passion, we know that there is something familiar about the hours before a drift event. It's a feeling that we know all too well. The last-minute push to get your car ready and load everything. Floor jack, tire pressure gauge, tires; everything. Most importantly, making sure your car is actually in the right condition to pass the track's technical inspection (tighten your lug nuts!). Once you're over the feeling of rushing to get yourself and the car ready, excitement overcomes you from then on. All that's left is to get to the track.
If you know the track that you're about to shred, you know exactly what you're in for. The layout, the paddock area, the people, the rules; all are familiar ground for you. You feel a sense of ease wash over you as you arrive. All of the long hours of preparation and traveling. The lack of sleep and the dwindling number that is your bank account. It all leads up to this. Every moment that has brought you here to this one, be it good or bad, it's all worth it. It's just you, your car, a screaming motor and burning tires. This is what it means to be a grassroots drifter. Emphasis on grassroots.
Starting from The Bottom
The term "grassroots" in this context stems from the mentality of driving just to drive, with no ulterior motive other than to have fun. No sponsors, competitions, pressure or internet fame necessary. My experience with drifting began in the summer of 2010 and, although this hobby can turn into a bottomless money-pit pretty fast, I have never looked back. Driving in, or even just spectating at, grassroots drift events can be loads of fun with the right atmosphere. You'll find this type of atmosphere at tracks and empty lots all over the world. There are endless groups and organizations that are dedicated to putting on track days at their local tracks just so people can learn, grow and have fun.
As I write this piece at my desk, in our Mishimoto headquarters, located in New Castle, Delaware, I can't help but notice one thing: this state is pretty devoid of a grassroots drift scene. We are surrounded by states that are home to tracks where amateur drifters can have their fun. Virginia, West Virginia, Pennsylvania and New Jersey all support the drift scene, but not Delaware. But fear not, for that's all about to change. I have been fortunate enough to get up close and personal with a group of guys who aim to change this reality, and, after recently introducing Delaware to its first sanctioned drift event, I think they have an awesome shot.
Meet Justin, AJ and Matt, the core group of guys who really got the ball rolling. They recently started a group called First State Drift (FSD for short). And by "recently" I mean about two months ago.
Justin has been driving for just under 10 years, with most of his experience being with the Clubloose guys and gals at the Englishtown Raceway in New Jersey. He owns a shop called Jay's Performance, located in a small industrial area in eastern Delaware, the blue-and-white 1992 Nissan 240SX (S13) pictured below. This car is a fully caged, high-horsepower, purpose-built drift car. The engine has been swapped with an SR20DET boasting fully built internals and a big turbo. Along with running this event, he also intended to run in this event (see what I did there?).
The thought of establishing First State Drift and getting a sanctioned drift event up and running really did happen overnight. The initial, "Hey, we should do this" idea happened around the end of April in a small Facebook group centering around buying, selling and trading parts locally in Delaware. There were talks, meetups, and the next thing you know, Justin, AJ and Matt are on their way to a monthly meeting held by Brandywine Motorsports Club (BMC). BMC is a very well-known organization for all things Delaware motorsports, so certainly there would be some head-honchos there to talk to about having a small drift event in Delaware, right?
Armed with just an idea and a can-do attitude, these three waltzed right into the meeting, not knowing a soul, and began chatting it up with some of the veteran club members. Fast-forward a couple of months and, a few more meetings with the BMC president, and an official proposal was formed. The idea to run a joint BMC and FSD event was brought to life. "At the end of the day, we're all car guys, so they [BMC] were genuinely interested in what we wanted to do. They really wanted us to come back next month," says Matt.
"At the end of the day, we're all car guys, so they [BMC] were genuinely interested in what we wanted to do. They really wanted us to come back next month"
It wasn't until August that the three heard back from BMC, but lo and behold, they were allowed a trial event. Participation would be limited to 20 drivers and the event would take place right alongside a BMC autocross. The venue was set for one of the Dover International Speedway's parking lots. They had green light, so now it was time to put on the show. This left the FSD guys scrambling to create an official online presence, including a Facebook group/event page, home website, and Instagram account (give them a follow @firststatedrift). Oh, and by the way, this all had to be done in less than a month, as their green-lit date was for September 17.
Fast forward one more time to the morning of September 17. AJ ended up getting to the track at 4 a.m. and sleeping there until it was time to start setting up. Justin literally had no sleep the night prior and had issues getting to the track on time, and Matt still had to create a course layout. You would think that with all of the troubles the event organizers faced, the morning of the event, we'd be looking at an event about to go off the rails fast. But let me tell you, that couldn't be more wrong.
Time to Put On a Show
I, on the other hand, awoke at 7 a. m. that morning, still feeling a bit groggy. I was happy that I had prepped my car the night before with all of my tools and tires, so all I had to do was drive down to Dover. Getting there was no problem, but as I arrived at the track, I immediately became lost. This was my first time at Dover International Speedway so I had no clue where I was going. I just knew I had to start looking, or listening for all of the drift cars " they are pretty easy to spot. Luckily, there was a fire truck show going on that morning, so I asked around about how to get to the autocross event. I finally made my way to the lot for the event, signed my waiver, and found a spot to park and unload. Once my car was looked over for technical inspections, we staged up to grid and walked through the course. After everyone was familiar with the layout, it was time to boogey down.
The layout was pretty simple; a medium length straight into a hard right hander and a wide three-turn chicane. The course allowed drivers to stay in the upper RPM range of second gear and the runs were pretty short, which meant tons of seat time and motors not getting hot.
Above is me driving my 1995 Nissan 240SX; I can still remember how clean it used to look when it was bone stock. Before you say anything: I know, I know, it needs paint and a lot of TLC " what do you think winter is for? During the initial pace-drive of the course, I felt it was going to be pretty tame without much speed. I thought to myself, "Good thing the registration fee was so cheap". Boy was I wrong. As the day went on, I got more used to the track and felt comfortable throwing the car harder and harder into the turns. What actually made this layout so fun was how flexible you could be with entry speeds and lines; there was a lot of playing around, which kept the day very entertaining.
The asphalt, however, was a drawback. I can only imagine that this lot must be very old. While there were no potholes or any oil-pan destroying intrusions on the surface, the course itself was really rough on tires. In fact, within just a couple of hours of the first run, people started running low on tires! My 240SX has the stock motor in it from the "'90s, so it's no monster that completely shreds rubber in two or three passes. I can usually last the day on most road courses with three good pairs of tires for the rear.
Without really knowing the track layout before arriving, I figured three pairs of tires with decent tread would be enough. Well, it turned out that I had completely demolished all of my tires (including the ones I drove to the track on) before noon. And I wasn't the only one. FSD had to impose an hour break at noon to help people save their tires and avoid ending the event early! Luckily, someone was selling a brand new set of tires, so I bought a pair and swapped them on. Those new tires still only lasted about another hour or so and as much as I didn't want to, I had to stop " I still needed to get home!
The event went off without a hitch. Not one major issue arose that I could see. Everyone was very respectful of the venue and nothing got out of control, which is especially impressive when you consider the track layout had not even been nailed down before 7 a.m.
Spectators came from both the fire department show I mentioned earlier, and the autocross event. There were even a few folks from a nearby mall and some local businesses who heard the commotion and decided to take their lunch break and see what was going on. There had to be well over 100 spectators, which is a pretty amazing turnout considering this was supposed to be a soft test run for the first drift event in the state. It's hard to hear the sound of tires screeching and motors hitting rev limiters and not at least be curious.
This event wasn't limited to for a specific type of driver or car. Going back to the whole theme of keeping the grassroots feeling alive, there were cars and drivers of all build and skill levels. There was a range of cars from high-powered, purpose-built drift cars, such as Justin's S13, to an automatic Lexus LS400. There were participants who were coming up on 15 years of driving experience to a couple guys who had never slid a car before. That's what it's all about to AJ, Justin and Matt.
Keep it Going Guys
"I was tired of nothing going on around here," says Matt who drove the black 1998 Nissan 240SX pictured in the gallery below. "We want to provide a place for people to experience grassroots-level drifting in a safe and friendly place." The founders of FSD are a motivated bunch. As Justin puts it, they want to bring a drifting scene to Delaware that would be "local and affordable."
"I was just kind of tired of nothing going on around here."
I've personally driven in about 12 events on four different tracks on the east coast, over my active driving years, all hosted by different organizations, and I can say that this event ranks amongst the top with the most fun I had. The good news doesn't stop there; although there won't be any other events this year, three will be guaranteed for 2017. When I asked the founders where they see FSD headed in the coming years, I was coyly told they have plans.
"We want it to grow, but we don't want it to outgrow itself," Justin told me, which is just about as humble as it gets. FSD wants to bring drifting back to what it was supposed to be: an environment that facilitates driving, learning, and growing with friends, without the outside pressures of internet fame or competition. That's grassroots at its finest, so sign me up.
One of our journalists, Steven Bryson took pretty much all of the pictures you see here, so if you want full high resolution pictures or if you want more pictures of your car please, contact him at his email sbryson@mishimoto.com. Don't forget to follow First State Drift on Instagram and give them a like on Facebook!