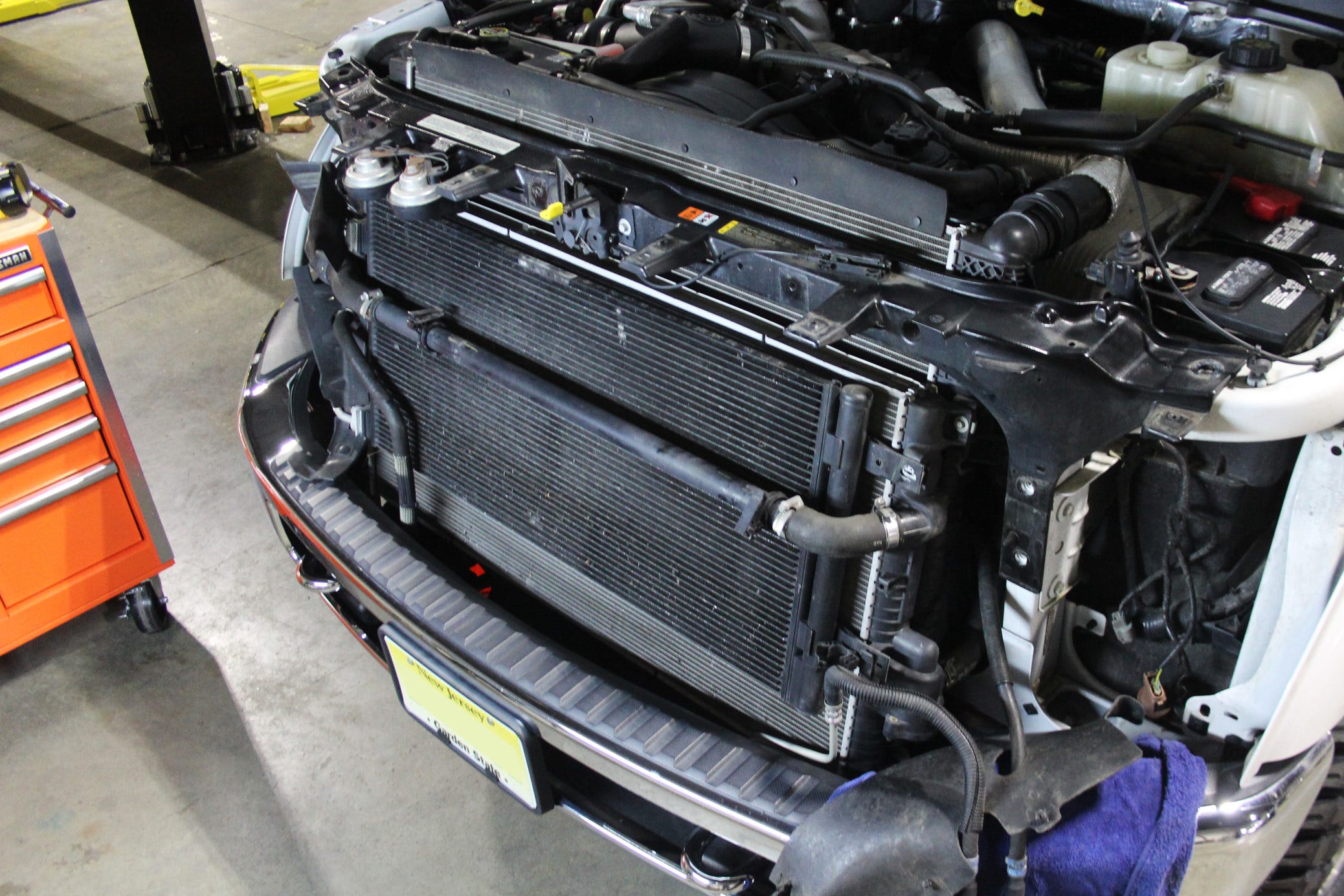 It Takes Two! - Secondary Radiator R&D, Part 1: Factory Review and 3D Models
Whether we're talking about turbochargers on an F-150 EcoBoost, V8 engines in an offshore powerboat, drummers in the Allman Brothers Band, or pieces of Carvel™ Ice Cream Cake for dessert on my birthday, sometimes two is a better option than one. This was very much the school of thought that Ford's engineers adopted when designing the cooling system on the 2011+ F-Series Super Duty trucks, including the F-350, F-450, and F-550. These trucks feature two systems that work in parallel to handle all of the cooling needs in your truck, and both are equally important.
Our engineers at Mishimoto also see the value in the "two can be better than one" mindset. When we bought our Mustang GT, we didn't stop there - we bought a turbo model, too. Many of you may know that we have already released a high-performance primary Ford 6.7 radiator, but I am excited to announce that we have been busy developing a Mishimoto Super Duty radiator for the secondary system as well.
Before I go into too much detail on how we will be upgrading this system, let's review the factory Super Duty radiator setup, so we can understand what's going on under the hood of this truck to keep everything from getting too toasty.
Wait, the 6.7L has TWO cooling systems? What the"
The factory cooling system on the 6.7L Ford Super Duty trucks is very elaborate, and it actually comprises two mostly independent cooling systems that use their own coolant pumps and are almost completely isolated from one another. The first, more conventional system cools the engine by sending coolant through passages in the block and to a heat exchanger up front, and also directs coolant to an oil cooler and the heater core. It incorporates a large radiator (the primary Ford 6.7 radiator) mounted forward of the engine, but behind the other heat exchangers (secondary Ford 6.7 radiator and AC condenser). This system is similar to those found on most other vehicles.
Ford exercised some real ingenuity with the secondary cooling system, which is relatively complex compared to what one would typically find on other vehicles. The secondary Ford 6.7 radiator, mounted in front of the primary, is responsible for heat exchange within the system that feeds coolant to anything else in the vehicle that is not the engine block itself or the oil cooler. This includes the transmission cooler, the EGR cooler, the fuel cooler, and perhaps most importantly, the charge-air cooler (but more on this later). A degas bottle is also present within this system, and the AC condenser is mounted on the front of the secondary radiator with four bolts.
Interesting. Well how does the secondary cooling system work?
The exchanger itself is unique in its design; it uses two thermostats - one incorporated into each end tank - that direct the flow of the coolant as it flows among the numerous passages. Additionally, the heat exchanger utilizes three rows of internal coolant passageways, but one of the aforementioned thermostats opens and closes one of the rows, giving the unit the ability to function as a two or a three-row radiator. When the third row is closed off, coolant is directed to the other side of the Ford 6.7 radiator via a pipe that travels across the front of the unit. This design element presumably allows the truck to heat to operating temperatures within a more reasonable amount of time, and to begin cooling more effectively once conditions are appropriate and the third row is open.
Cool! (ha). So why would I need to upgrade my secondary Ford 6.7 radiator?
Now you might be wondering what exactly the benefit would be in upgrading this secondary radiator. If it already adequately cools all of these accessory components, what good would any marginal efficiency increases do, and how would they make this Super Duty radiator worth upgrading?
First of all, lower coolant temps will certainly prolong the life of all of the aforementioned supported accessories, making your truck even more tough than Ford advertises it's having been built. Additionally, there is one key component this system services that could see some performance gains after this radiator upgrade, particularly if coupled with a tune.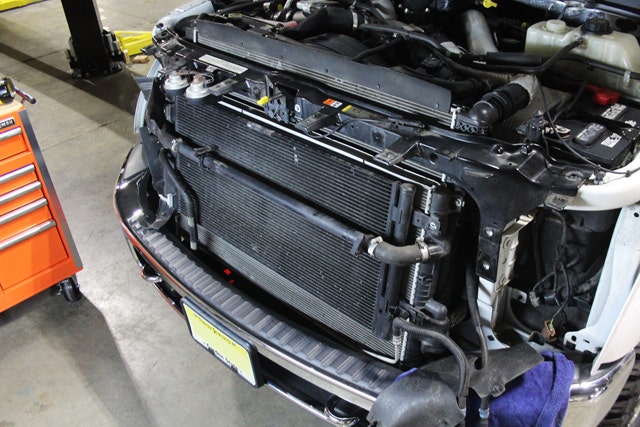 The charge-air cooler (aka intercooler) on this truck, unlike many others you may be familiar with, is a liquid-to-air heat exchanger. This means that it uses coolant rather than ambient airflow to cool the charge air. This is a highly efficient method of lowering air temps in turbo applications, but it limits the efficacy of upgrading the size of the intercooler to boost power, as one would do with an F-150 EcoBoost or a Subaru with an air-to-air exchanger. So if upgrading the intercooler's size doesn't do all that much for this truck, how do we further cool those charge air temps to make our trucks quicker?
That's where the secondary Ford 6.7 radiator comes in. Dropping coolant temperatures with a larger, improved heat exchanger will allow the factory charge-air cooler to operate even more efficiently by doing a better job at cooling metered air coming from the turbo, which could provide power gains when coupled with a tune to optimize the ECU to the colder, denser air.
What does a better secondary radiator look like?
Having thoroughly explored the factory design, let's take a look at some 3D models of the Mishimoto 6.7L Super Duty Radiator design.
As you can see, we will be retaining all associated factory functionality, as is standard for all of our performance parts.
We have included two custom engineered external thermostats in the design to ensure that our radiator preserves the factory ability to toggle between two and three-row operation.
The Mishimoto secondary Super Duty radiator is designed with all factory attachments in mind, meaning that the AC condenser will attach to it just as securely as it attaches to the factory piece.
A word on factory fitment - Our secondary radiator is designed to work with the primary factory Ford 6.7 radiator as well as the Mishimoto upgraded primary radiator. This means that you can have the Mishimoto primary, the Mishimoto secondary, or both Mishimoto radiators, and all factory components will still be compatible regardless of your setup. We want to accommodate all of your performance needs!
Great! What's next?
Now that we've outlined the factory Ford 6.7 radiator system and laid out the Mishimoto plan for making it even better, you can expect some prototype images in the not-too-distant future. That, of course, means that a discounted pre-sale will follow not long thereafter!
Thanks for reading, and keep your eyes peeled for updates on this exciting project.
Best,
-Gardiner