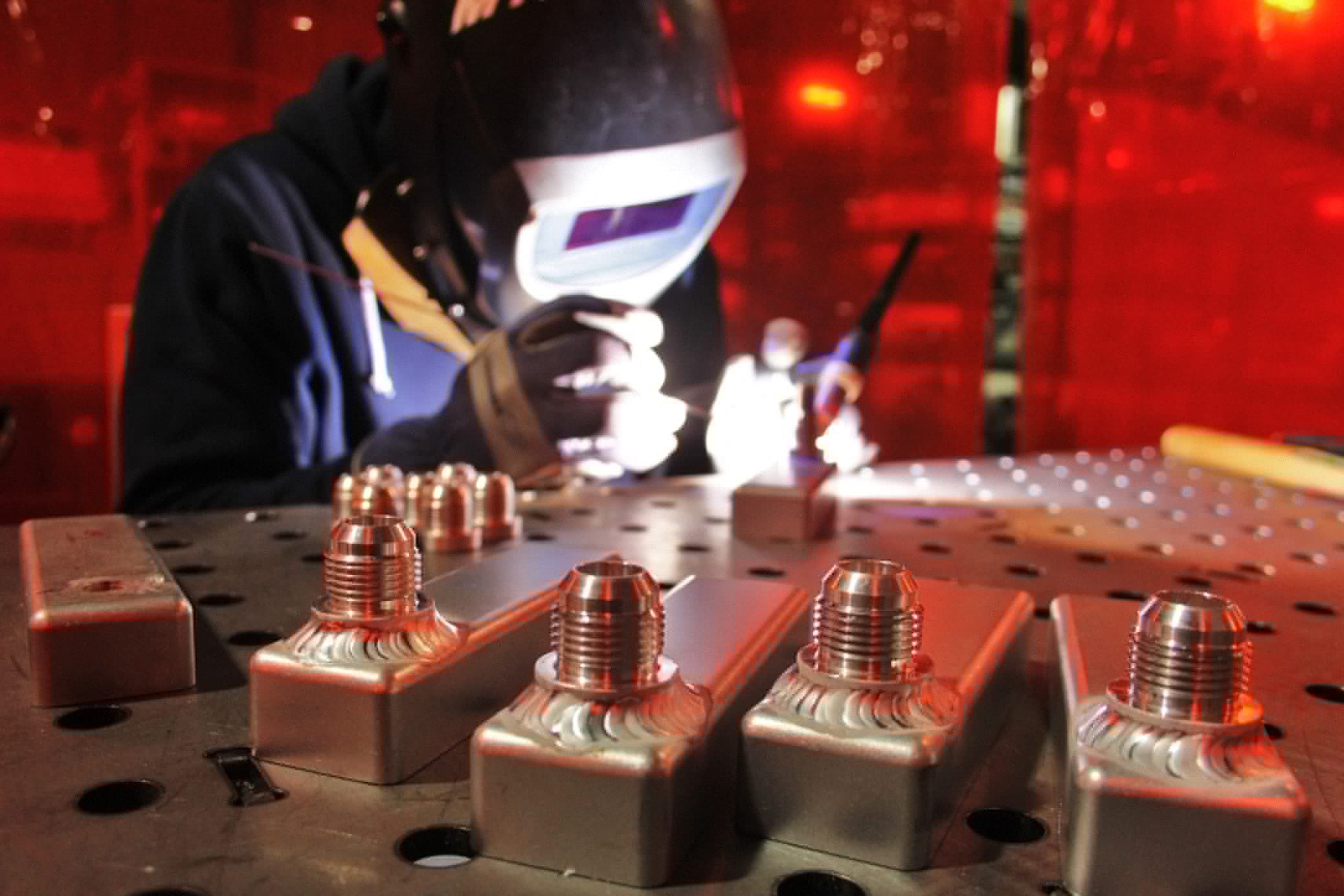 Working on a Cooler Coyote - Oil Cooler R&D, Part 3: Cooler Fabrication
In our last post, we took a look at the fabrication of our oil cooler bracket and the prototype heat exchanger. We've settled on the final bracket design, and now we are moving on to the heat exchanger.
Heat Exchanger Fabrication
The lead engineer on this project, Dan, plans to test several designs, including an all new heat exchanger design for this project. Exciting stuff! Before we test, we first need to fabricate our test subjects with the help of our expert welder, Mike. We will be creating a small cross-flow oil cooler, a large cross-flow oil cooler, a small dual-pass oil cooler, and a large dual-pass oil cooler.
We began with the cores of our new oil cooler designs. First up was welding the mounting points to the top edges of our cores. We have a pretty cool mounting design for our oil cooler, and we were pretty excited to see it come together.
After fitment was confirmed on our GT, Mike began welding the end tanks onto our oil coolers. We have two types of end tanks which will join with the cores to become the two different style coolers; dual-pass and cross-flow. Dan will be testing both styles to determine which is the better option to cool our Coyote.
After our functional prototypes were completed, it was time to test them for leaks and fit them on the GT. Our leak test method uses a very scientific soap-and-water concoction combined with several spotters looking for bubbles.
Once we were sure that our prototypes were impenetrable fortresses of cooling, we introduced them to the GT.
Both the small and large prototypes fit to our standards and meet our objectives, which included leaving as much room as possible for installing aftermarket heat exchangers behind our oil cooler. To free up as much room as possible, we have aligned the back of our oil cooler with the wiring harness that runs along the crash beam. Take a look at the space we saved the in the next photo, shot from beneath the GT. The arrow indicates the backside of our oil cooler and how it ends evenly with the wiring harness to maximize the space between our cooler and the A/C condenser.
Coming Up!
Time for testing! We will be posting the results of our testing as well as the final oil cooler design, so stay tuned. In the meantime, sound off in the comments below and let us know what you think.
Thanks for reading!
-Sara