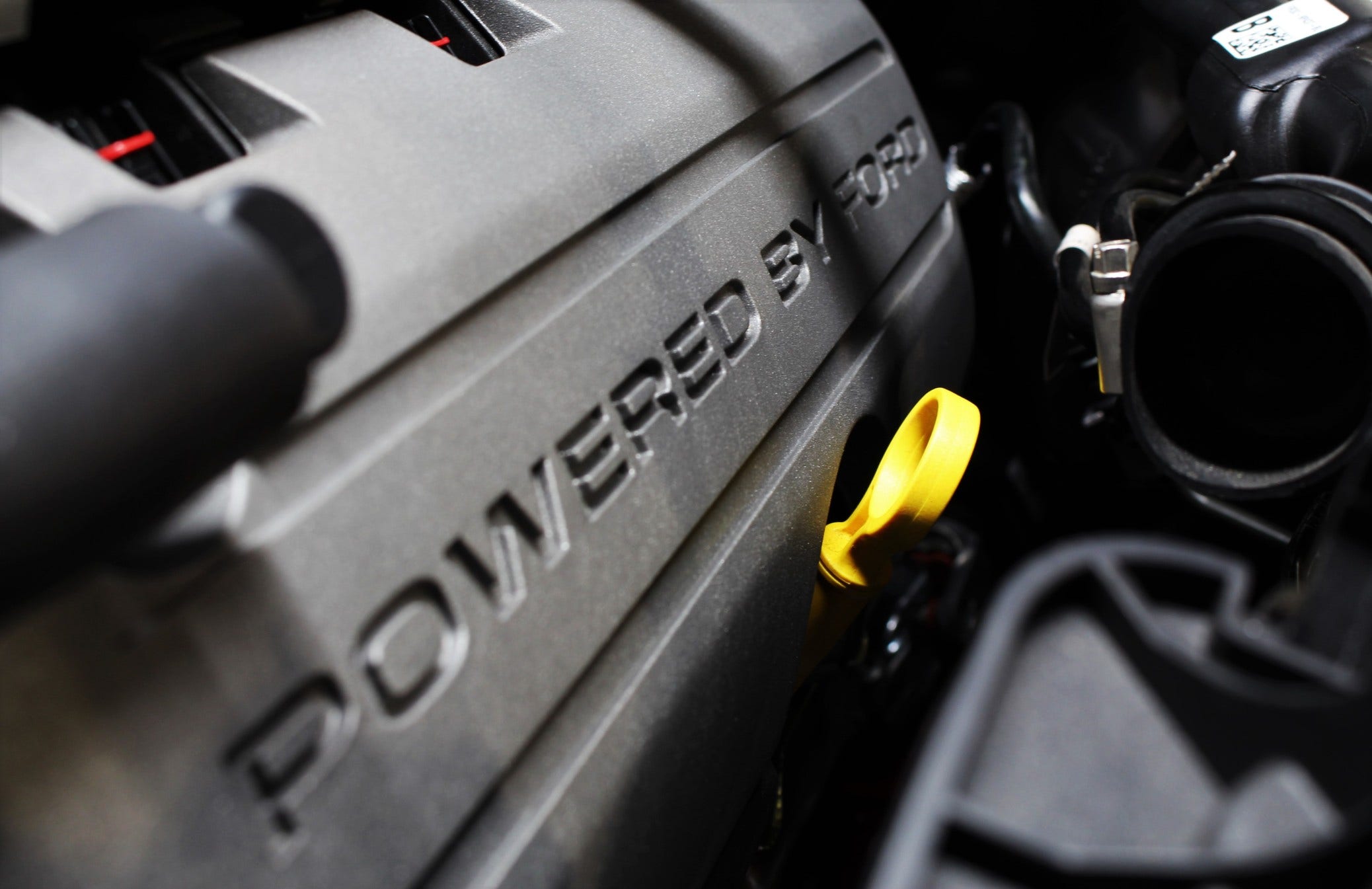 The Mustang GT Intake R&D, Part 2: Prototype Design
We have some updates for our 2015 Mustang GT intake project! Our engineering team has been diligently working on a functional prototype so we can start getting some testing results. It's full steam ahead with our plan for this intake, which includes a cool design for a fully enclosed airbox, keeping the stock tune, and of course, gaining more power! Let's briefly examine what we have so far starting with the airbox, shown below.
In our design for the intake airbox, check out how the lid contours to the dip to the right side of the radiator; that's pretty slick! This airbox will grab air from the same location as did the stock intake airbox. Also take a look at how we designed our bracket! This was another opportunity to get creative with our designs. This entire airbox, including the brackets, were all cut using our waterjet. Fun-fact: For the water and abrasive material mix to cut cleanly through this steel, the water pressure shoots out at around 60,000 psi! This machine is proving to be very useful for rapid prototyping.
Here are more images of our airbox design.
We want to be sure to eliminate any vibration from this 5.0L Coyote V8, so we will apply be weather stripping around the intake pipe. This will absorb the vibration from engine torqueing as well as keep debris out of the airbox.
Let's move on to the intake tube.
We wanted to increase volume with this intake tube while retaining all the ports on the stock piece. Once we modeled a design, we were able to use our awesome 3D printer to make this part in a matter of hours! For those of you who choose not to use the sound tube, the kit will include a plug for blocking off the port. We noticed that removing the sound tube is a pretty popular mod among the S550 crowd, but it's important that we still keep the option there.
Let's take a look at a few more shots of this prototype, including a cool shot of the intake filter and bracket.
Check out that bulging shape designed into the body of this tube. We have seen prior success with this slightly odd shape. Our primary goal in using this design is to increase the volume of air that passes through the tube. This type of curved design will have a more positive effect on the airflow velocity and density directed into the throttle body versus a straight through cylindrical tube design. Check out a shot of the entire prototype kit installed below!
What's Next?
We have strapped this Mustang to the Dynapack™ so we can start the testing phase. We intend obtain as much data as possible so that everyone reading this development process can see exactly how we are able to improve the intake system.
Stay tuned!
-Diamaan