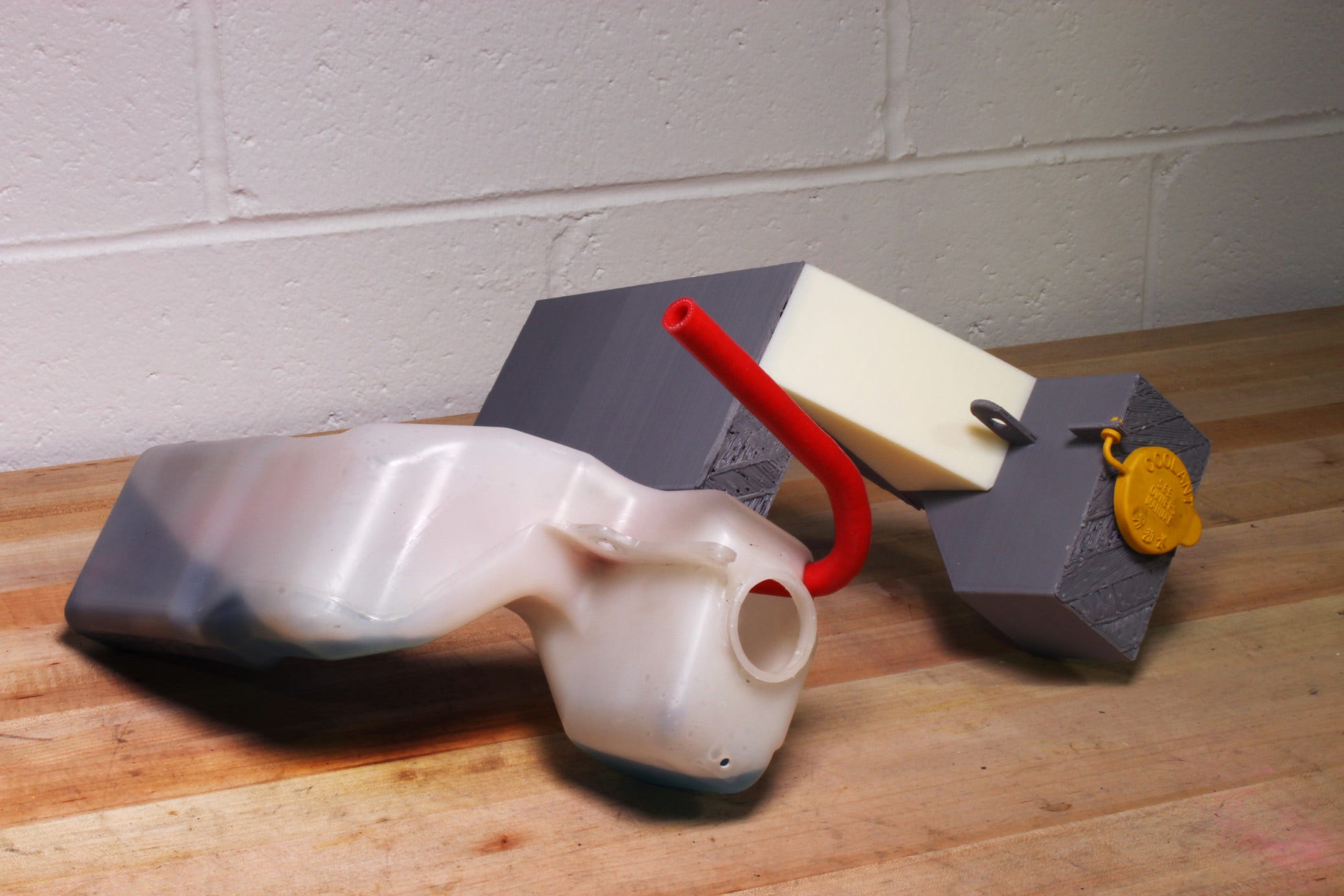 Tanks, But No Tanks - Overflow Tank, Part 1: OEM Review and 3D Models
I have been a big fan of Subaru vehicles for a substantial part of my life, and I have lots of experience with WRXs, but the BRZ (and FR-S) is still very new to me. Not too long ago, one of our engineers had his 2013 Subaru BRZ out in the parking lot, and I asked him to pop the hood so that I might check out the power plant. Have you ever seen an old episode of Scooby-Doo when Shaggy opens a door and jumps about a mile in the air, screaming, having revealed the spooky ghost residing therein? Well, you can call me Shaggy, and here is the ghost:
Like, zoinks! Look at all that hideous white plastic - nobody wants a haunted Toyobaru, but how on earth would one solve this problem? Who ya gonna call?
Mishimoto!
Overflow Tank Functionality
Our ghostbusters engineers are already chugging right along in the development of an awesome new overflow tank for the 2013+ FR-S/BRZ. An overflow tank is an important part of a car's cooling system; it serves to receive and store coolant that is purged from the radiator in high-pressure situations. An overflow tank, unlike an expansion tank, is not pressurized and contains a vacuum line through which coolant is drawn back into the system when needed. An expansion tank is part of a sealed, pressurized system that allows the radiator to purge coolant when it is overly hot and expansive, and to draw it back in when the system cools to a sufficient degree. It does this by utilizing the pressure differential that varies with temperature to create a vacuum condition due to air that is part of the system; another important distinction is that coolant does not have to purge through a pressure cap before entering the tank because it is a pressurized component in the system.
As you can see, the OEM unit is a bulbous hunk of white plastic (although this one is sporting a snazzy Mishimoto silicone coolant line - part of our BRZ/FR-S Radiator Hose Kit). Our Mishimoto tank replacement will be an attractive aluminum piece, and it will hold a larger volume of coolant than the OEM unit. We have already modeled the piece and recently 3D printed it to check fitment.
In order to test fit, we needed first to remove that OEM poltergeist.
After the exorcism was complete, we made quick work of throwing in our prototype.
The tank fit well and looks markedly better than the OEM unit! Check out a photo of the two pieces side by side for a more direct comparison.
Definitely an improvement, and it will look even better in aluminum!
Coming Soon - Renderings
This project is well underway, and we will have some cool renderings to present in the not-too-distant future. Check back for more details on this project, and enjoy your cars as the summer weather starts to creep in!
Thanks for reading,
-Gardiner