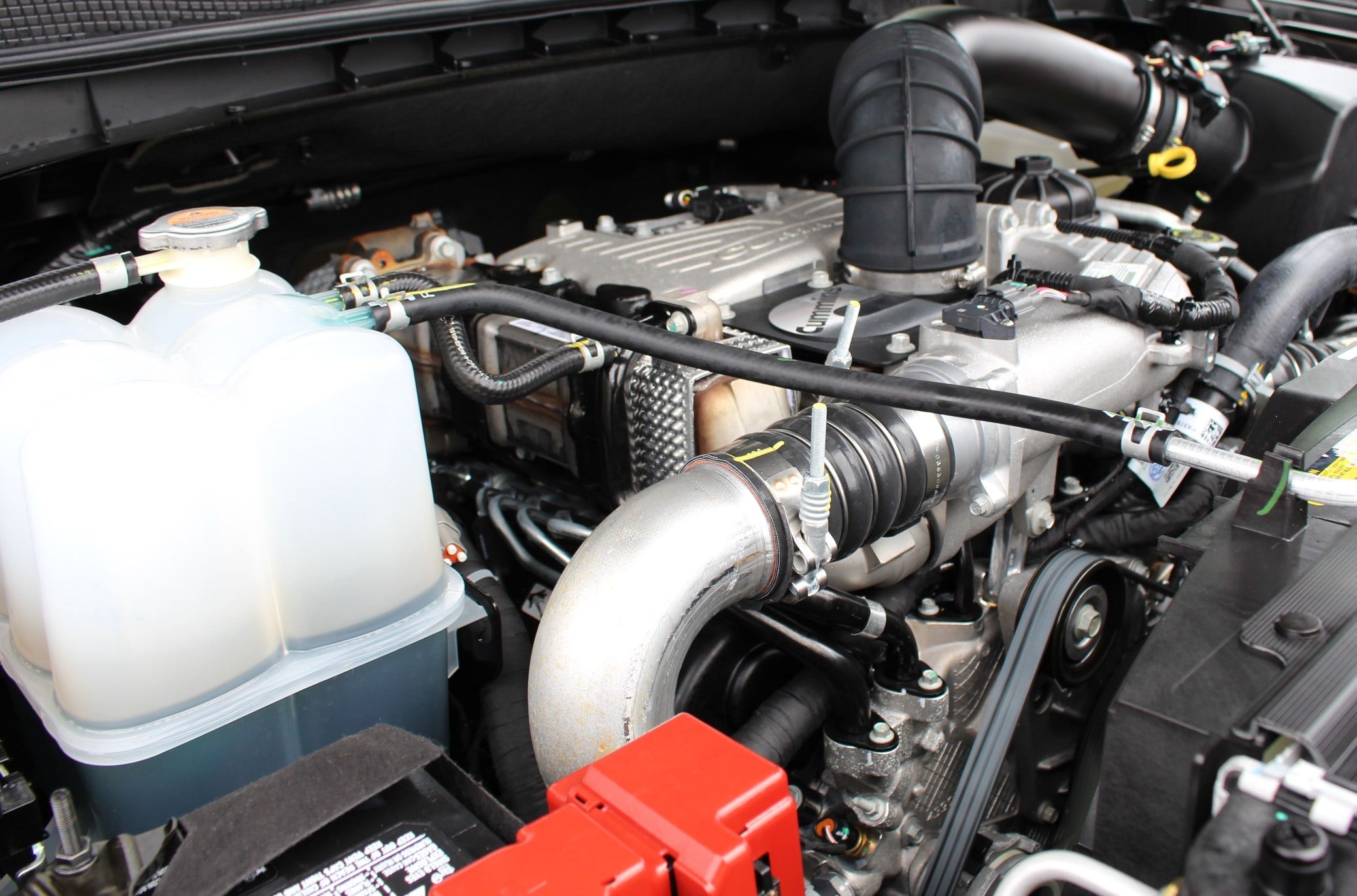 Expanding the Titan's Style - Expansion Tank R&D, Part 1: Stock Review
The Titan XD is one good lookin' truck! So far, the Titan seems to be a perfect combination of function and form, that is, until we took a look at the expansion tank. The unsightly plastic tank is a blemish in the Titan's otherwise beautiful Cummins equipped engine bay. In fact, there is a popular theory going around that Nissan's designers ran out of awesome when they got to the expansion tank. At first glance the expansion tank resembles an upside-down gallon of milk, and we think it looks even more so after we removed it from the Titan's engine bay.
Not to worry Titan, TeamMishi is on the job. Our engineers took some initial measurements of the Titan with our CMM (coordinate measuring machine) to get our prototype started. We then took a saw to our milk jug to have a closer look at its internals. We may have gotten a bit too much enjoyment out of slicing this atrocity in two, but hey, at least we don't have to look at it in the Titan's engine bay anymore!
Our suspicions were confirmed when we saw quite a bit of intricate internal baffling within this expansion tank. This should not be too challenging to replicate, as we have tackled internal baffling on many of our expansion tanks in the past. We also noticed a magnetic fluid level indicator, which we intend to incorporate in our design. Not only do we intend to turn this beast into a beauty, but we plan to make the tank more durable by creating it out of aluminum rather than plastic, which tends to crack and break over time.
In this poor tank's defense, once we had a look at the internal structure of the tank, we understood the functionality of the design. Still, that doesn't do much to ease the struggle of looking at, it front and center, next to this beautiful Cummins. It's a good thing we plan to go all out on the design of this tank to make it much more attractive so that it may accentuate the Cummins, rather than detract from the elegance of the engine bay.
Coming Up!
We will take a look at Mishimoto's Expansion Tank design and our first prototypes. We are excited to show them off to you and to hear your feedback! Don't forget to let us know what you would like to see us develop for the Titan XD in the comments below.
Thanks for reading!
-Sara