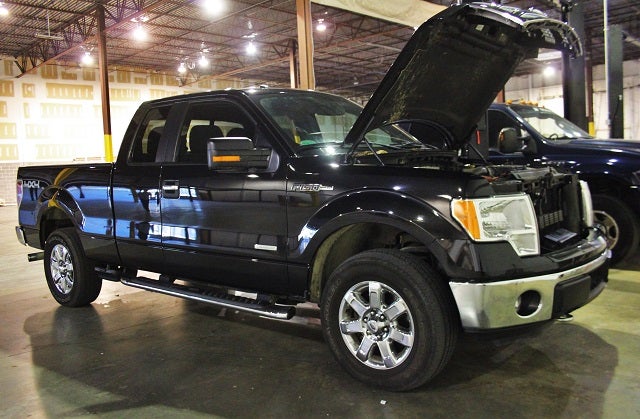 Cool Air for the EcoBoost. F-150 Intercooler R&D, Part 1: Factory Cooler Evaluation
Posted:
December 11, 2015
The EcoBoost (EB) engine series is quite impressive and packed full of amazing technology. Direct injection and efficient turbochargers have contributed significantly to improved fuel mileage without compromising engine output. Our fleet of shop vehicles currently includes two EB-powered vehicles, a Fiesta and a Mustang. Both models thoroughly impressed our team with their power, drivability, and handling. We developed a ton of new products for the 1.6L, 2.0L, and 2.3L. Now it is time to turn our attention to the V6 EB world. Our first target is a performance intercooler for the 11-14 3.5L F-150.
From our experience with other EcoBoost models, the factory intercoolers are not exactly ideal. The Mustang heat-soaks after a few pulls, and both hot hatches will quickly exceed the intercooler efficiency with a couple easy modifications. Although the factory F150 intercooler is comparably more stout than the coolers for the smaller 4-cylinder models, many have still found it to be inefficient during repeated pulls or when towing heavy loads. So, with that in mind we have a couple of goals with our cooler design that should provide some really nice benefits for your truck.
Efficiency Improvement
The primary goals for intercooler development are always to improve efficiency and drop intake temperatures. These are the primary functions of the charge-air-cooler. Although the factory intercooler is adequate for some trucks, many folks with modified EBs are finding that the factory coolers just don't cut it. The ability of these engines to gain power is almost laughable; increasing output over 450 wtq is a few simple modifications away. With that in mind, you're going to want an intercooler that can handle the additional heat generated by greater output.
The factory intercooler features a tube-and-fin core, which is essentially a standard among OEM coolers. Below is an image of the external fins and tubes on the factory cooler.
This core type is inexpensive to manufacture. Compared to other cores, the tube-and-fin allows airflow to pass through the core with less restriction. Where this core suffers is in efficiency and heat-soak prevention.
Our prototype will feature a large bar-and-plate core, which will result in greater heat transfer and lower intake temperatures, and it is far less prone to heat-soak. For most of our new intercoolers in development, this is the type of core we will use.
We won't just throw a core together. Our team will be strategically designing the internal fins, external fins, and bar sizes to maximize flow. In addition, we will be conducting comparison testing to determine efficiency against the factory cooler.
More on this in future segments!
Durability
The factory cooler utilizes plastic end tanks to route airflow from the piping through the core. From our previous experience with a variety of vehicles, plastic isn't a great choice. It does provide for a smooth flow internally, but the reliability and durability of plastic in this environment is questionable. At higher boost levels, crimp connections that attach the core have failed. Over time and through countless temperature oscillations, plastic will weaken and can rupture.
Aluminum is a more robust material choice and eliminates any chances of failure from high boost pressures and/or high temperatures. Our counterpart intercooler will feature cast-aluminum end tanks. By casting the tanks we can strategically design the internal surface to attain maximum flow through the core.
Condensation Issues
Many EB owners have reported stuttering and CELs related to condensation buildup within the intercooler. Reports show this to be a result of over-efficiency in cooling the air, as well as CCV-related problems. Ford issues a TSB for installation of a deflector to prevent this, but it hasn't been effective in all cases. Although not optimal, one common solution is to drill a small weep hole in the base of the cooler to allow condensed fluid to escape. This modification, along with the addition of a catch can and new spark plugs, seems to solve most issues. We will keep this in mind with our design, and we might possibly offer a solution for draining any fluid that might make its way into the cooler.
Factory Cooler Initial Evaluation
We rolled our test vehicle into the shop and got to work removing the factory cooler. Before designing a counterpart of our own, we needed to capture information and dimensions from the factory unit.
The EB models have a good deal of space under the hood. Plastic components litter the engine bay, but this is to be expected in a new vehicle.
The front grille features an interesting array of heat exchangers. The Ford F150 EcoBoost intercooler is mounted on the lower portion and uses its own grille inlet for airflow.
Below is a look through the lower duct for the intercooler.
Check out a shot showing the mounting position and angle of the factory cooler.
After these observations, we removed the factory cooler so we could take a closer look at the components, features, and core size.
Coming Up – Factory Cooler Full Evaluation
Next time we will be taking a close look at all the components and features of the factory intercooler. In addition, we will record the dimensions and select a core size and orientation.
Thanks for reading!
-John