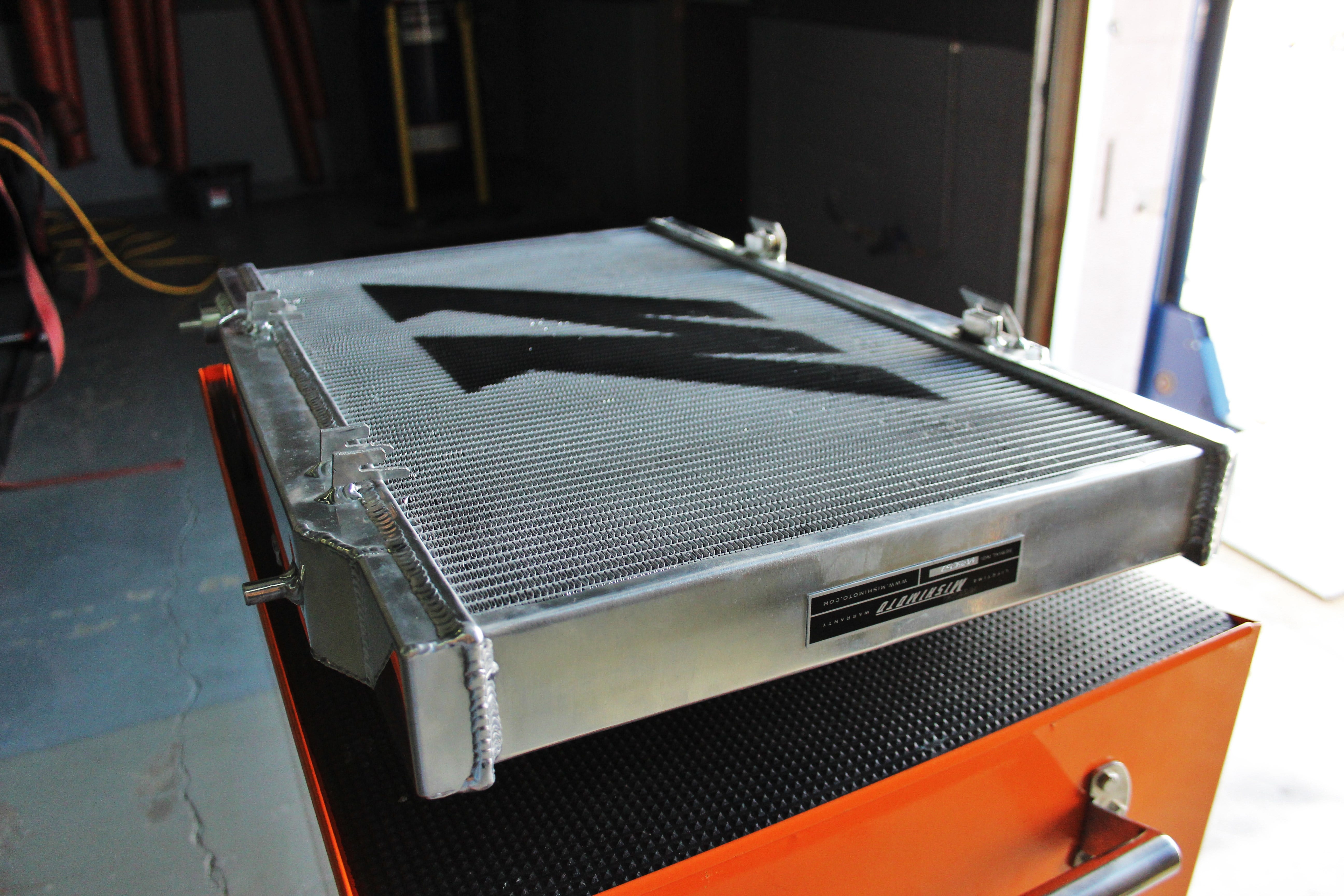 Keeping The Party Cool! Mishimoto's Ford Fiesta ST Radiator R&D, Part 2: First Prototype Evaluation and Installation
Interested in picking up our Fiesta ST aluminum radiator? Check out our discounted pre-sale linked below.
We left you with some pretty cool 3D models last time. We are back with something even better " our first prototype has arrived!
Prototype Radiator
I know you guys are excited to see this piece so I won't extend the wait any longer. Check out some shots of our first prototype!
First, a look at the front of the radiator.
A look at the back (engine-facing) side of our prototype!
We've emulated the stock fan shroud mounts as well as the inlet and outlet hose locations. The upper and lower radiator mounting pegs are also positioned just like the stock radiator.
I am sure you are looking at these images and thinking, "The thickness of that radiator is absolutely astonishing." Well, you're right; it is a massive core. Here is a closer look from the side.
Just how thick is it?
Our first prototype measures 2.25". Keep in mind this prototype is based on a variety of 3D models of the stock vehicle. Our sizing is an educated guess and may need to be scaled down slightly for fitment purposes. We shall see with the test fit!
So how does this compare with the stock Fiesta ST radiator in terms of size and volume?
First Prototype Spec Comparison
The chart below provides a nice comparison of the basic specs of both the stock radiator and the first prototype we designed.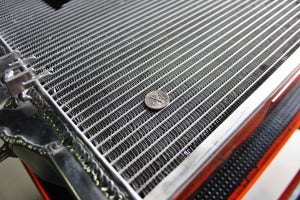 Mishimoto prototype Ford Fiesta ST radiator core showing relative height between fins
The tightly packed fins are key for improving heat transfer and will help provide greater surface area for more heat-transfer contact points.
One more comparison shot of both radiators!
As you can see from the chart above and the images, the Mishimoto radiator dwarfs the stock unit.
Prototype Test Fit
With our prototype in hand and our Fiesta on the lift, it was time to test fit our first prototype and see where changes would be needed.
First, the stock radiator was removed.
Yes, you are seeing things correctly. Most of the front end of the Fiesta must come apart and be separated to access the radiator. Tight packaging is great for weight reduction, center of gravity, handling, and emissions, but it certainly makes maintenance and repair work a challenge.
We had the stock radiator out as well as the stock fan shroud. We fit this piece up first to check out mounts for appropriate fitment.
Next we fit our prototype in place, but we quickly found that we had been a bit optimistic with the size of our core. As a result, we ran into some fitment issues that kept us from fitting this unit in place. The thickness of the core pushes the fan shroud a bit too close to the engine, causing some clearance concerns. But " this is why they call it R&D right?
No worries here, a few tweaks and a slight decrease in core size should give us an aluminum radiator that features greater fluid capacity and fits perfectly! On top of this, we will be modifying our fin height to 5.5mm in order to pack a few more rows of cooling tubes and to promote greater heat transfer with a denser core.
Check back next time for a look at our next prototype unit and test fit!
Thanks for reading!
-John
Interested in picking up our Fiesta ST aluminum radiator? Check out our discounted pre-sale linked below.