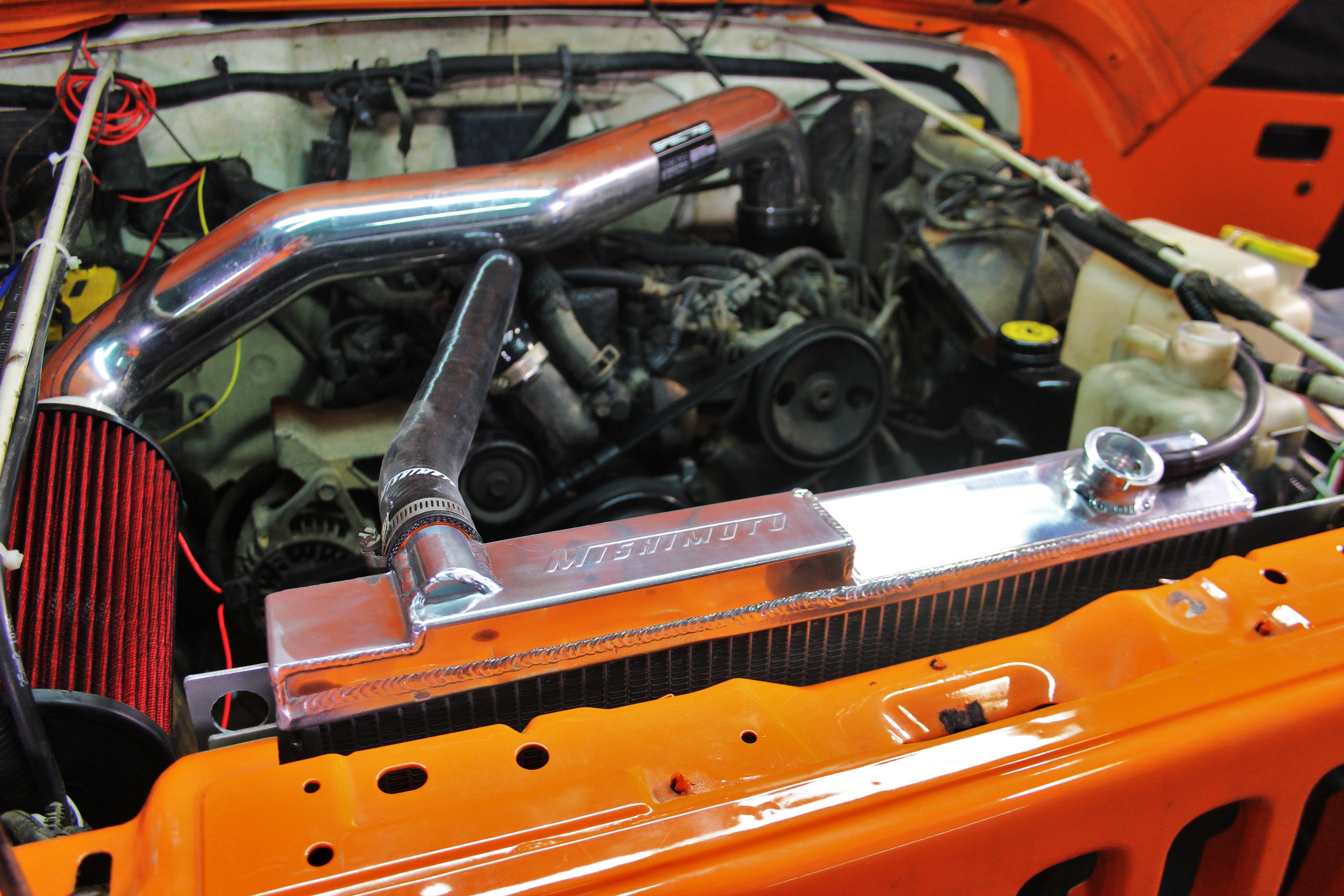 Improve The Cooling of Your Wrangler, Part 3: Testing Results and Final Prototype
Interested in purchasing our YJ/TJ electric fan setup? Check out more details on our product page linked below.
Quite the project this Jeep TJ electric fan shroud kit has been! We've gone through a few design iterations and conducted some pretty cool testing to ensure that our product will adequately cool both the 2.5L and the 4.0L.
Testing Results
The last portion of our article series showed the testing apparatus and our plans for extended idle testing with our Jeep TJ electric fan kit. We would be monitoring coolant temperatures to see the impact of an electric fan as opposed to a mechanical setup provided by the factory.
Testing Conditions
Ambient temperature: 72°F
Testing timeframe: 1400 seconds (23.3 minutes)
Vehicle: Jeep Wrangler YJ 4.0L
First up, the results and plot for the stock mechanical fan.
Inlet fluid temperatures hover at around 208°F with the stock fan at extended idle. Once temperatures hit 215°F, the mechanical fan activates to drop temperature back down. This has a direct impact on outlet temperatures, which average around 135°F and oscillate from 150°-165°F down to 115°-130°F during fan operation. This cooling is certainly adequate for street and off-road use. One thing to note, during our 23 minute testing timeframe, the stock fan was activated 15 times.
Next up, a look at the Mishimoto Jeep YJ electric fan setup!
Like the stock fan, the Mishimoto Jeep Wrangler fan shroud was set up to keep inlet temperatures right around 208°-210°F. Fan activation occurs around 215°F and drops inlet temperatures in a manner similar to the stock system. The outlet temperatures differ as a function of the fan controller we include in our kits. Temperatures prior to activation sit at around 165°F and lower to around 95°F before turning off. As with the stock system, this is an efficient setup that will provide repeatable performance regardless of the environmental conditions. Unlike the stock fan, our Jeep TJ electric fan activated only three times during the 23 minute testing period. Actual fan running time was longer, but less on/off activation occurred.
These results are positive! Because of the difference in fan running timeframe, it would be unfair to say our setup is outright better than the stock system. In a way, it is simply a different approach to idle and low-speed cooling. Both setups work great, so it is up to the consumers to decide whether an electric or mechanical system better suits their Jeeps.
Final Install
With testing data complete and our prototype fully finalized, our last task was to test fit our final design to ensure all dimensions were correct and fitment was perfect. We also took this time to ensure that fitment was accurate with our Wrangler Aluminum Radiator.
Out with the stock radiator!
In with the Mishimoto radiator!
We then bolted our final Jeep Wrangler fan shroud design in place.
Discounted Pre-Sale!
Now that both development and testing are complete, we can move forward with producing this awesome Jeep Wrangler Fan Shroud kit. We will be launching a discounted pre-sale for forum members interested in picking up one of the first kits! Check back soon for details regarding both pricing and estimated ship dates for the Mishimoto Jeep Wrangler Fan Shroud Kit.
Thanks for reading!
-John
Interested in purchasing our YJ/TJ electric fan setup? Check out more details on our product page linked below.