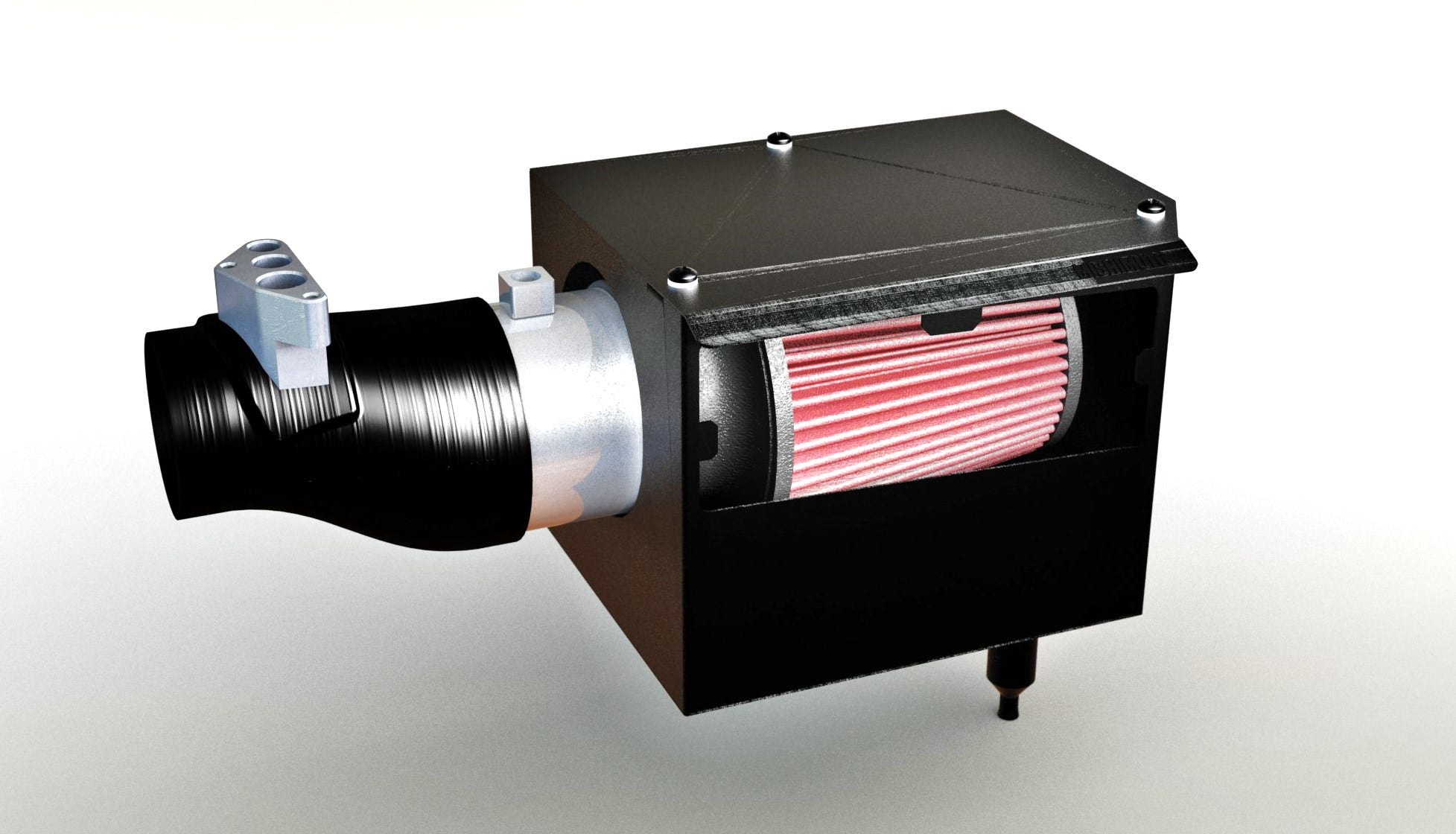 Mercedes CLA45 AMG Intake R&D, Part 2: Full Prototype Fabrication
Interested in picking up our Mercedes CLA45 intake system? Check out our product page for more details.
When we last left off we had finished the evaluation of the stock intake system, and the design of our prototype had commenced. Our first component is the turbocharger inlet tube, which mounts to the compressor inlet. Check out a few shots of our 3D-printed design!
Inlet Tube
Although our inlet piece may emulate the stock unit in terms of ports and features, the two are actually quite different. Check out the comparison shot below showing the stock inlet tube and our prototype unit.
The stock tube essentially bumps from the filter size directly to the small OD of the compressor inlet. This creates a wall at the end of the tube which may result in some airflow turbulence. To smoothen airflow in this area, our inlet tube is designed to provide a fluid transition from the filter to the compressor inlet, reducing the chance of restrictions or turbulence within this portion of the intake. Will this result in more power? We shall see!
Next, we installed this prototype piece to verify fitment with the turbocharger, as well as the sensors and ports that are incorporated into this component.
We then installed the air filter we intend to use for this kit. Since we will be utilizing the stock intake duct, positioning the filter in the path of airflow was key to obtaining cool intake air.
Airbox Fabrication
Now that we had our inlet tube designed, it was time to surround the filter with an airbox to reduce the impact of engine bay heat-soak on intake temperatures. We are starting with some steel plate and will be using our fabrication tools to construct an aesthetically pleasing box.
As you can see, we will be using the stock air duct to feed our filter. Now that we have the basic shape/footprint of our box plan, we can begin making mounting points and cutting out ports for the intake tube, air duct, and ECU cooling duct.
We then ensured that all the components had appropriate mounting points. We will be using this fabricated box for dyno testing, so it will be nearly identical to our final design.
We are adding weather stripping on all the ducts to eliminate any rubbing or vibrational noises once the ducts are installed. This also gives the airbox a stock-like appearance.
After numerous iterations, adjustments, and a few prototypes, we finally had our design completed and ready for testing. Check out a few shots showing what our talented engineering crew developed.
The airbox lid is temporarily secured at this time. We will be utilizing a few fasteners that will allow for removal and filter servicing.
Completed Prototype
Our initial prototype design is complete. Check out a few images showing this intake removed from the vehicle. This provides more insight into the overall design and placement of each feature.
And a few really neat renderings of our completed intake in our 3D modeling software!
Coming Up!
With our final prototype complete it was time for some dyno testing. Check back next time for a video from our pulls as well as the power increase results from our runs.
Thanks
-John
Interested in picking up our Mercedes CLA45 intake system? Check out our product page for more details.