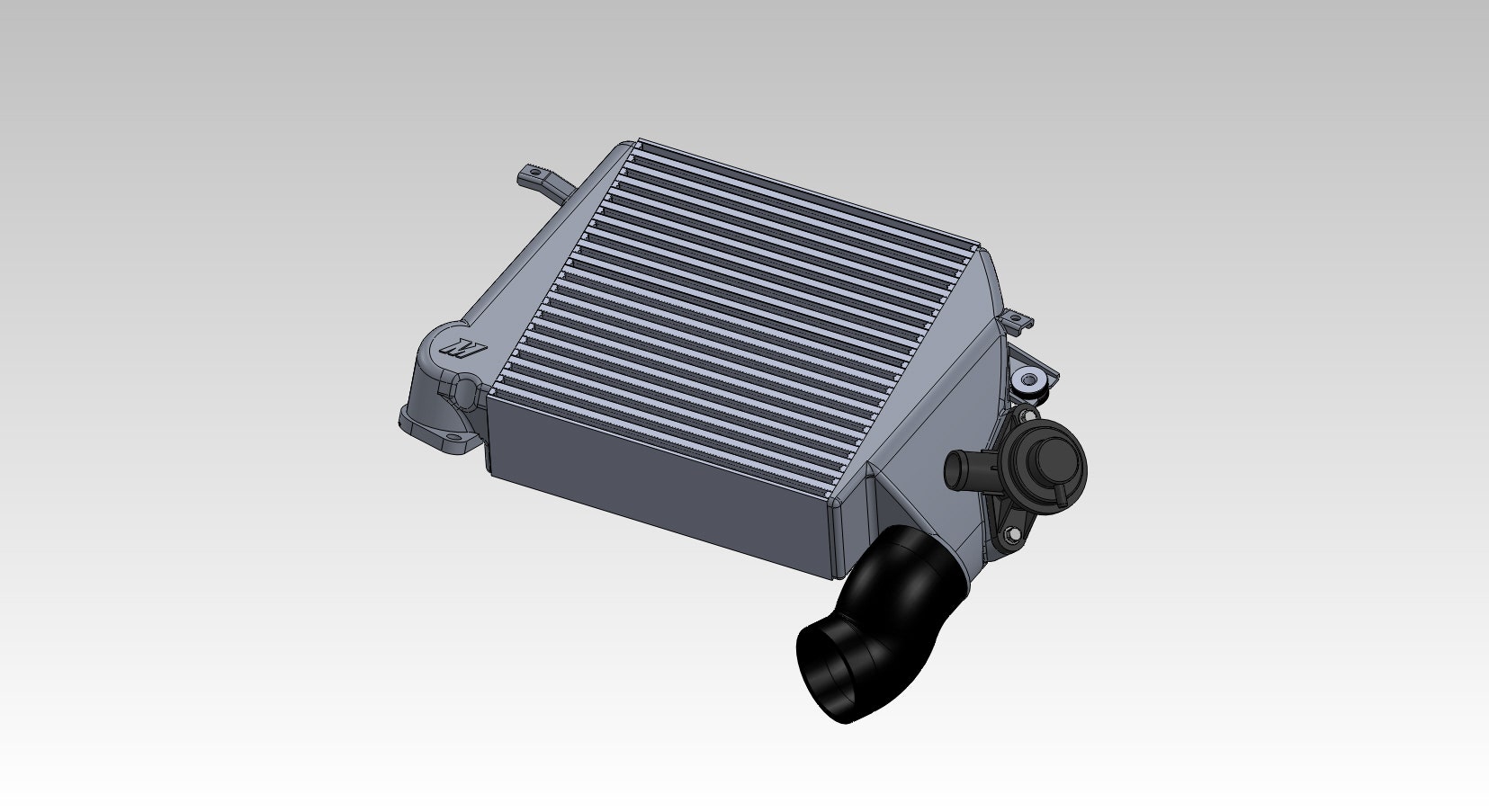 2008-2014 Subaru WRX Top-Mount Intercooler, Part 1: Product Introduction and Goals
Interested in purchasing our 2008-2014 Subaru WRX Top-Mount Intercooler? Check out more details on our product page linked below!
Nothing sets off a Subaru engine bay like a nice beefy top-mount intercooler. Not only does a big TMIC look great, but it is also instrumental for keeping AITs low and your EJ happy. For those seeking low AITs on a stock to mild build, an efficient top-mount setup is the way to go to avoid inheriting the pressure drop and lag from a front-mount intercooler. Not only this, but the TMIC prevents any road (or off-road) debris from damaging your heat exchanger. This is key for those who are involved in any rally, off-road, or rallycross events.
If you keep up with any of our social media outlets, you are likely aware that Mishimoto has been working to develop a TMIC for the 2008-2014 WRX. We are very active within the Subaru enthusiast community, and a majority of our best-selling products are designed specifically for the WRX/STI. We cater to all makes and models, but it would be tough to deny that we are slightly partial to Subaru, especially considering that our three shop vehicles are a 2003 WRX wagon, a 2010 STI, and a brand-new 2015 WRX.
With the recent release of our WRX GD top-mount, which has been very successful, we decided it was time to tackle the WRX GR and take a look at the new flange-style intercooler setup. Although typically well known for our aluminum radiators, Mishimoto has been designing and manufacturing performance intercoolers for quite some time. Our universal line of coolers find their way into some really neat builds, and more recently we have put some of our focus into direct-fit intercoolers. With more and more turbocharged vehicles reaching production, this really opens the door for our team to innovate on the stock setup and provide the cooling needed for those who modify their vehicles. Aftermarket tuning has found a way to get the most out of these stock turbo vehicles, with massive power increases from the press of a button. There is one issue, however: Factory intercoolers are designed to efficiently cool stock power and temperature levels. This creates a need for an upgraded heat exchanger to manage intake temperatures and heat soak. This is where our team can help you find a solution for dealing with high temperatures.
Now to get vehicle specific! You are probably aware that the WRX GR utilizes quite an interesting stock intercooler, so let's get a good look at what Subaru put together for your WRX.
This is a pretty typical plastic end-tank intercooler with a fairly decent tube-and-fin core. The main difference as mentioned before, is the use of a flange-style connection point for the turbocharger compressor outlet. The BPV mount flange has a similar diamond shape to the previous generation. The use of plastic is a bit concerning, as we have seen several higher-boost vehicles separate the tanks from the core of these coolers. This is not something you want ruining a day at the track.
Based on the core design and placement near the turbo (not to mention the direct contact with the compressor housing) heat soak is certainly going to be an issue with this cooler. Check out the BOV flange and end tank close-up below!
You will notice that our end tanks have openings. This is for the installation of our pressure and temperature sensors for testing. We will get into testing a bit later down the line, so stay tuned for that. Now, another key thing to consider is size. With greater volume comes increased efficiency (when correctly designed) and higher power support. The factory core measures at 11" x 9.5' x 2.5' for a total of 261.25 ci. The entire intercooler assembly weighs 6 lb.
To get the ball rolling on this project we would need to first evaluate the stock cooler. Our plan of attack was to create a 3D model of the stock intercooler and test its flow characteristics. We could then use the dimensions and information from that model to design our intercooler. Pretty straightforward, yet time consuming. Check out a few cool shots of the process.
The Romer arm we use is portable, which allows us to collect data points when the component is both on and off the vehicle. With data points collected on the vehicle, we can provide a better look at exactly how much larger we can make this intercooler. Once we determine this, we can decide how large the intercooler needs to be to meet our goals with the projects. This doesn't mean we will be leaving potential power/temperature benefits on the table. Our goal is to provide the highest gains possible for the largest possible range of vehicles/modifications. Despite this, we are aware that a TMIC begins to lose its efficiency at a certain point, necessitating the need for a front-mount setup. We have no reason to make wild claims that our intercooler will support 500-700 whp. We want you to get the most out of your vehicle, even if it means explaining that this cooler is not sufficient for your goals. Not to worry though, as we are also working on a very slick front-mount setup for this particular vehicle.
Now, take a look at a few cool shots inside the end tanks of the stock cooler.
Once we had all the necessary information from the stock cooler, we could begin to discuss the design aspects of our first prototype. As with any project, we would need to lay out a few basic goals to be sure we are meeting the needs of our customers.
Goals
Must be completely direct-fit for the 2008-2014 Subaru WRX, and utilize the factory-style turbocharger flange connection.
Support vehicles from stock power levels to 400 whp.
Provide an efficiency and AIT reduction compared to the stock intercooler.
Provide improved power output compared to the stock intercooler.
Increase intercooler volume to support higher power and heat.
Direct Fit
Fitment is key when developing aftermarket components. Many of us have had an experience with a so-called direct-fit product that required trimming, cutting, and drilling, resulting in a ton of frustration. Our primary goal is always perfect fitment, especially with a product that requires extreme precision. Now that we've captured all the data points from the factory cooler and its mounting points, it should be a simple process to match the critical dimensions. As always, we will be test fitting this product on multiple occasions to ensure there are no issues.
The tricky part of this particular cooler is the unique two-bolt flange that secures the turbocharger compressor outlet to the intercooler. This connection utilizes a high-temperature rubber seal that we would need to emulate as well.
The BPV mount flange will also require precision. This flange is rather unique and will need to be replicated so it will accept the factory bypass valve.
Horsepower Support
Our research has found that a majority of enthusiasts with vehicles having more than 375 whp are selecting a front-mount intercooler to cool the air charge. Because of this, we will be targeting the range of stock to 400 whp for this particular cooler. By solidifying a range of power levels, we can really hone in on our core composition to provide optimal cooling and flow. We will have to properly balance core density to take advantage of our plans for larger volume. Our engineering team has tackled a similar project with our 2001-2007 Subaru WRX/STI intercooler. After testing a few different cores, we saw the effects of our changes on power, pressure, and temperature, enabling us to select the core that would provide the best results for our goals.
Cool It
Cooling is another top goal here, obviously the primary objective of a heat exchanger. We want to see AITs plummet compared to the stock intercooler. Increased boost pressures and higher power numbers will generate unwanted heat, which requires a remedy to avoid heat soaking the stock cooler. We are hoping that our cooler is the solution to these high-temperature issues.
Power!!
Jeremy Clarkson says it best: We want more speed and power, and I am sure you do to! Swapping intercoolers does not always imply that more power will result. An intercooler upgrade is more of a supporting modification. That being said, with all our other intercooler projects we have managed to squeeze out power compared to the stock intercooler. We are assuming that 5-10 whp is certainly an achievable bolt-on number for this cooler.
Make It Big
Going back to the first sentence of this post, everyone wants a nice thick intercooler that invites onlookers to peer into your engine bay in awe. In all seriousness, the increased volume will help us provide a greater cooling surface area, more heat transfer points, and increased volume, which will help achieve our other goals noted above.
Back to the project progress! Once we had collected our points, the lead engineer for this intercooler, Dan, set about to model the stock intercooler. This would allow us to compare flow through the core with whatever design we actually developed. Check out his work below!
That's it for this portion of the build. Next time we will be showing our new prototype design and compare that to the factory cooler using CFD software. This will allow us to test the flow of both the stock cooler and our prototype to be sure our increased core density does not affect flow in a negative manner. Check out this teaser of our prototype design!
Thanks for reading!
Interested in purchasing our 2008-2014 Subaru WRX Top-Mount Intercooler? Check out more details on our product page linked below!