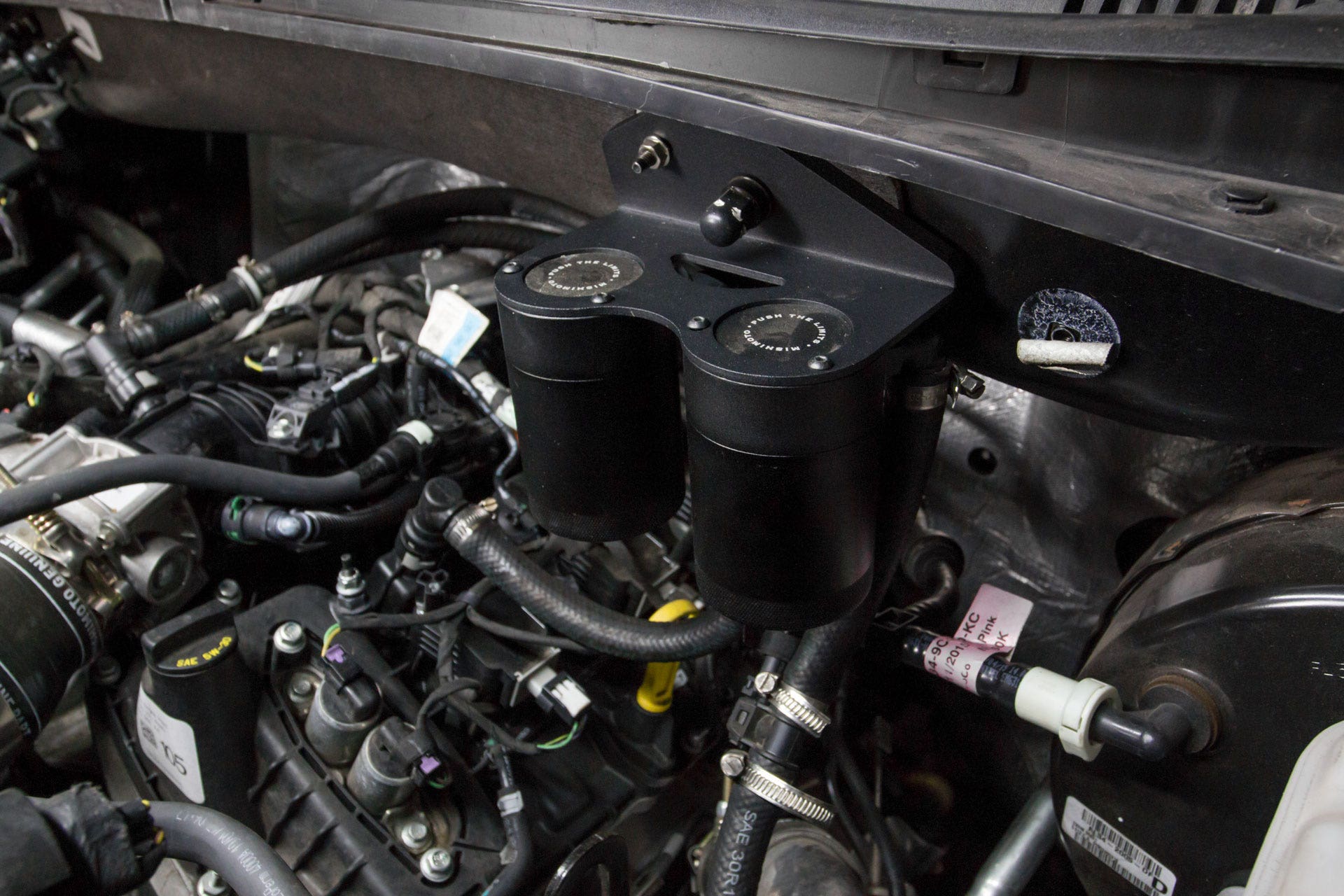 Bye-Bye Blow-By - Catch Can R&D, Part 4: Production
Posted:
December 07, 2017
The Pre-Sale for this 2015-2016 Ford F-150 3.5L EcoBoost Catch Can Kit is now live! Click here to check it out!
Patience is a virtue, but sometimes, it's also a necessity. Progress often moves at its own pace in science and engineering, and all you can do is sit back and wait for a result. In the case of our 2015+ 2.7L EcoBoost catch can, results have been a long time coming.
If you've been following along with this project since the beginning, we hope you've had a great Labor Day, Thanksgiving, Christmas (or Festivus), New Year, birthday, Memorial Day, 4th of July"I think you get the point. It's been a while. In that time, we've battled check engine lights and overflowing catch cans with our 3.5L kit. What was once a humble kit to fit all 2015+ EcoBoost trucks, has become two kits, a brand-new catch can, three brackets and two sets of lines. All the while, our 2.7L kit was staying the course as planned.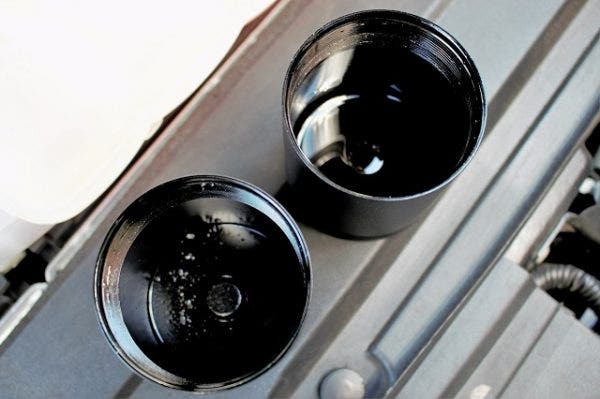 Unlike the 3.5L, our 2.7L truck had no issues with check engine lights or overfilling cans. Back in September of last year we pulled the catch can and were surprised to find only about 11 ml of total accumulation in both cans, with about 10 ml collecting in the CCV side can. While that was only 1/5th the amount that the 3.5L cans had collected, it was more than enough to say that the catch can was working.
Since that initial content collection, all eyes have been on our 3.5L kit to solve the issues and move forward. The story of our 2.7L kit was not over, however. Our initial content for this kit was collected in the summer months of 2016, when fuel is higher quality and warmer temperatures usually mean less crankcase condensation and less blow-by on cold startup. We typically see significantly more blow-by in colder climates, so we wanted to test the 2.7L again through the winter to be sure it wouldn't have the same issue as the 3.5L and require a larger can.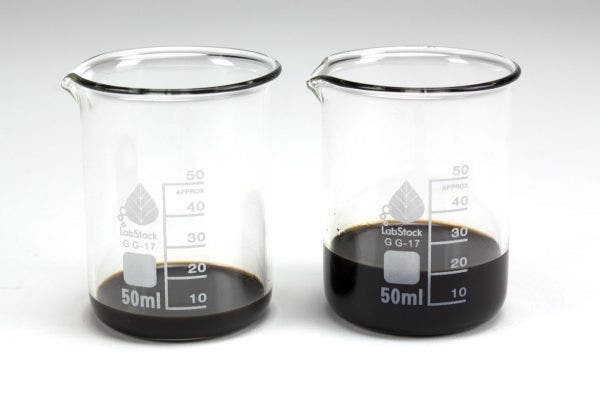 We monitored the can throughout the winter, establishing an average duration between. In early spring, after another 1,000 miles between emptying, we measured the content in the cans again. The smell of fuel and oil rising off the cans translated into pitch-black blow-by flowing into ready beakers. The emptying process took about twice as long this time and revealed a similar ratio of blow-by. Again, the CCV side yielded much more than the PCV side, at about 20 ml and 5 ml respectively. While it was still a far cry from the 50 ml the 3.5L kit caught the previous summer, 25 ml is more than enough to cause carbon buildup on the back of valves in a direct-injected engine.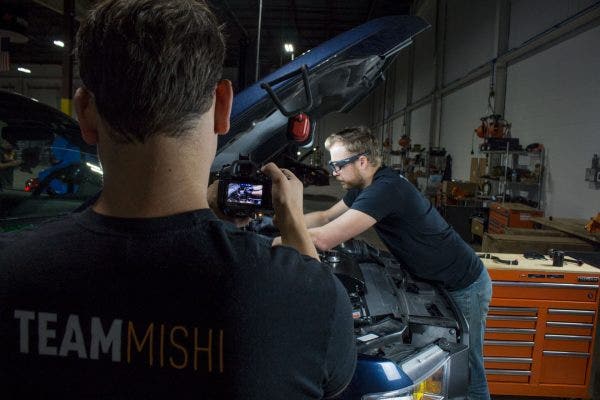 With the test complete, we could move forward with production, including product sampling. So, while the blog focused on the 3.5L, our 2.7L production sample was quietly being made. Once the kinks with the 3.5L kit had been worked out, the 2.7L production sample was ready and waiting to be installed. Luckily, we already had a 2.7L in the shop, so there was no waiting for a volunteer truck.
Jason started installing the catch can kit, with Fletcher, our videographer, by his side to shoot the install video. By the time I was able to put a memory card in my camera, the catch can kit was almost installed. The last line clicked onto the can and our final test fit was complete. In the end, our perseverance paid off and now yours will too. This kit will be going into pre-sale soon, so with just a little more patience, you'll be able to buy this kit at a deep discount. Keep an eye out for the pre-sale announcement as well as the next update on the 3.5L kit. As always, feel free to let us know if you have any questions.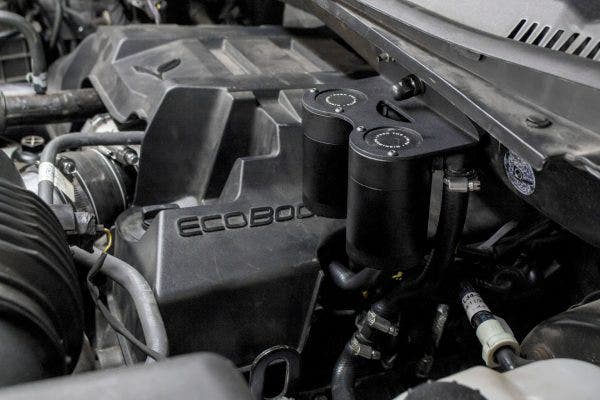 Thanks for reading,
-Steve