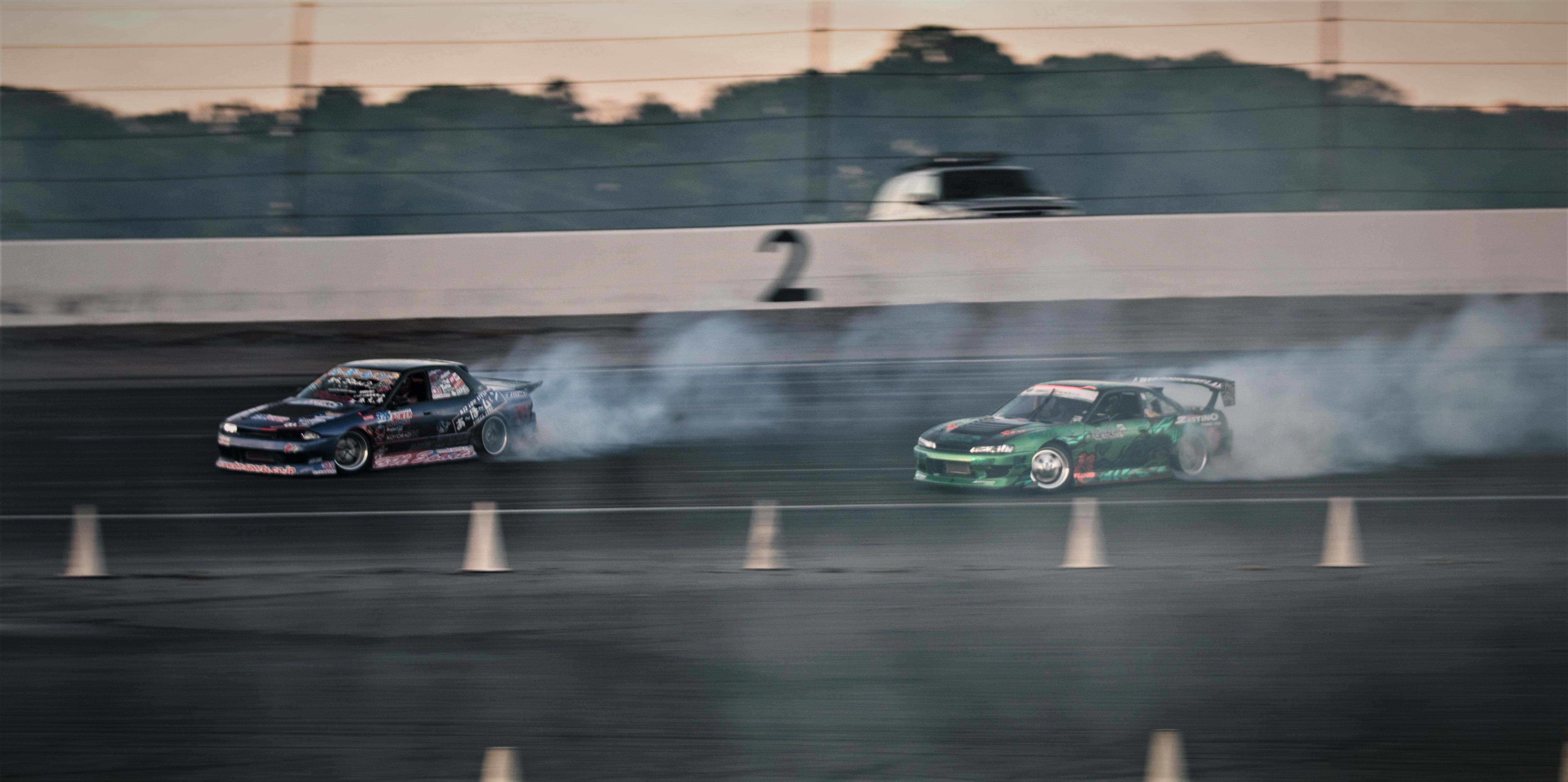 Low Style Heroes Brings Japanese Style Stateside
In the preliminary hours of a drift event, burnt rubber, race fuel, and the chatter among drivers, are all sights, sounds, and smells familiar to a seasoned grassroots drifter. Pair that with the sound of wrenching through their last-minute prep on their low, loud, and heavily-stickered Japanese rides with mountainous terrain and cramped paddocks, you'd think you were at a race track in Japan. However, last week, I was nowhere near Japan. In fact, I was over 6,700 miles away in the mountains of Shenandoah, Virginia. But for many, myself included, it would've been tough to tell the difference.
If you dabble in the grassroots drift car culture in Japan, you probably know that teams are a pretty big thing over there. At the paddocks, teams are easy to spot. You'll see a line of cars, usually three or more and they all have the same color, team name and livery, sometimes even the same car. One of the most famous and longest running teams call themselves "Team A-BO-MOON." The reason they are so recognizable is because they strictly drive and drift older R32 Nissan Skylines - all blue and all four doors. Stancenation did a great piece on them some time ago, read up if you want to know more personal details about the team.
The leader, Akinobu Satsukawa (we called him Abo) was brought over to a local track in Shenandoah. Paul Sagnay from MastermindNA and Ernie Gonzalez from Zestino Tyres USA flew Abo, his famous Skyline, his translator and his mechanic to the US so he could showcase his stylish driving. The event was historic. Never has such an established Japanese driver been brought over to the east coast to drift and showcase their skills. It was his first trip to the US and obviously his first time at this track.
Rain? NBD
On the way to the track, it rained all morning. At times, it was pretty heavy. The drive was supposed to be just shy of five hours, but the weather and traffic made it almost seven. However, myself, one of our team project managers, and a friend of mine sat comfortably in our shop 6.4L 2008 Ford F-250 Powerstroke. In tow on a car trailer was my 1995 Nissan 240SX, ready to drift.
Upon arrival, the mood was relatively dreary. Setting up camp at a drift event in the rain is messy and never something I look forward to. Luckily, we had a Mishimoto tent to shield us from the elements. I've driven on this track several times before, and I had a good feeling this weather wouldn't hold.
It's incredibly difficult to predict the weather in this area. Since it is in the mountains, overcast skies and mild rain are pretty common in the morning, at least it has been every time I've been there. But daybreak is never too far away. Given that, this event was too big for people to not attend because of some rain. There was a steady trickle of trucks, trailers, and cars making their way into the paddock. I waited until the rain stopped and the sun to start peering through the clouds to make my way up and down the paddock. There were some gorgeous cars here. People have been prepping their cars for this event since last winter, myself included, and it showed.
Team Style
The major theme for this event was, of course, style. Abo comes from a land where the styling of a drift car is taken seriously and is internationally emulated. The values of a grassroots drift team was not lost on anyone there though. There were many teams from all over in attendance, and it was important that they all looked good together. While his entire team wasn't at this event, he certainly had an authority for what he found tasteful. After all, he has been driving that Skyline with his team since the early 2000's.
That Subaru WRX has a nasty V8 in it. Those who know the driver, Justin Woo, dub this machine the "Woobaru."
While the guys in the above photo weren't a team, per-say, they both drove Lexus LS400's, both had V8's in them, and both drove like absolute madmen the entire weekend.
Big Events Attract Big Names
While Abo was a main attraction, he was not the only big name at the event.  The other headliner happened to be a driver who has competed in Formula Drift and is well-known for his stylistic approach to the overall drift culture; Forrest Wang.
He brought out both of his drift cars via a massive tow rig he uses at professional drift events. Forrest came all the way from Las Vegas to participate in this event, which is awesome because it's uncommon for him to venture out to the east coast to drift if it's not for competition.
Another big name who made his way out from Battle Ground, Washington was Cameron Moore. Piloting an 800hp 2JZGTE powered Toyota FR-S sporting one for four total BN Sports BLS FRS body kits in the world. 2017 is Cameron's second year as a current driver in the Formula Drift roster. His car is loud, fast, and good-looking. He will be a force in the series.
Ryan Litteral, a driver from southern California, unveiled his new build at Low Style Heroes with his high-horsepower RB25DET powered Nissan 240SX. His ride is outfitted with a full BN Sports Type IV body kit, as well as a hood and front and rear over-fenders. Ryan is a driver in Formula Drift's Pro-2 division, and I believe he is on track to be with the best of the best in Pro-1 soon.
Lights, Camera, ACTION!
The Shenandoah Racetrack is an oval based layout sporting a pretty spacious in-field. There are many layouts that Shenandoah can make, with options only limited by the track organizer's imagination. The one chosen was media and low-horsepower friendly. My car has the factory Nissan engine from 1995 with no modifications to power, but I was still able to somewhat keep up with higher horsepower cars when it came to tandem runs. It was my second time participating in tandem drifting, and while it was definitely a bit harrowing to have 500hp+ drift cars getting on my door, that wasn't the nerve-racking part.
Let's be honest, drift cars aren't usually the prettiest machines. Battle-scars from trading paint in close proximity tandem runs, ripped off body panels, tapped walls and shredding tires plague even the cleanest of regularly driven drift cars. But the overall cleanliness of the cars at Low Style Heroes standard was almost a standard. There were more cars with in-tact body panels and painted one color than I'm personally used to at drift events. Not only did the cars look good, the level of driving was much higher than a regular, amateur grassroots event.
There had to be only a handful of cars that put out less than 250hp (me being one of them), and an even smaller handful of inexperienced drivers. Fast driving, lots of smoke, close tandem runs, and few spinouts was commonplace, making it exciting to watch for the spectators. To give you an idea, one of the rules was if you spun out on track just once, your run stops and you must exit the track to get back on grid, even if it was at the very beginning of your run. The rule was stated in the driver's meeting; this really wasn't the time for amateur-hour. There were well over 70+ cars drifting and sitting on grid and watching someone repetitively spin out can get annoying and time-consuming. Driving with anyone meant I had to be on my A-game, while not being afraid to drive my car hard.
Driving started at 3pm on Friday, May 5th. But the late start didn't mean that driving would end early. The track stayed hot until 10pm, which made night time drifting ideal and the high lamps surrounding the track, the event to become even more about style than driving. Cars that shot flames, had under-car neon and threw tons of smoke, shined. There's just something about drifting at night that makes it that much more exciting.
What. An. Event.
It's been over a week since this event took place, and I still get the jitters thinking about it. There were so many new faces and new cars in attendance at this small, local racetrack. The driving was stellar, and cars were gorgeous. The atmosphere was relaxed, and everyone was there to have fun. While Low Style Heroes, Volume 1 was a massive undertaking, to the average event-goer, it couldn't have gone smoother. Many thanks go out to the event sponsors Mastermind NA, BN Sports, Zestino Tyres USA, Superwow factory and Tokyo Nur. The biggest props will have to go to the event organizers Paul and Ernie. Those guys did a spectacular job. Satsukawa-san, if you're somehow reading this, I appreciated meeting you and seeing you drive. I'll forever cherish the experience.
I'd also like to personally thank my friend Jeremy Gray (@blackhand_jerbear) for helping me out with media. He was the guru behind these awesome action shots. It's not easy driving in an event and collecting content, so major thanks to helping me out with that buddy! Also, major thanks to Alex Cao (@moo.cao) for getting this really great shot of my car and the Mishimoto tent. And thanks to you for reading!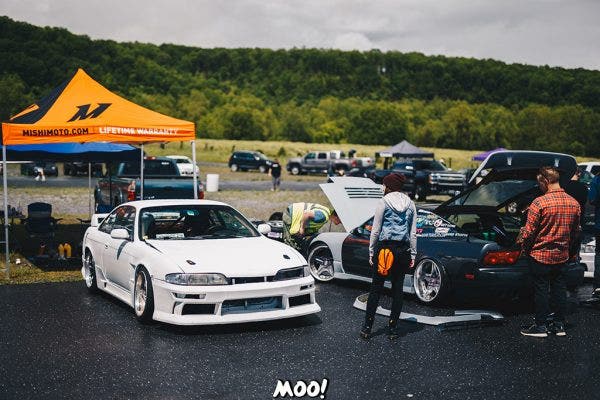 -Diamaan