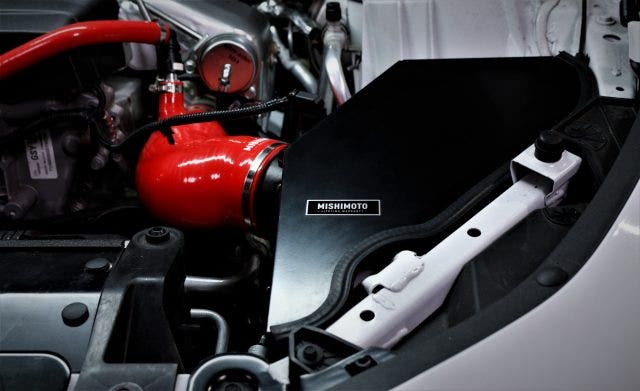 "The TurboChevy" Intake R&D, Part 4: Hard Work Pays Off
Posted:
February 06, 2017
Our Performance Intake kit is now available on Presale! Act fast to take advantage of the special pricing! 
It certainly has been no picnic to get to this point. However, working on this unique, factory-turbocharged application from Chevy has brought to light the importance of the type of testing we do for our intake projects. We've gone through many configurations, spent countless design hours and logged hundreds of miles of road testing. This isn't overkill at Mishimoto, we deem it a necessity.
The amount of time that passed by was no mistake. We spared no R&D expense with this kit. Being as thorough as possible with every aspect of how it looked and the type of performance it delivered was a priority. In the last update, we went through why we encountered a few hiccups during testing, but we took our time in working through the problem instead of rushing a less-than-perfect product to market.
From the beginning. it was all-hands-on-deck with the design. Our lead engineer for the project, our Head of Engineering and even our resident Stig each had an important role in development and testing, as we wanted this product to be the best it could be. At the start, we immediately saw that there were multiple possibilities with respect to design. For example, in the second project update, I showed you three different intake elbow designs. Two attached directly to the turbo via 90˚ and 50˚ bends and we even tested a design that actually included the stock sound suppression chamber (pictured above). We ultimately chose the 50˚ bend as the best option. It tested better with airflow and had potential to agree with other upgrades such as intercoolers or tunes. We break this down entirely in that update, so feel free to read up on that if you haven't already.
There were still roadblocks with that design after road testing, and we had to completely redesign the intake elbow (again), but we worked through it to get to where we are now. It was necessary to have the data that showed us you'll experience reliable and repeatable results for thousands of miles down the road with this kit installed on your car.
We have made this intake perfectly safe to run on a stock tune, so you will never have to worry about your mass airflow (MAF) sensors reading anything unsafe. Of course, it is a direct fit kit specifically designed for LTG-powered Camaros. The final production sample has arrived at our facility with all the kit pieces, so it's time to reveal it!
The fitment is great, it sounds aggressive and provides some neat aesthetic underneath the engine bay. Our newly redesigned intake elbow has also received a facelift from the previous prototype that you saw. We had a red elbow sent to our facility for the test fit to match all of the other red underneath the hood. Why go against the theme, right?
It is an incredibly rigid piece thanks to the five-ply silicone and steel wire reinforcement built into the silicone. It will not misshape under vacuum, keeps airflow smooth and consistent with the even interior surface and connects directly to the turbo. It has been over-engineered to ensure that you will never throw an engine code, and as a bonus, we will offer this hose in either red, black or blue!
Above, we have pictured our final airbox. It will be powder-coated black as this helps with heat. Something unignorably appealing about the design is the way the airbox lid forms nicely with the body of the car. It complements the fitment's best aspect - like everything just belongs. While it follows that support beam so closely, the weather stripping will provide a buffer against the metal to prevent rattling. Also, take a look at our MAF housing. It is made of a glass reinforced, plastic injected mold that, will combat heat efficiently and will connect directly to our air filter.
The filter included in the kit is a pre-oiled Mishimoto Performance Air Filter. We know that many are concerned about the filter oil coming into contact with your MAF sensor and possibly damaging it, you won't have to worry about that. Our high-quality filters come with the proper amount of oil that won't hinder performance or impede its filtration abilities, keeping your MAF perfectly safe - as long as you properly maintain it!
Now, all that is left for us is to deliver this intake to your waiting arms. We are going to make the pre-sale live very soon, so please keep an eye out for that. Thanks for keeping up with the development of our 2016 Chevy Camaro 2.0T Performance Intake!
-Diamaan