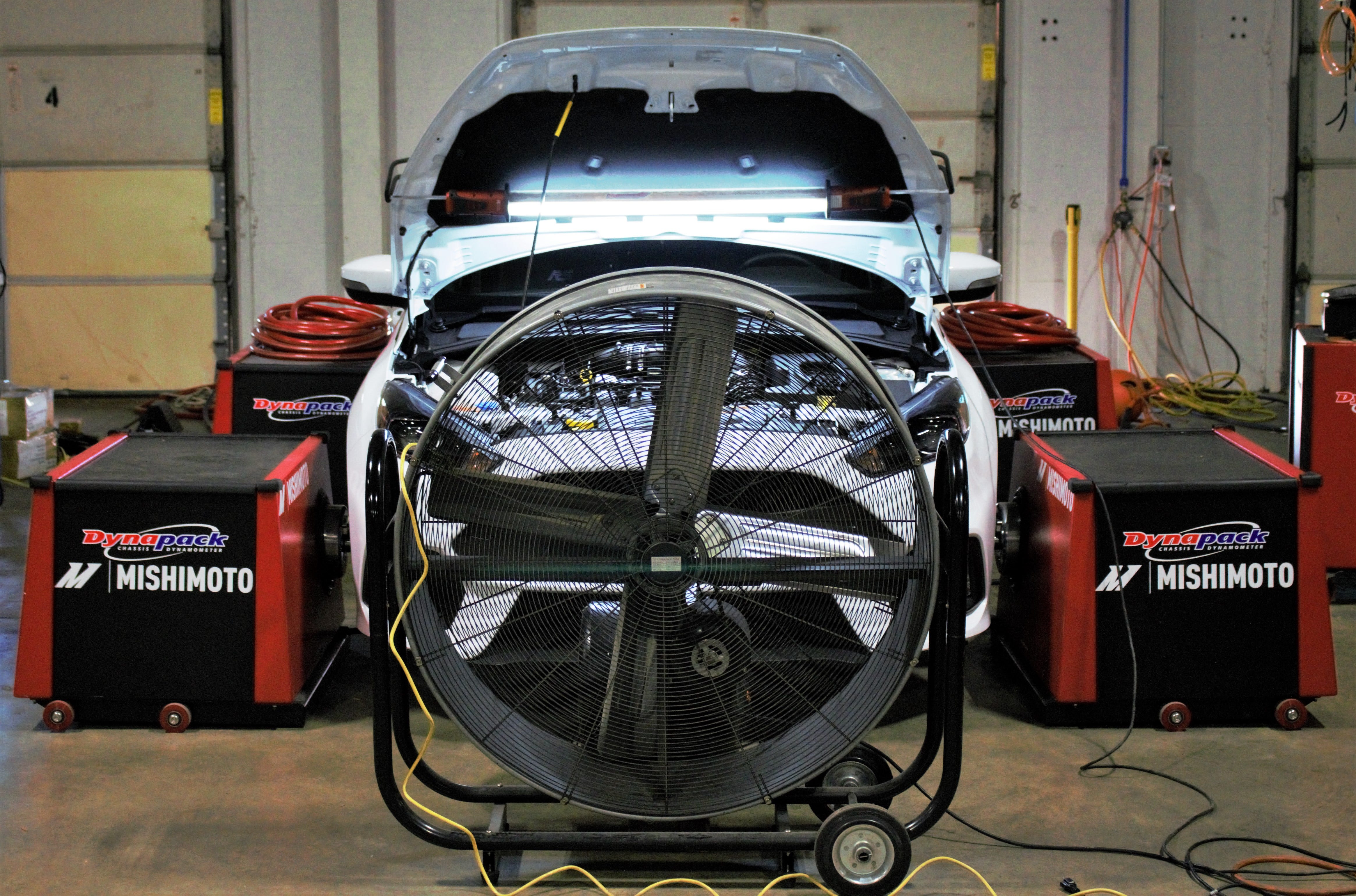 ReSpiration Focal Point - Performance Intake R&D, Part 4: Let's Hear It!
Posted:
September 23, 2016
This project has been strenuous, but "thorough" is our Engineering Department's proverbial middle name, so let's hear it for them (cue applause). The last update, which was relatively recent, consisted of a pretty big pile of data. Though necessary, it was a lot to soak in. Now that that's out of the way, we can get to the fun part - what this intake actually sounds like.
We really have to give it to our engineers. The reason they were so careful with this project was primarily because the software reported slightly increased fuel trims. We suspected that the 2016+ RS just has relatively high fuel trims from factory; but, being the thorough bunch that they are, the engineers wanted to be absolutely sure. We brought in another RS (thanks to our next door neighbors ID Motorsports) to do some stock baseline runs. (That's why the test car is now a Frozen White RS instead of our own Nitrous Blue.) We installed our prototype intake and drove the car for a couple hundred miles to let the ECU learn the new flow characteristics - essentially repeating the testing we had done for our RS.
All of the data came back solid; the numbers were similar to our previous tests, and the fuel trims were exactly the same as those we saw with our RS. This was great news, because it confirms our initial theory that the RS just has high fuel trims out of the box, at least compared to the other cars.
Back to why you are all reading this post. We hooked up this RS to our four dynapacks, which is a very interesting sight to see. We've only ever run four packs at the same time since way back during our product development for an STI. We tried putting this thing into the infamous "dyno mode," but the rear wheels continued to receive power, which resulted in some very weird numbers. It just wasn't going to work. So we did what pretty much everyone else does with this car and disconnected the rear drive unit (RDU) harness. From then on, it was smooth sailing. Take a look at our runs below!
Before I go on, I should mention that this RS actually has an upgraded blow off valve (BOV), so our intake does not enhance the BOV sound. Nevertheless, our intake sounds pretty darn good if you ask me!
What's Next?
While this was a short post, it was important for you all to hear this thing rip on our dyno. Next, we are going full steam ahead with this project. Once we get our prototype painted and branded, we will throw it onto our RS so you can get a taste of what it will look like. We are just around the corner from officially kicking off full-scale production.
How did this intake sound to you? Please leave some comments below and thanks for reading!
-Diamaan