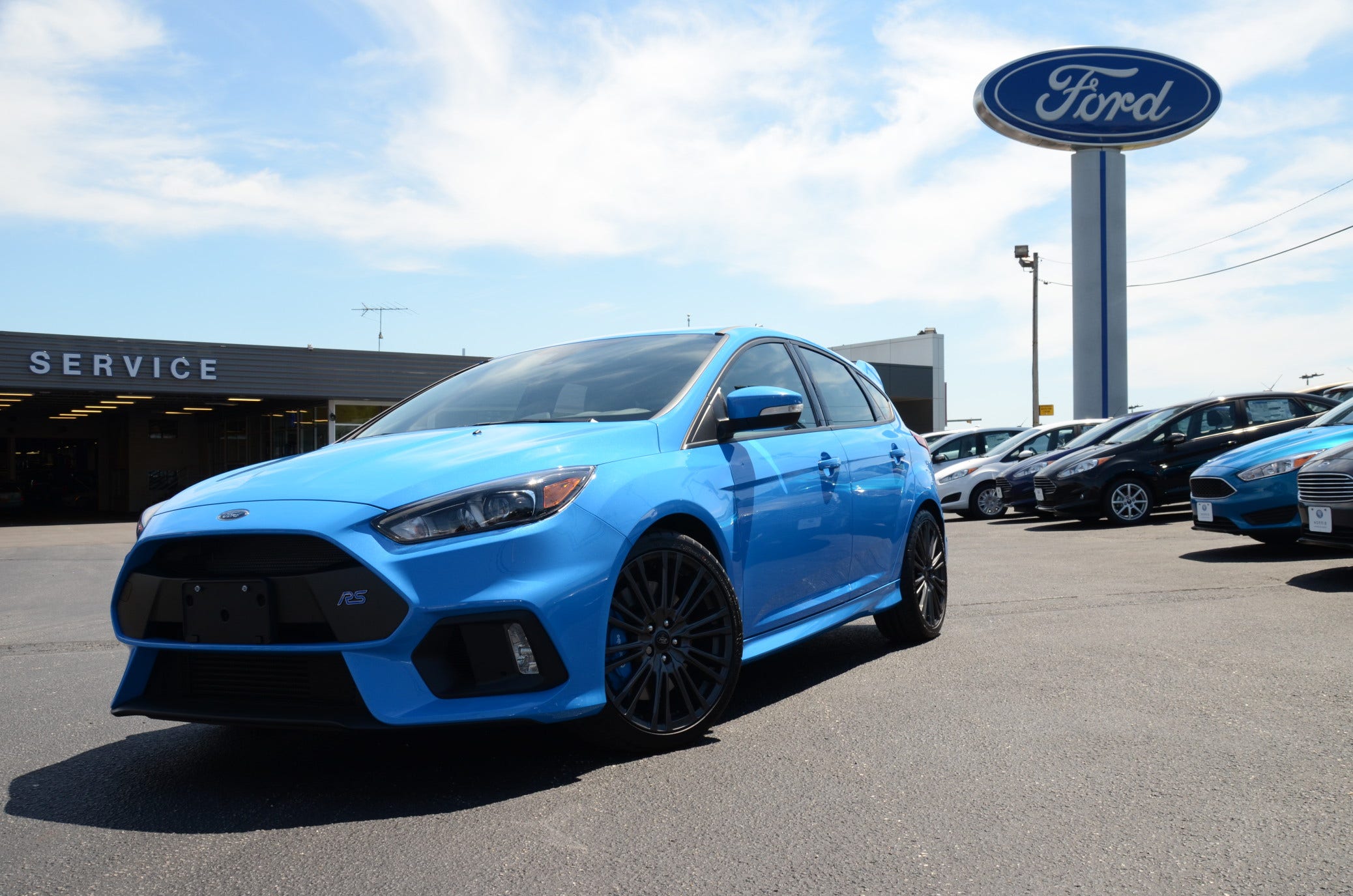 Mishimoto Welcomes its Newest Pupil of Performance - The Focus RS
If you follow our Engineering Blog you have probably seen the exciting array of vehicles that come in and out of the Mishimoto garage for some R&D. The luckiest and most interesting of the bunch get to stay around as our SVP (Special Vehicle Project) cars. This means that upon arrival at our facility, they are evaluated from head to toe for a complete offering of Mishimoto parts from cooling to power products, we want to cover them all. The 2.0 Camaro was the last to be welcomed to our Engineering headquarters, but it wasn't the new kid on the block for long"
The highly-anticipated 2016 Ford Focus RS has arrived at Mishimoto! We wasted no time in making our RS part of the family, and ensuring the world knew who its new owners were.
Foreign Exchange Student
That's right, we have a new student fresh off the boat from Germany! Although this particular pupil was born to natives of the United States, it has spent its teenage years studying abroad. It's time overseas has helped our Focus become more worldly and refined, but as you can see by the color and all around aggressive appearance, it retains its American attitude.
Getting Acquainted with the RS
As the most sporty of Ford's sport compact line, this car is like the big brother of the Focus ST and our Fiesta ST. Where the ST may have a more tame appearance, one look at the RS and the word "tame' escapes you. The Focus RS is the Mario to the Focus ST's Luigi. Sure it possesses the family resemblance, but packs a much bigger punch; one of nearly 100 more horsepower to be exact.
If the RS's most immediate family is the Focus and Fiesta, then its cousin is the EcoBoost Mustang, as the Mustang and our RS share a very similar 2.3L four-cylinder engine. The RS is slated to be one of the All-Stars of the Ford performance family if the rumors of 350 horsepower are true. Speaking of which, we wasted no time in putting our newest addition to the test.
- UPDATE on DYNO OUTPUT - 
So we've been spending some time doing a some more digging into our Focus RS and the dyno results we initially collected. Having examined all of the factors affecting our previous testing, our engineer, Dan, is pretty confident that the rear diff may have been slightly unhappy after we had Kyle Mohan here sliding the car around.
Though we waited for the car to cool after Kyle's shenanigans before testing it, we wanted to be sure that our published numbers represent as few external variables as possible. We have re-dynoed the car ad nauseum in an effort to evaluate any scenario that one can throw at it (overboost, drive modes, etc.).
We have arrived at a new, consistent, level of output over ten dyno pulls in third gear: 310 hp, and 323 ft-lbs of torque. Check out our new, updated video below to see the car on the dyno and get a more thorough explanation from Dan himself.
Updated Video:
Original Video:
Not quite the dyno performance that Ford was boasting but no slouch either. Our runs revealed that the Focus came in at 252 horsepower and just over 283 torque. We certainly see potential in the RS as an excellent foundation to build on.
Similarities aside, the RS is bringing something new to the table in the sport compact world, and that is an all-wheel drive setup that can send up to 70% of its power to the rear wheels. Affectionately referred to as "drift mode' it's one awesome feature we just had to test for ourselves, check it out:
Coming Up
We have big plans for this little car, but we want to hear what you think! Let us know what you think of our new RS and what features you would like a closer look at. We are looking forward to tackling an entire line of products for this monster, so stay tuned!
Thanks for reading!
-Sara