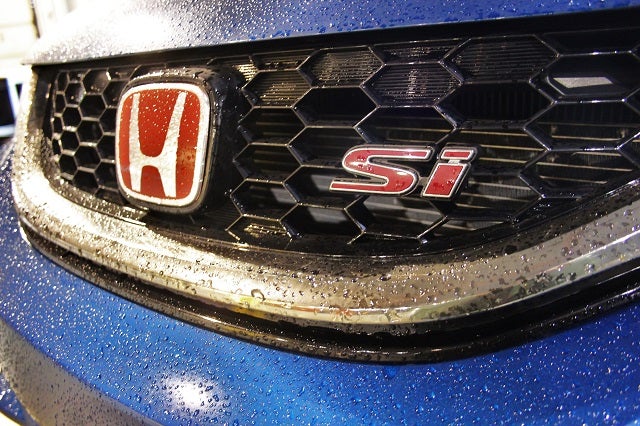 2012+ Honda Civic Si Induction Hose Development
Posted:
February 11, 2016
If you follow our engineering blog you may have noticed some recent attention on the 8th-generation Civic Si. Well, we aren't making a push for just this generation. We also want to dive into the 9th-generation and develop some unique new parts to improve this awesome car.
Our first project will be quite simple: to produce a Civic Si induction hose that replaces the stock rubber unit. This upgrade provides improved durability as well as pleasing aesthetics for those seeking some engine bay style. We have seen slight power increases with intake hoses developed in the past, so we will be dyno testing our component to bust any myths around power gains.
Stock Civic Si Induction Hose
The stock intake hose is somewhat similar to the 8th-generation piece, but the shape differs slightly and there is one less CCV port on the 9th-generation hose.
As with our 8th-generation unit, we will be creating a smoother silicone piece to provide unrestricted airflow in this portion of the intake tract. This hose will be a direct-fit unit, requiring no modification to your stock intake box.
Mishimoto Civic Si Induction Hose Prototype
After capturing dimensions from the stock hose, our team quickly put together a prototype hose of our own for testing purposes. We will be evaluating fitment and any performance benefits that may exist.
Check out a shot of our hose installed!
Dyno Testing
After verifying that this hose fits perfectly, it was time for some dyno runs.
Check out a quick video compilation of our runs from Honda Civic performance parts testing.
Testing Results
We were very speculative as to the power gains of this hose upgrade. We did not make huge changes in the shape, and the overall length is rather short. The plot above shows negligible gains that varied from one run to the next. On a stock vehicle/tune, this hose upgrade will not net any additional power. That said, it is certainly possible that a modified vehicle requiring additional airflow could show a small increase in horsepower in different portions of the power band.
In addition to potential power gains with higher-powered vehicles, this hose offers more durability and a nice improvement in engine bay appearance.
Coming Up - Product Release
Our first batch of hoses is nearly complete and will be hitting shelves soon. If you are interested in picking up a kit, be sure to check with our vendors!
Keep an eye on our blog for additional Honda Civic performance parts by Mishimoto.
Thanks for reading!
-John