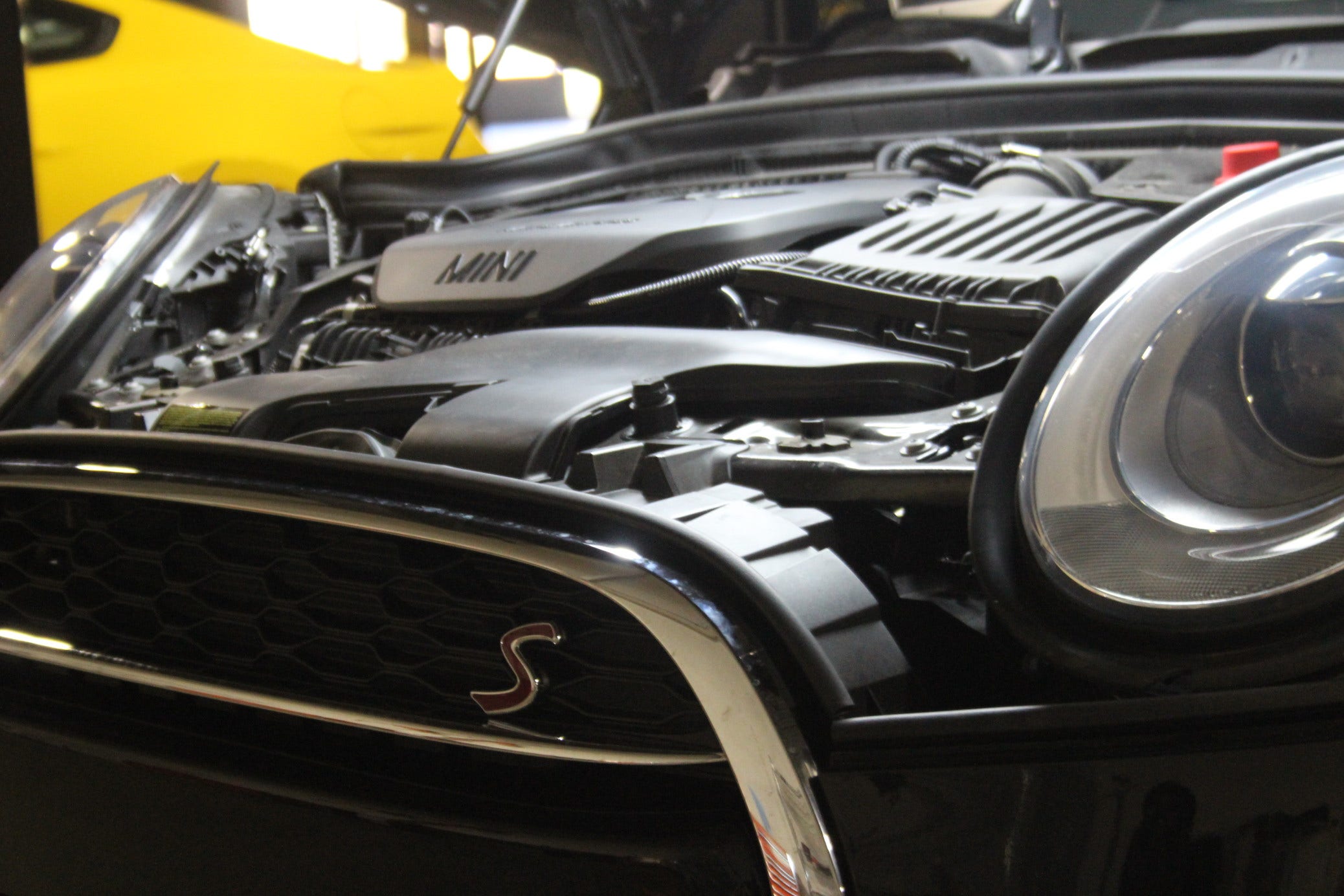 Stock System Review - Mini Cooper S Intake Development, Part 1
Posted:
December 21, 2015
Mini Cooper S's have always been fun little hatchbacks with large potential. True enjoyment comes during track days thanks to with their small and light chassis and a lively power-plant. The story is no different here with the newest model Mini Cooper S which is the most recent test subject to make into our garage for some intake R&D.
Stock System Review
Our goal here is to provide an enhanced driving experience to those purchasing our Mini Cooper air intake. Let's jump into the stock intake to see what we're working with!
The factory air-box is a fairly standard design. There is a mass airflow sensor right after the airbox, so an aftermarket intake that won't require a tune would need to stay within the stock piping diameter threshold.
With any larger piping, the MAF won't properly read the increased airflow without being taught how to do so, causing the vehicle to run incorrectly. This can also cause potential damage to the engine. You can also see the stock air duct that is attached to the front of the airbox, which is a feature we intend to incorporate in our design.
Check out the tube going back towards the turbo. In our initial research, we wanted to replace this accordion-style tube. But when we actually got the car in to inspect the system, we saw that the last metal clamp on the tube closest to the firewall is crushed from factory to secure the connection between the tubes. This wouldn't be easy to take off, requiring replacing everything back to the turbo, which would make install very involved.
We then considered the owners who might put our intake into their vehicles. For an easier install, it made sense to leave the tube where it sits. The focus was now on the filter and shield designs.
The box design is straightforward, as you can see below in the stock inlet that grabs its fresh air from the front scoop. Also check out the sensor placed right before the box. Our design will have a CNC MAF adapter on the tube to keep the MAF sensor in place and reading straight airflow.
Coming Up!
We just got this car into our garage and the design ideas are already flowing! Our engineers are working on creating an effective design for a heatshield. Take a sneak peek at their initial design below!
We are eager to get a working prototype for dyno testing and sound clips, so we hope to have this Mini Cooper air intake prototype in our next update. Stay tuned and, as always, thanks for reading!
-Diamaan