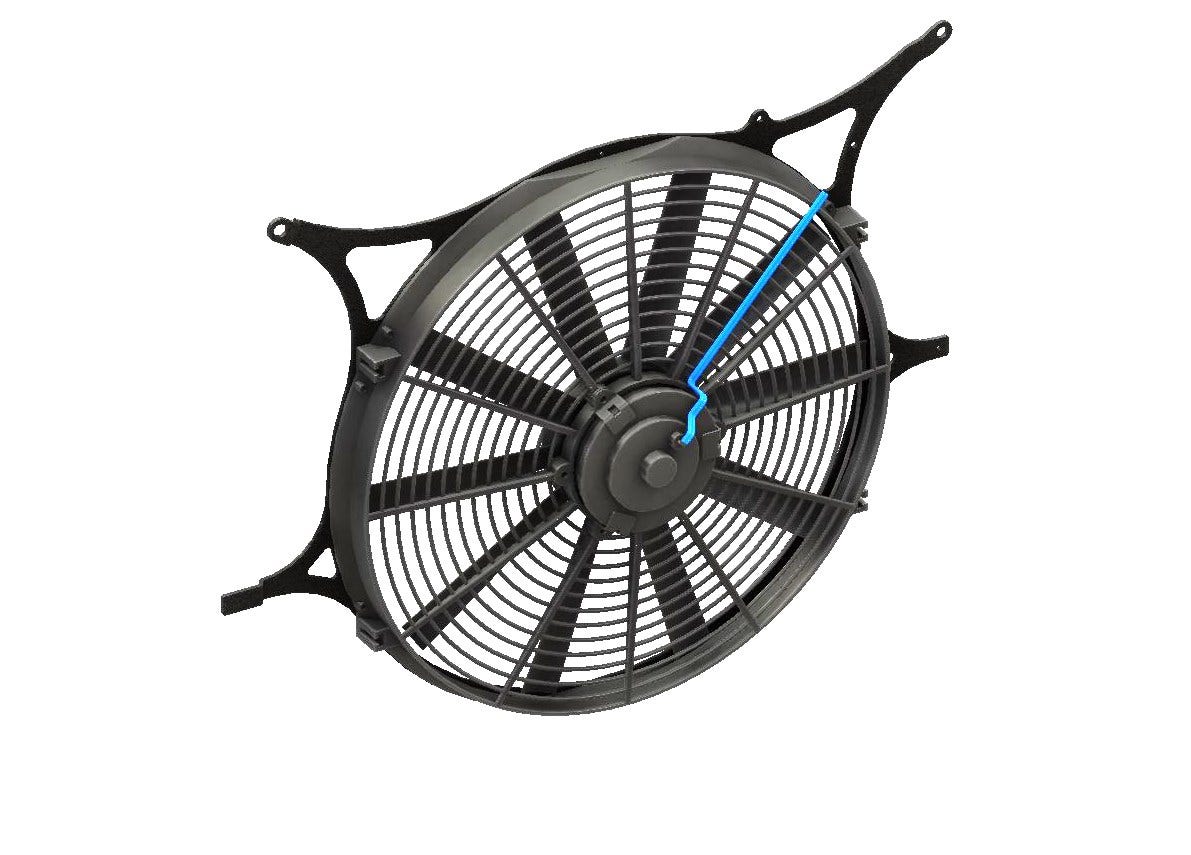 BMW 3-Series E46 Electric Fan R&D, Part 1: Stock Components and Initial Design
Posted:
September 24, 2015
Interested in picking up this awesome E46 fan setup? Check out our discounted pre-sale linked below!
Our E46 product line continues to grow. This series of articles aims to tack another offering on our list of performance cooling components. We've covered the radiator, expansion tank, and coolant hoses. The only radiator-related item left to tackle is a cooling fan solution.
The stock 3-Series E46 offers two different fan options. Automatic models are equipped with an antiquated mechanical fan, while those who row their own gears get an electric fan.
Our goal with this project is to produce a BMW E46 fan shroud solution that will function with either a manual or automatic model. We will be following our trend of successfully producing exo-style shrouds for the E46 M3 and E36 chasses. The idea behind this fan mount style is to produce greater airflow through the radiator core during at-speed driving. The reduced restriction (compared with a full shroud) provides some additional heat transfer when you need it most. In addition, we always test these setups to ensure that coolant temperature regulation at idle is sufficient.
Stock Hardware
Before jumping into the design of our fan setup, let's take a look at the stock components. First, the electric fan equipped on manual models.
The stock fan is quite a large, thick unit. It puts out a good deal of airflow and is fully shrouded to the core of the radiator. Fantastic for airflow pull through the core at idle, but slightly restrictive for at-speed airflow. More modern electric shrouds normally feature small flaps that open when at speed and close at idle, providing benefits during both forms of operation.
Next up, the mechanical fan option.
Not much to say about the stock mechanical fan. It functions reasonably well and produces ample airflow like the electric unit. We've seen failures of stock plastic fans in the past, especially as they age and endure engine bay temperature oscillations. Replacing this with an updated electric unit is not a bad idea!
Design Beginnings
This project was launched during the development of our aluminum radiator for the E46 chassis. We assumed that some of our users would be implementing a cooling system refresh and may want to pair their radiators and expansion tanks with a sleek fan setup as well.
Based on dimensional data from the stock radiator and our aluminum counterpart, we started creating 3D models of our projected fan mount design.
Check out a couple of our initial renderings!
As you can see, we've slimmed down both the thickness and weight compared to the stock electric setup. The fan in place is our robust 16" electric slim fan that produces 1,850 CFM of airflow, which should be plenty for the E46. We use this same fan in our E46 M3 fan kit.
The fan mount will be constructed from steel and will be powder-coated for a durable, corrosion-resistant finish.
Let's take one more look at the back side of this system.
Coming Up!
The next task on our list is to put this system to work. We need to construct a prototype and test it for a comparison with the stock shroud. Check out our engineering blog for R&D coverage of other cool E46 parts!
Our next update is coming soon! Thanks for reading.
-John
Interested in picking up this awesome E46 fan setup? Check out our discounted pre-sale linked below!