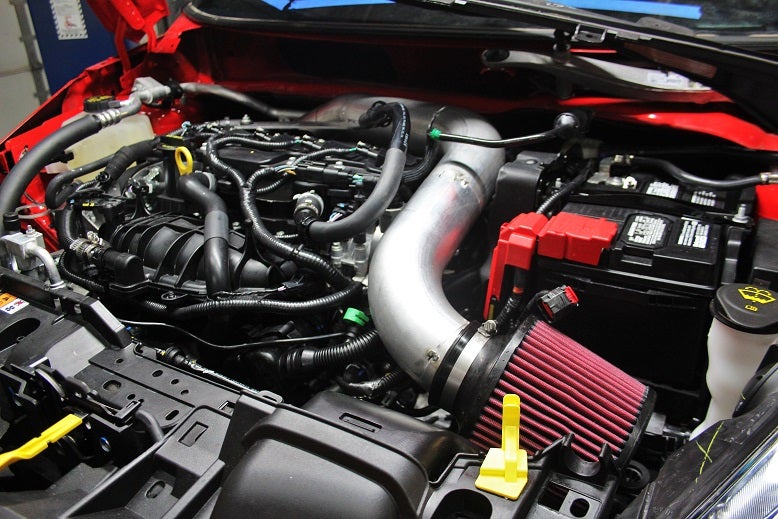 Fresh Air for the Fiesta! ST Performance Intake R&D, Part 2: Prototype Piping Fabrication
Now that we had a ton of information and data points for the stock intake system, it was time to begin creating our own design.
Piping Fabrication
We're starting our intake system at the turbocharger and working to the airbox. We intend to place our box in the same location as the stock unit so we can take advantage of the stock cold-air duct.
We switched on the band saw, fired up the welder, and started tackling the route for our prototype pipe. Our first length runs from the turbocharger around to the rear of the valve cover.
Next we made the bend to turn the pipe around the engine toward the front of the vehicle.
You will also notice that we've added a bracket that attaches the pipe to the valve cover for support. This bracket incorporates the stock rubber grommet to provide flex and isolation during engine movement. Here is a close-up shot of the bracket!
The route to the airbox location was then completed.
We then installed the stock engine cover to ensure that our piping would not interfere with fitment.
Our air filter was mocked into place to provide an idea of the space needed for developing our airbox.
We then had our full intake piping tacked up and nearly ready for final welding.
On this first prototype we also addressed the two CCV lines that mate to the stock intake pipe. We turned each fitting on our lathe and incorporated them into our piping in an appropriate location.
Time to weld our prototype! This piece will be used for our product testing later down the road, so each connection point needs to be sealed properly.
And just like that, we have a functional prototype intake pipe!
Wait a tick".some of this pipe is gone. I could have sworn the first portion of the pipe was quite a bit longer. Aha! We have a plan for this. We intend to design the turbocharger inlet hose using a wire-reinforced silicone hose. This will make installation a touch easier and will allow for a smooth and gradual increase in the inner diameter from the turbocharger compressor outlet to our large intake pipe.
Also, we will be making a prototype silicone piece in-house so that we can test this system as soon as possible. You guys will be getting an inside look at how silicone hoses are made, from start to finish. Pretty cool stuff on the way!
Thanks for reading!
-John