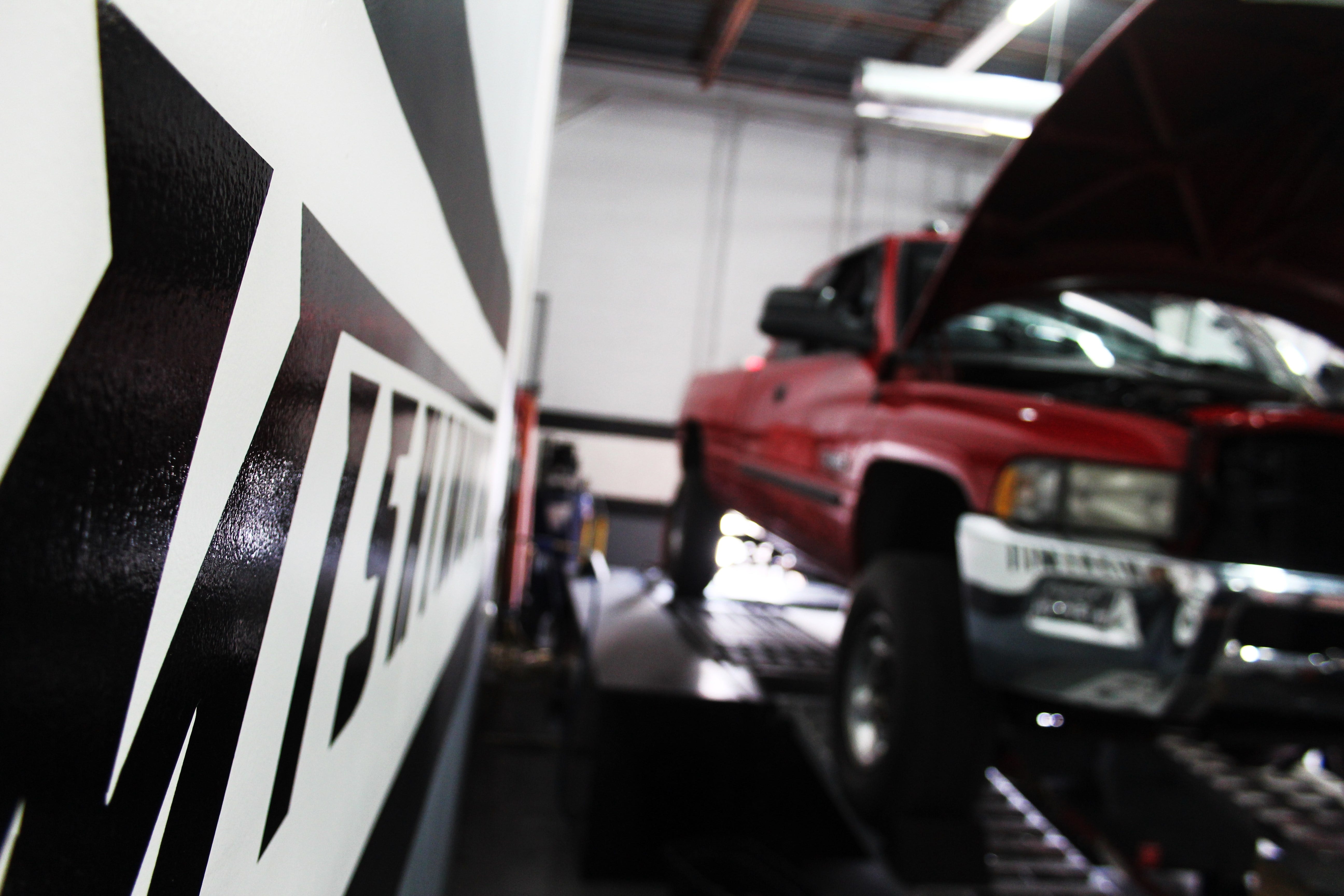 The Mishimoto 2nd-Generation Cummins Intercooler, Part 4: Product Testing and Results
Interested in picking up our 2nd Gen Cummins intercooler or intercooler pipe kit? Check out the product pages linked below!

After running into some testing issues (transmission problems) with one of our donor trucks, we began looking for a new truck to bring into the garage for data collection. We decided to target a modified truck, assuming those interested in our Cummins intercooler kit would better relate to any benefits we would see on something pushing more power. After putting out a request for local volunteers, we finally struck gold with a well modified 24V that was relatively local, and the owner was willing to make the drive to help us out.
The Truck!
We've had a lot of very interesting vehicles in our shop in the past - various diesel trucks, high-horsepower Evos and STIs, and even a couple of fairly strong V8-powered vehicles. This one certainly makes the top five for interesting and unique test vehicles. Below is a look at when it arrived.
Overall a pretty clean truck, and it is obviously being used as designed. The outside does not show any signs of excessive modifications.
Hmm " something appears to be a bit abnormal with the engine bay. Let's take a closer look.
So, we have a compound turbo setup as well as supporting modifications for such airflow. A very clean install, so the testing should be fun.
In case the 50 psi of boost isn't cutting it, some laughing gas in the truck bed should ensure that we have a good time with testing!
We had this truck in for testing multiple times to collect the necessary data. On our initial day of testing, we watched dyno numbers go down consistently throughout the day until we discovered the issue. We found that the air filter was collapsing on itself and was also completely clogged with soot after making pulls (see video above for slight exhaust leak).
The second day of testing brought a new air filter, slightly annoyed office neighbors, and a great deal of soot on just about every tool in our shop. Was it worth it? Absolutely.
Dyno Testing
Dyno testing for our Cummins intercooler was completed and revealed benefits of cooling performance as well as any impact on power output. Typically, intercooler upgrades will drop temperatures, but minimal impacts on power are usually recorded unless the vehicle is tuned for the lower temperatures.
To collect data for our Cummins intercooler kit, we installed temperature sensors in both the inlet and outlet boots that attach to the intercooler. These boots will be used for testing both the factory intercooler and the Mishimoto intercooler to provide a good comparison. These sensors are vital for testing all our Cummins performance parts.
Intercoolers were swapped with the truck still on the dyno to reduce downtime and also reduce any variables associated with strapping down the truck a second time.
Below are a few shots taken during the testing process.
Things got a bit smoky in the shop!
I know what everyone wants to see. How about a compilation from the dyno runs? Check it out!
Temperature Testing Results
Let's review a few of the conditions for our testing.
2001 Dodge Ram 2500
6-speed manual transmission
Compound turbo setup, upgraded fuel system, exhaust, tune
Ambient temperature: 72°F-76°F
6th-gear pulls from 1,400 to 3,400 rpm
Three-minute break between each run
First, take a look at the temperature data for the inlet and outlet of the factory Cummins intercooler.
On the factory intercooler runs, inlet temperatures prior to the pull hovered around 150°F, with outlet temperatures around ambient (75°F). Once the pull begins, temperatures quickly rise in the inlet side to nearly 300°F and taper back down to 275°F toward the end of the pull. Outlet temperatures stick around ambient until midway through the pull and then begin to rise. We saw peak outlet temperatures in the 100°F-105°F range with the factory Cummins intercooler.
Now to the data for the Mishimoto Cummins intercooler kit!
The temperature data for the Mishimoto Cummins intercooler kit tells a different story. Inlet temperatures before the pull were right around 140°F and peaked at just over 280°F, eventually tapering to around 250°F. The big difference we see here is in the outlet temperatures. Outlet temperatures remained at nearly ambient during the entire pull, eventually peaking right around 78°F-79°F. Pretty impressive data considering the airflow source was a rather low-powered fan (less than 30 mph wind speeds). With actual wind speed from road driving, I would have to assume that our cooler would remain at ambient temperature in just about any condition.
Now, check out an outlet temperature comparison chart showing the factory Cummins intercooler and the Mishimoto cooler.
This chart shows the outlet temperatures of both intercoolers, plotted in one chart for an easy look at the differences. The temperature drop equates to a 25% decrease in outlet temperatures of the Mishimoto Cummins intercooler kit compared to the factory intercooler.
The next item on our list is power output. Power output recorded on the dyno remained similar with both intercoolers. This truck was pushing quite a bit of power, and we assume a tune taking advantage of the lower intake temperatures would provide some gains in power output with the Mishimoto Cummins intercooler kit installed. With that in mind, everyone wants to see how much power this truck made. Obligatory plot below!
Over 1,300 wtq and nearly 700 whp was recorded during testing. This particular plot was from one of the pulls with a nitrous hit. This truck was definitely one of the more powerful vehicles we've had on our Dynojet.
Physical Comparison
Along with the benefits highlighted from our data collection, we also have a few charts depicting the physical comparison of our Cummins intercooler to the factory unit. These changes play a big role in helping drop temperatures.
Core thickness is increased by 50% with the Mishimoto Cummins intercooler kit!
Our cooler also provides an increase in core volume of 47%!
Pressure Tolerance
A few questions have come up regarding the actual pressure tolerance we expect this cooler to handle. We would not design an intercooler intended for high-powered trucks without ensuring that it could handle the high boost pressures. Our cast end tank coolers of identical construction materials and processes have been installed on trucks making over 100 psi, for long periods of time, and we have not reported a single failure. End tanks are welded to our aluminum core, and we do not expect any separation at this joint. Our test truck was making just over 50 psi, and we do know some of you are running double this pressure.
While I would not want to challenge you guys to break this cooler, I can't imagine a failure with this construction at any boost pressure achievable by these trucks.
Discounted Presale!
We posted our presale link earlier in the week for our Cummins performance parts. This deal will be available until next week! If you have any questions about this cooler, feel free to ask.
Thanks guys!
-John
Interested in picking up our 2nd Gen Cummins intercooler or intercooler pipe kit? Check out the product pages linked below!